NY Steelhead Trout
En Croute
Serves 6
4 tablespoons unsalted butter

1/4 lb washed spinach

1 cup thinly sliced button mushrooms

1⁄2 cup small diced leeks

Salt and pepper

2 tablespoons chopped fresh dill (reserve a few sprigs of dill for garnishing)

Zest of 1 lemon

Juice of 1⁄2 lemon

1 – 1 1/4 lb boneless skinless NY Steelhead trout filet***

1⁄2 lb pre made puff pastry dough rolled to 10 x 10 " – 1⁄8" thick (Keep dough
refrigerated until you are ready to use it)

1 egg
Step 1
Heat a large saute pan over high heat. Add 2 tbsp butter, let it melt, then quickly add all of the spinach, season lightly with salt and pepper, cook 2 – 4 minutes, stirring until spinach is wilted and tender. Remove the spinach and let cool. Once cool, squeeze the spinach to remove all the liquid. Chop the spinach finely and transfer to a medium bowl.
Step 2
Heat a medium saute pan over high heat, add 2 tbsp of butter, let it melt, add mushrooms and leeks, season with salt and pepper, cook, stirring
occasionally for 4-5 minutes until tender and fragrant.
Step 3
Using a slotted spoon, transfer the mushroom and leeks to the bowl of chopped spinach. Add chopped dill, lemon zest and lemon juice. Mix well to combine. Let the filling cool completely.
Step 4
 Lay the Steelhead trout filet flat on a cutting board and cut in half across the center of the fiet into two equal-size pieces of roughly 5" x 5" square. Season both sides of the filet generously with salt and pepper.
Step 5
Line a large baking pan with parchment paper or aluminum foil. Lay your 10" x 10"sheet of puff pastry onto the center of the baking pan. Place one piece of the fish in the center of the dough. Pile the spinach, mushroom leek mixture covering the whole filet then cover it with the remaining fish on top, fatty side down. Gently fold up the sides of the dough, leaving a gap in the middle, so you can see the fish. Fold and tuck the dough under at the ends and press down the dough with the tines of a fork to seal well.
Step 6
Beat the egg in a small bowl. Brush the pastry with the beaten egg. Place the Steelhead trout in pastry to the refrigerator for 15 minutes to allow the dough to chill before baking.
Step 7
Preheat the oven to 400 F. Remove the baking tray from the refrigerator and place it on the center rack in the oven. Bake at 400 F for 20 minutes. Reduce the temperature to 375F for another 15 minutes or until the dough is puf fed and golden brown.
Step 8
Remove the fish from the oven and carefully transfer to a cooling rack until you are ready to serve. Cut thick slices and garnish with sprigs of dill and wedges of lemon. Serve with Salsa Verde or Lemon Beurre Blanc.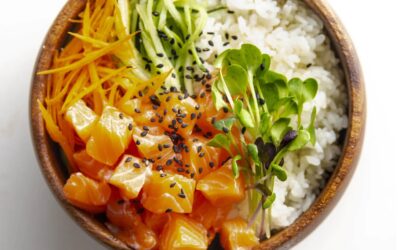 Hudson Valley Steelhead Poke Bowl Time: 25 min. Servings: 4 Ingredients 1lb Steelhead trout fillet 1/4 cup soy sauce 1 tsp rice wine or apple cider vinegar 1 tsp sesame oil 1 tsp siracha, chili paste or wasabi Pickled cucumber and carrots 2 x 6-inch Persian...