Our Products
At New Morning Market, we are committed to bringing the highest quality products to our shelves. We believe our customers should know where their food comes from and the rigorous quality standards we abide by. Our mission is to provide a pathway of how to live a healthful, wholesome and sustainable life. Ensuring our products stand true to what our customers expect and adhere to our mission, is at the core of who we are.
Look for our Goodness Callouts while you shop!
Explore all the ways we are committed to bringing transparency to our customers and leading them down the path of goodness.
Organic
Now more than ever, buying organic is easier, more accessible and more affordable at New Morning Market. When you choose organic, you are supporting not only pure food, but also pure soil and a healthy ecosystem. By reducing the impact of the adverse effects of chemicals on our bodies and the environment, we are fostering our part in a sustainable lifestyle for all.
Local
We know our producers by name and we take pride in being a part of their stories. We partner with them to bring our customers local and farm-fresh goodness every day.
When you buy local, you invest back into the community you live in. The money stays in the pockets of your neighbors, in the same town where it started…and we think that's pretty beautiful.
Non GMO
When food is natural, it supports healthy living and a sustainable world. That's why New Morning Market is committed to clean, healthy and transparent food labeling. Our entire produce department is now 100% non-GMO and we're proud of that accomplishment!  We make it our mission to prioritize products labeled by third-party certifiers like the Non-GMO Project, doing our part to help create a healthy food supply for our customers.
Fair Trade
When you purchase Fair Trade products it changes lives. Every purchase ensures people and the planet are not exploited. It helps farmers, producers and fisherman become empowered. Impacting communities and providing environmental stewardship is part of our mission and by choosing Fair Trade together, we can bring about meaningful change.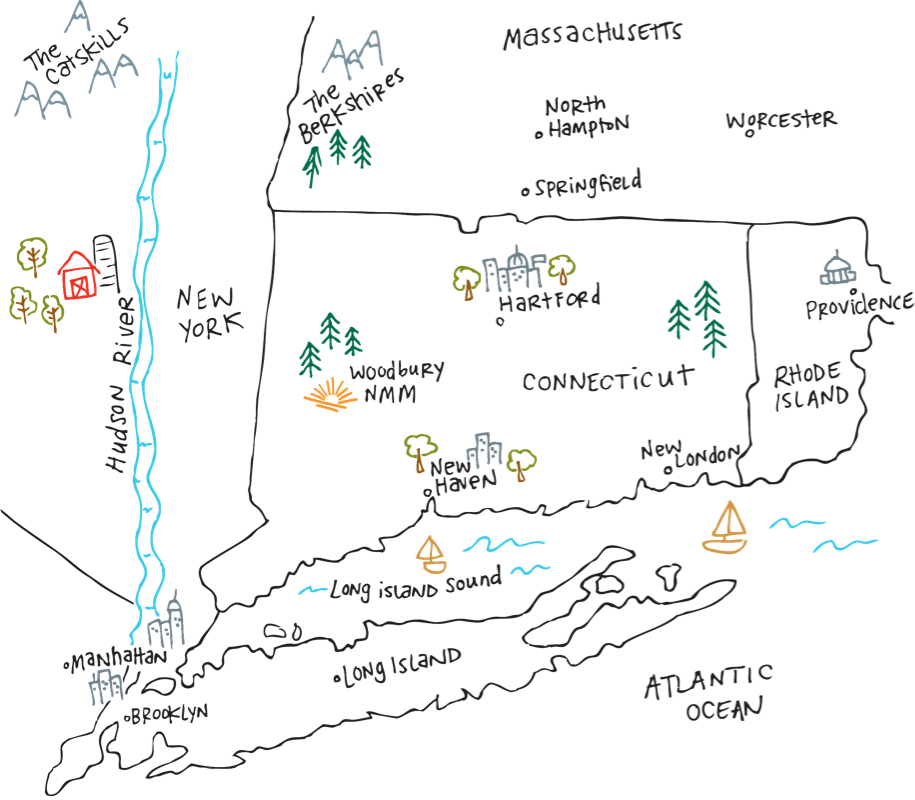 For New Morning Market, situated among the rolling hills of Connecticut's Litchfield County, we define local as the 100-mile radius stretching west to the Hudson Valley, north into the Berkshires, east into Rhode Island, and south to Long Island Sound. From seasonal organic produce grown in Connecticut's lush river valleys to iconic New York bagels made fresh daily, we're committed to bringing you the best products from our local farmers and makers.
Washington Depot, CT
All counted, 100 different kinds of apples grow at Averill Farm in Washington Depot, CT.  Familiar fall favorites—think Macintosh and Red Delicious—are planted along with heirlooms, newer disease-resistant varieties, and cider-specific cultivars, with lesser known names like Baldwin, Liberty, and Crimson Crisp. You'll find many of these unusual varieties at New Morning Market as the season progresses.
Cornwall, CT
Nestled in the Litchfield Hills, in a town committed to preserving cathedral pines and covered bridges, there's a family keeping another piece of New England's history alive. Sarah and Jeff Casel, artists turned first-generation dairy farmers, are committed to producing delicious raw milk from entirely grass-fed cows in Cornwall. Calf + Clover Creamery's 120-acres spans both sides of Rt. 7 and is mostly pasture: green, lush, and life-giving. On any given day, the rolling expanse of field is broken by the Casel's mixed herd of doe-eyed Jerseys and brown-speckled Normandies.
Colchester, CT
Through the age-old alchemy of cheesemaking, the mother and son team behind Cato Corner Farm transform the flavors of their Colchester, CT, pasture into delicious farmstead cheeses. In 1979, Elizabeth MacAlister purchased the plot of land that now houses a barn and milking parlor for their 45 Jersey Cows, as well a creamery and cheese shop. In the mid-nineties, after years of managing a small herd of goat and sheep and dabbling in home-scale cheese making, she purchased 13 cows with a plan to produce cheese for sale. A few years later, her son Mark Gillman moved back to the family farm and took on the role of head cheese maker.
Danbury, CT
There's something special about a glass of kombucha straight from the tap according to Liz and Ian Ceppos of Cross Culture Kombucha. In fact, this very notion transformed them from homebrewers to business owners. Ian first started making small batches of kombucha, a probiotic-rich fermented tea, on his kitchen counter. He brewed tea, inoculated it with a symbiotic culture of bacteria and yeast (otherwise known as a SCOBY), and added organic sugar to fuel the fermentation process. After a week or two, the tea was completely transformed.
Easton, CT
In an intricate dance of soil, seed, and sun, Sal Gilbertie oversees the production of millions of organic seedlings to feed Connecticut's families. In a fleet of greenhouses in Easton, CT, Sal and the staff of Gilbertie's Herb Gardens coax tender green plants of an astonishing variety to fruition according to the rhythm of the season. Gilbertie's custom blends of mesclun and petite edible greens grace local tables year-round. In spring and summer, gardeners eagerly await their pint-sized pots of culinary herbs (think lavender and lemon balm, basil and rosemary, an entire collection of cultivated mints) and six-packs of hardy vegetable seedlings.
Sandy Hook, CT
On three acres of meticulously managed pasture in Sandy Hook, Pete and Carol Sepe raise 200 sheep each year. Behind their farmhouse and tidy gardens, the "mother flock" of sheep rests in the shade when not foraging for fresh grass or socializing with the Sepes. The ewes have seniority status on the farm, with the eldest enjoying her tenth year here. Prized for their naturally colored coats (or "fleeces" in the fiber world) in shades of charcoal, chocolate, and smoke, they have been selected to bear future generations for the farm.
Sell to us!
New Morning Market loves partnering with farmers, artisans, and makers whose products match our mission! Want to see your products on New Morning's shelves? Tell us more about what you offer!