Just 16 miles from New Morning Market, tucked quietly away in the town of Kent, is a true rare find for craft beer lovers – Kent Falls Brewing Co. But this is not your standard brewery set-up in a typical warehouse space.
When local Kent Falls Brewing Co. opened in 2015, they were the first farm brewery in Connecticut, and one of only a few handfuls located around the country. Being a farm brewery allows them to serve amazing hand-crafted beers as well as host a variety of family-friendly tours and educational activities around the farm. Integrating their agricultural and brewing operations into one space, where customers can come and have easy access to both is a win. It's something they are very proud of and makes them stand apart from so many other breweries. 
Just named Readers' Choice "Best Brewery in Litchfield County" by Litchfield Magazine, they take local to the next level. From the very beginning, sourcing ingredients and selling their beer locally has been at the heart of their philosophy. Co-Founder Barry Labendz sits down with us to talk about the importance of local.
"One of the things I am most proud of is how many more reasons we have to work locally now than when we started seven plus years ago. The two most important of these reasons being, it makes our beer taste better and the pandemic has shown how fragile our global supply chains are and how important it is to rebuild local economies and food systems together." Kent Falls Brewing Co. works with two farmers and maltsters, each growing and malting a different variety of barley (Synergy and Endeavor) for them. The two varieties have different flavor profiles, as do the maltsters – like any process each person has their own equipment design and recipe. The close relationships they have built, creates an invaluable feedback loop and reliability on each other's businesses. Barry recalls, "When everything went dark in March 2020 our farmers let us know they intended to harvest their barley fields, and would work with us on whatever terms we needed to continue brewing. Being located so close to us, we did not even need to rely on trucking for shipment – they could bring pallets of malt to the brewery themselves. Knowing we had access to ingredients, we were then able to guarantee our local customers supply of fresh beer. No middle people, no worry about shipping delays. We pack up our vans every day and drive freshly filled cans and kegs to customers around the state. To bring it all full circle, working with New Morning Market, and others who focus on local connections is how we were able to stay open."
So what makes the process different? Kent Fall Brewing Co. thinks a good beer is made with consideration for everyone involved in the supply chain. Barry emphasizes, "For us, it starts with working with local farmers to grow our grain, local maltsters to turn it into a usable ingredient in the brewery, and attention to detail in the production process that allows the flavors of those ingredients made possible by the people who grew and malted them to be fully realized. The same attention and care needs to be given in distribution, sales, and communication about the product so our customers can know that when they pick up a can of our beer, or order a pour on draft that they will receive the same quality time and time again. Consistency and care are key."
To taste this local sustainable goodness first hand, stop into New Morning Market today.

Now featuring local & sustainable picks:
Superscriptᴵᴾᴬ 

a flavor that lends to pineapple, soft tropical & floral characters; with strawberry, citrus & pine notes in the background.

The Hollow

is their go-to pilsner, brewed with Northeastern grown Endeavor barley and is their preferred post-shift beer to enjoy outside along the pasture.

Cafe Multiverse

is an imperial stout made with local Sacred Grounds Coffee.  (Mexican Chiapas roast was used for this year's batch!)
To learn more about local partner Kent Falls Brewing Co. and how to enjoy Spring in their tasting room, head to https://kentfallsbrewing.com/location/tasting-room/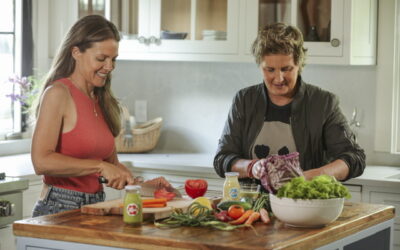 Tell us about Lisa's 1973Lisa's 1973 is a collection of refrigerated, ultra-clean, plant-based dressings and sauces filled with organic and functional ingredients - and what we've been told over and over again, phenomenal taste! We are 100% women-owned and...