Tell us about Lisa's 1973
Lisa's 1973 is a collection of refrigerated, ultra-clean, plant-based dressings and sauces filled with organic and functional ingredients – and what we've been told over and over again, phenomenal taste! We are 100% women-owned and LGBTQ-owned.
My wife Kristin and I are the Co-Founders. We moved to Roxbury from Brooklyn, NY with our nine-year old son Grayson a year and a half ago, and welcomed Sunny, our rescue dog, and Fluffy, our Balinese cat to our family. We could not be happier living in Litchfield County and having New Morning Market 15 minutes down the road!
Where did your inspiration for Lisa's 1973 come from?
Kristin and I were both dealing with serious health issues. I had chronic autoimmune conditions and Kristin was diagnosed with a stage 4 heart condition that required open heart surgery – and we were only in our 30s! An anti-inflammatory diet became non-negotiable for us both. As food enthusiasts to the core, the taste experience had to be just as phenomenal as the health benefits.
We wanted to create a dressing that would make meal prep easier and super tasty, and could be paired with everything from salads to pasta to grilled meat or fish, and even gelato! Our customers have shared over 35 ways to use Lisa's 1973. The possibilities are truly limitless!
My studies of the food ways practiced by ancient and indigenous cultures also inspired the dressings. Simple, pure ingredients made with love and intent, layers of unexpected freshness and a beautiful finish.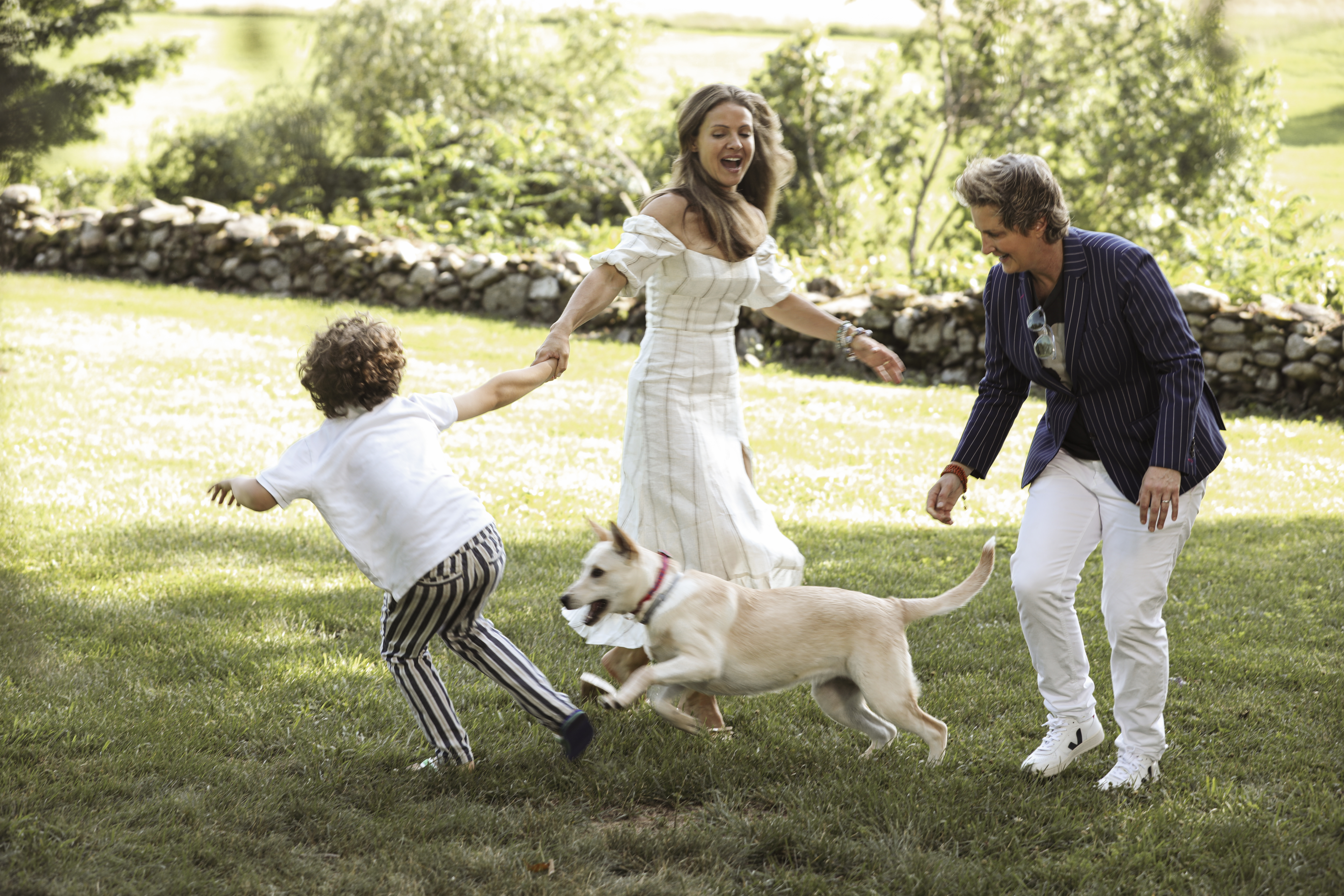 Tell us about the ingredients and why you chose them.
We use only organic extra-virgin olive oil instead of the industrial oils typically found in nearly all dressings and sauces. A healthy ratio of omega 6 to omega 3 fatty acids is 1:1. Today, most Americans consume a ratio of least 25:1 and that's highly inflammatory.
Organic lemon juice is very alkaline for the body, and chickpea miso provides important probiotic benefits and is made without soy.
Lisa's 1973 is ultra-clean, meaning that it has no gums, preservatives, additives, or artificial flavorings. Just pure and simple ingredients that don't hijack your health.
We chose ingredients that not only taste delicious, but are super stars for the microbiome. Science shows that a healthy microbiome positively benefits your immunity, gut and brain health, mood, digestion, and physical well-being.
Do you cook seasonally?
Each season really inspires my creativity in the kitchen. This summer my son and I are dipping fresh strawberries and melon in our Thai Basil dressing as a yummy snack. I'm also using the Thai Basil as a pesto for pizza and pasta, and it's amazing with raspberry sorbet. My wife loves to drizzle our Cilantro-Jalapeño dressing over tortillas or tacos loaded with summer veggies, or to pair with fresh mango as a healthy dessert. Our Hot Honey Lemon dressing is delicious on salad, or better yet, spooned over vanilla ice cream.
Bringing the colors, flavors and energies of each season the dishes we cook for family and friends, has always been important to both of us.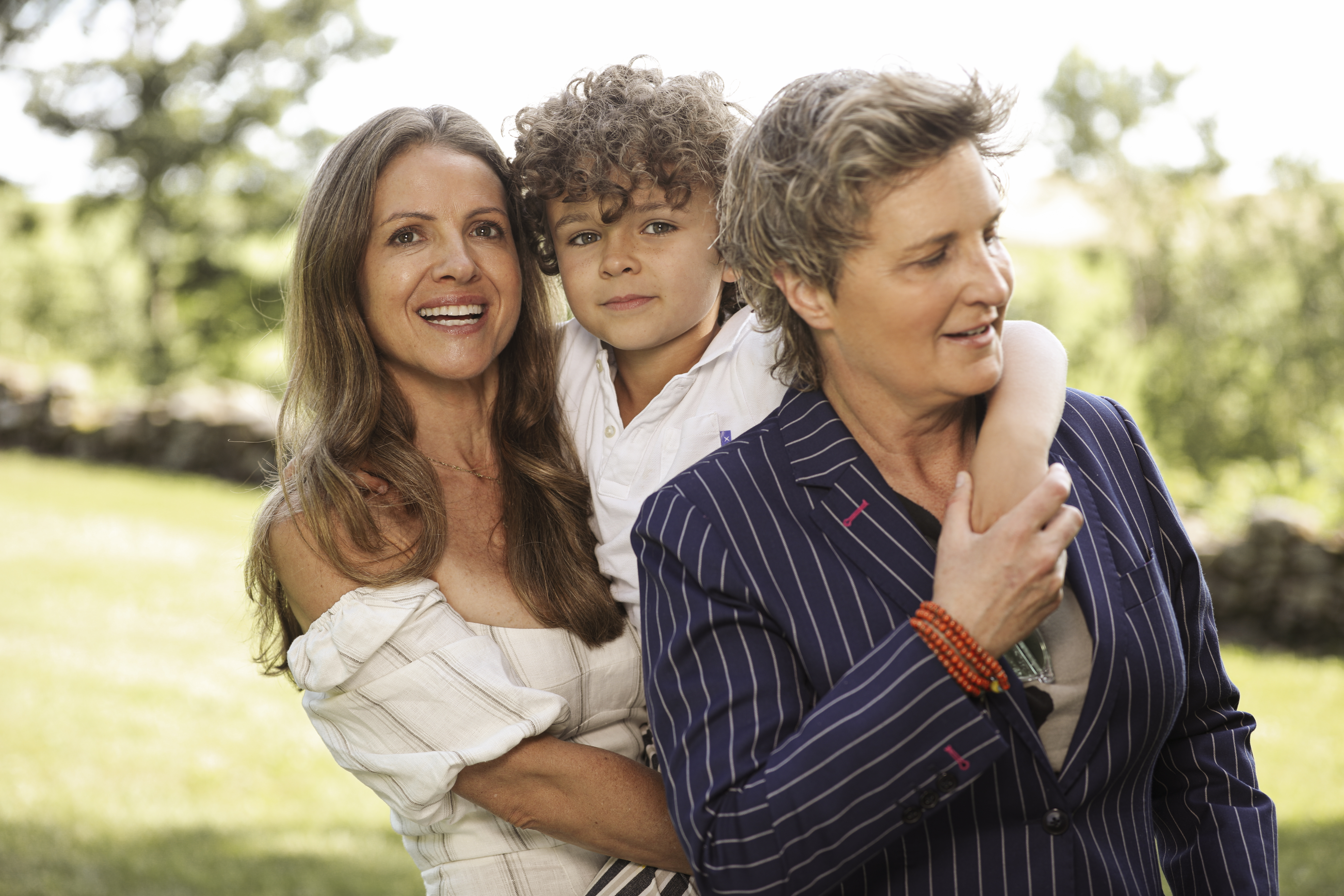 Is 1973 significant for you?
Besides my birth year, it was a year that represented forward-looking change and empowerment: women gained the right to choose autonomy over their bodies, important environmental protections were passed, and war ended.
Kristin and I both believe that with choice comes power and you shouldn't have to compromise taste for health.
What is your perfect meal?
The perfect meal for our family is enjoying a beautiful meal outdoors composed of fresh, seasonal, local foods, lovingly and joyfully prepared, and surrounded by loved ones and lots of laughter. What better place to experience that than Litchfield County!
We've included some our family's go-to summer recipes for you to enjoy.
Lisa Roberts Hurd, M.Phil (MA), is the Co-Founder of Lisa's 1973, a collection of premium organic, refrigerated, plant-based sauces & dressings filled with functional ingredients. She is also an instructor of culinary nutrition at Stanford University's BeWell & Healthy Living Programs. Lisa is a graduate of Oxford University, Tufts University, and The French Culinary Institute. She is a 5-star chef with Yelp's Corporate Teams and Vegan Voyage Series, and a Board-Certified Health Coach. Recent articles featuring Lisa's 1973 include Litchfield Magazine, Authority Magazine, and Hearst Media Publications.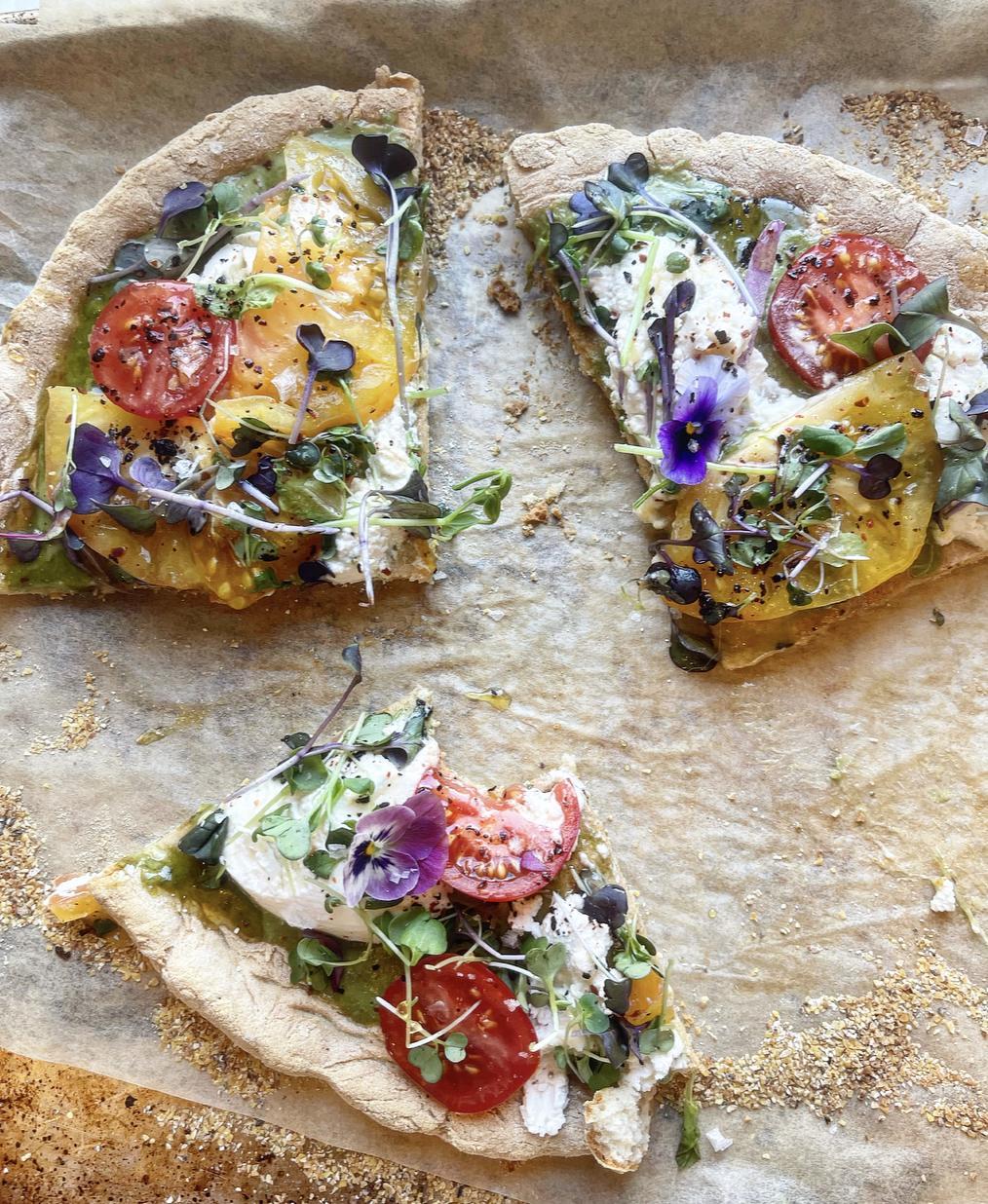 1 tablespoon dry yeast

⅔ cup brown rice flour plus an extra tablespoon for forming the crust

½ cup tapioca flour


2 tablespoons sweet rice flour


2 teaspoons xanthan gum

½ teaspoon salt

1 teaspoon unflavored gelatin or pectin powder

⅔ cup warm water

½ teaspoon sugar or honey

1 teaspoon olive oil

1 teaspoon apple cider vinegar

2 tablespoons cornmeal
*Makes 1 12-inch Pizza
GARNISH
Lisa's 1973 Thai Basil

1 yellow heirloom tomato, sliced and
4 campari or red tomatoes, sliced
A handful of microgreens
Kite Hill's almond milk ricotta (or goat cheese)
A sprinkling of Maldon salt (or flaked salt)
A sprinkling of Aleppo Pepper
Step 1
Preheat oven to 425F. Prepare a parchment lined baking sheet and generously sprinkle with cornmeal.
Step 2
In a medium to large bowl, whisk together the yeast, brown rice flour, tapioca flour, sweet rice flour, xanthan gum, salt, and gelatin powder.
Step 3
Add the warm water, sugar, olive and vinegar to the dry mixture. Beat with a hand mixer on high for 1 to 2 minutes.
Step 4
Transfer the dough to the baking sheet. Liberally sprinkle brown rice flour onto the dough to prevent sticking to your hands. Make the edges thicker to contain the toppings.
Step 5
Bake the crust for 17 to 20 minutes on the center rack.
Step 6
Drizzle Lisa's 1973 Thai Basil on the crust, add the Kite Hill Ricotta, tomatoes, and finally the microgreens, salt, and spices. Slice into wedges and serve immediately!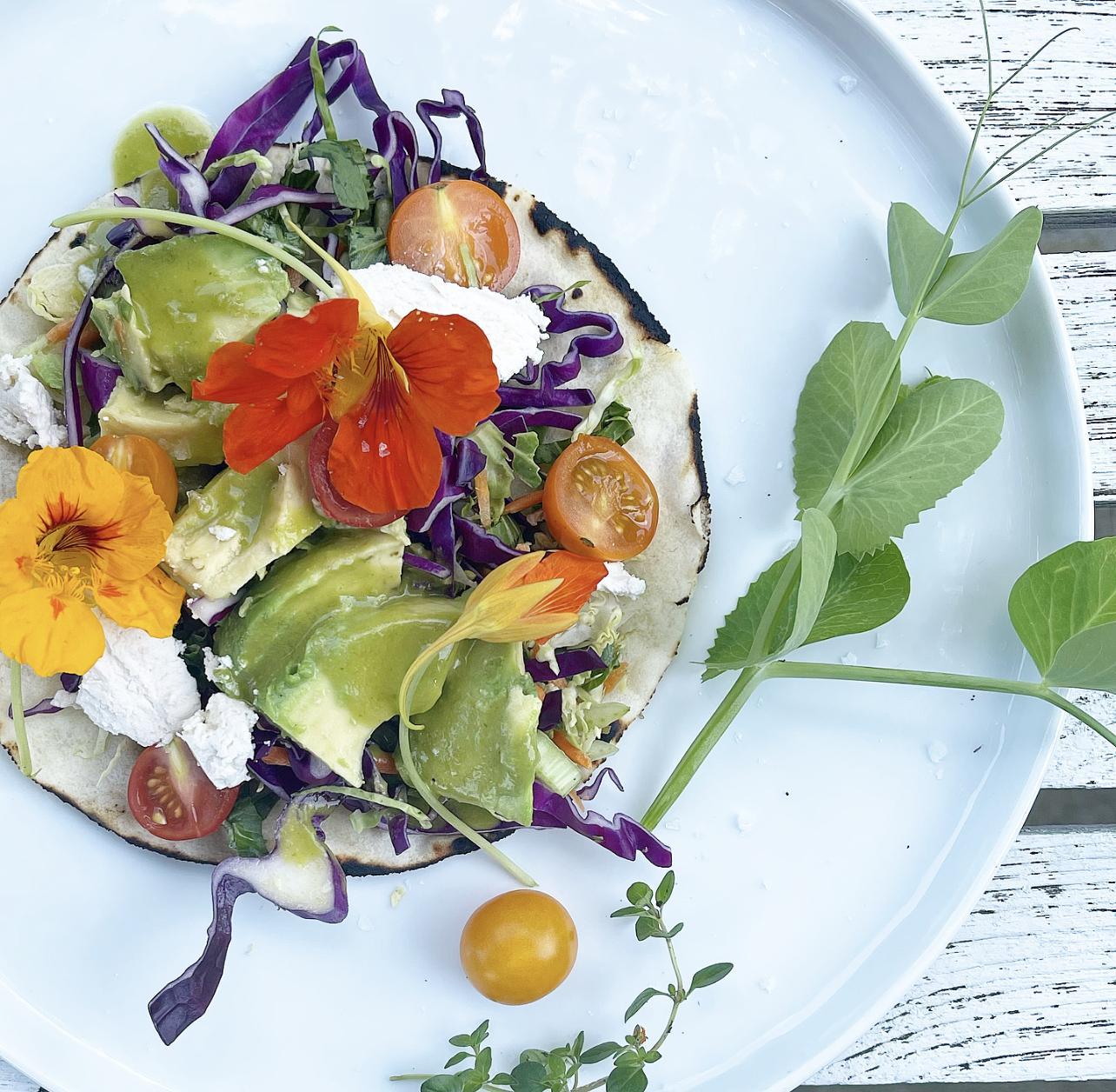 2 tortillas (corn, almond or coconut)

4 TBL Kite Hill Ricotta or your favorite soft cheese

6 baby heirloom tomatoes, sliced

1 handful of shredded purple cabbage or microgreens

¼ cup fresh herbs like cilantro

1 avocado, sliced

Black beans or a fried egg

Lisa's 1973 Cilantro-Jalapeño
*Makes 2 Servings 
Step 1
Heat a pan over medium heat and toast your tortillas until warm and toasted. Remove from heat.
Step 2
Garnish each tortilla with cabbage, tomatoes, cilantro, avocado, cheese and a drizzle of Lisa's 1973. Add some black beans or an egg for more protein!
Cold Pad Thai & Mango Salad with Thai Basil, Mint & Cilantro
2 packages Pad Thai rice noodles, cooked according to the package directions 

2 TBL rice wine vinegar, or more to taste 

2 TBL sesame oil, or more to taste

Juice of 1 lime 

1/2 package (5 oz) julienned carrots – tossed with a little rice wine vinegar and salt

1-2 large mangos, peeled and sliced 

1 large scallion, thinly sliced  

Half a bunch fresh cilantro, coarse chopped 

1-2 TBL fresh mint, coarsely chopped

Thai basil leaves (if available)

Salt to taste 

GARNISH

Edible flowers such as baby marigolds or nasturtiums (if available)

Chopped peanuts

Microgreens

Lisa's 1973 Hot Honey Lemon
Step 1
Cook the pad Thai noodles according to the package directions. Rinse with cold water and transfer to a large bowl. 
Step 2
Gently toss with rice wine vinegar, sesame oil, and lime juice. Add the carrots and toss.
Step 3
Gently fold in the mango, scallions, cilantro, mint, and Thai basil. Season with salt to taste.
Step 4
Transfer a serving bowl, and garnish with edible flowers, microgreens, and chopped peanuts. 
Step 5
Serve with Lisa's 1973 Hot Honey Lemon for your guests to drizzle on to taste.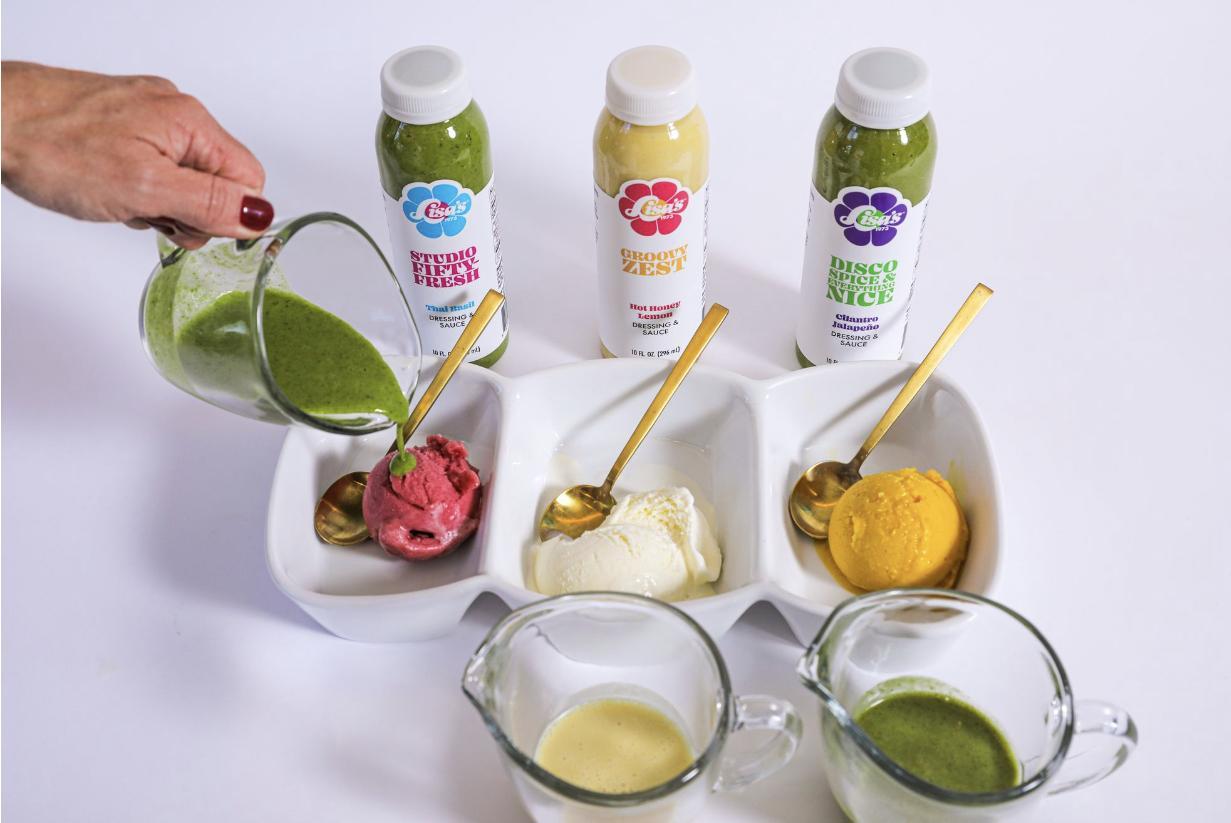 A Flight of Lisa's 1973 x Ice Cream
1 scoop of raspberry or strawberry sorbet drizzled with Lisa's 1973 Thai Basil 

 

1 scoop of vanilla ice cream drizzled with Lisa's 1973 Hot Honey Lemon

 

1 scoop of mango sorbet drizzled with Lisa's 1973 Cilantro-Jalapeño
Visit our Pinterest Page for more recipes from Lisa's 1973!
Stone Silo is a small Farm in Woodbury, CT who believes in real and simple food. Their small herd of Nigerian Dwarf goats supply them with the best goat's milk available to make their amazing delicious cheese!ValencayOur valencay is a vegetable ash cloaked goat...