New Morning Market is excited and proud to once again partner with Meals on Wheels through our March Round Up for a Cause effort. Meals on Wheels is dedicated to helping homebound seniors and individuals with disabilities preserve their independence at home. New Morning Market believes good food is key to a good life and that a good life is one shared among good people. Meals on Wheels delivers that vision wholeheartedly. Volunteers provide hot, nutritious meals and regular personal contact for those in need so that no one is left hungry or isolated.
What started as a compassionate idea in 1954, has grown into one of the largest and most effective social movements in America, currently helping nearly 2.4 million seniors annually in virtually every community in the country. New Morning Market's goal is to help support this essential service for seniors in our growing community.
Last year the Meals on Wheels program served 1,355 homebound seniors and provided 366,082 home delivered meals in the greater Waterbury and Danbury regions. Area Senior Centers and the Senior Dine Program provided an additional 13,000 meals serving 954 seniors. 
Meals on Wheels also provides pet food and cat litter to support over 150 pets annually. Last year alone they provided over 100,000 lbs. of pet food and cat litter. These pets are the loyal companions to Meals on Wheels recipients. The pet food program allows recipients to care for and keep their pets safe at home. 
"This fundraiser is very important in supporting the infrastructure of the program. The impact COVID has had on the supply chain has presented numerous economic and financial challenges to our  program. We have continued to operate and serve our clients during unprecedented times. The support from the community during this campaign will allow us to maintain an infrastructure that will continue to enable us to meet the meal needs of Seniors." –Yadira Perez Director of Senior Nutrition 
The following stores are showing their support by participating in this event: 
New Morning Market in Woodbury 
Key Foods in Waterbury  
Northville Market in Milford 
Adam's of Thomaston  
Adam's of Watertown 
LaBonne's of Woodbury  
LaBonne's of Watertown 
LaBonne's of Prospect 
Walsh's in Wolcott 
Join New Morning Market during the month of March to raise funds for Meals On Wheels. For the donation of a dollar or a round up of your receipt, paper "wheels" will be offered for sale and will be displayed in the store to showcase the support received from the community. New Morning Market is also proud to additionally match all donations up to $500.
For more information about the Buy A Wheel campaign or any of New Opportunities' services, please contact Yadira Perez by phone at (203) 575-4208; email: yperez@newoppinc.org.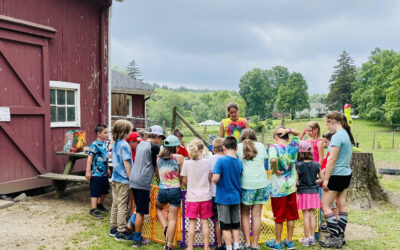 Thank you Flanders for writing this guest blog post & for all that you do! Happy New Year 2022 from Flanders! At Flanders, we are strengthening our communities' knowledge to help tackle the challenges facing our environment—both flora and fauna.  The changes to...