Garrett Valley Farms goes the extra mile to ensure our products are all natural to its truest definition. That means always free of antibiotics, nitrates, nitrites, preservatives, and artificial ingredients.
3-5 lbs. Garett Valley corned beef brisket
3 tbsp. vegetable oil
2 cups vegetable broth
2 onions, roughly chopped
3 carrots, roughly chopped
Step 1
Heat oil over medium heat in a dutch oven or high-sided skillet; add brisket.
Step 2
Brown on both sides (6-8 minutes per side). This is key as browning the meat seals in the juices!
Step 3
Place browned brisket into slow cooker along with vegetable broth, onions, and carrots.
Step 4
Cook on high for 6-7 hours.
Step 5
Once tantalizingly tender, shred the meat right in the slow cooker using a fork. If you prefer, you can remove the corned beef and slice on a cutting board.
Step 6
Serve warm with a pile of potatoes, carrots, and cabbage and a hunk of hearty bread.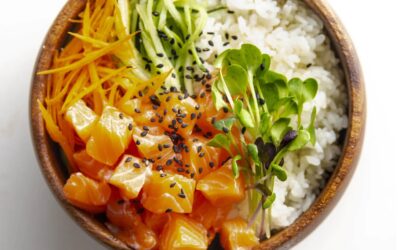 Hudson Valley Steelhead Poke Bowl Time: 25 min. Servings: 4 Ingredients 1lb Steelhead trout fillet 1/4 cup soy sauce 1 tsp rice wine or apple cider vinegar 1 tsp sesame oil 1 tsp siracha, chili paste or wasabi Pickled cucumber and carrots 2 x 6-inch Persian...