Dinner? Done!
Our easy weeknight meals are made with minimal ingredients, require few steps, and budget friendly!
My family loves this twist on Taco Night! But we all know the taco-night-time-trap is in the topping prep – from slicing, dicing and chopping to even sometimes shredding, mixing and juicing, preparing the nutrient rich fruits and veggies can take more time than most of us have for dinner prep. That's why I love and rely on New Morning Market's cut fruit and veggies found in our produce department. Mixing and matching fresh pre-cut produce with fresh whole produce saves me time at the end of the day, and I'm all about that!
This recipe covers a few techniques including:
Making an easy, quick and delicious marinade using Ramp Up's Black Garlic Vinegar as the secret ingredient

Whipping up a yummy avocado crema using three simple ingredients

Sharing the secrets for searing tuna steaks that will delight your whole crowd, from the rare lovers to the well done feasters and those of us who love the happy medium

Warming up fresh corn tortillas to professional level perfection (Thanks to the tips from Mi Tierra Tortillas – made from just three ingredients grown and made in the Connecticut River Valley)
I absolutely love the avocado crema in this recipe, not only because it's incredibly delicious, but it's also a time saver. Mashing up the avocados and mixing them with the sour cream and milk saves you from having to slice the avocados for taco toppings, and if your family is anything like mine, it saves you from having to referee any "they took too many avocados!" arguments. You can add a pinch (or 2 or 3) of cayenne pepper or hot sauce to this recipe as well if you're looking for an extra kick.
I hope you enjoy this recipe!
Julie Thorpe is the Marketing Director at New Morning Market and a home cook with 20+ years in the natural foods world. While she's been lucky enough to work with celebrity and top chefs over the years her favorite cooking buddy is her 9-year-old kiddo Arlo who always provides inspiration and brutally honest feedback for all of her dishes. 
Prep time: 20 min.
Cook time: 15 min.
Serves: 4
Marinade 
⅓ cup Ramp Up Black Garlic Vinegar 

⅓ cup Olive Oil

¼ teaspoon salt

3 garlic cloves chopped

1 small onion grated 

A dash of red pepper flakes if you like a little kick
Crema
½ Cup Sour Cream

2 Avocados mashed

¼ cup 0% fat milk

Salt & pepper to taste
Seared Tuna
1 ½ – 2 lbs Fresh Tuna cut into 4 steaks

2 tablespoons vegetable oil

Salt & pepper 
Tacos & Topping
Corn Tortillas (this recipes allows for 3 tacos per person) 

Lime wedges

Chopped red onions

Chopped Cilantro

Shredded Cabbage 

Sliced Mangos
Making an Easy Marinade
Mix vinegar, olive oil, salt, garlic, onion and red pepper flakes together in a medium bowl and whisk all ingredients together .
Place tuna steaks in a bowl or container with a lid and pour the marinade over the tuna steaks. The now-marinating tuna steaks can sit on your counter while you prepare your other ingredients. If the marinade doesn't fully immerse your tuna steaks, turn or shake the container after about 10 minutes (half-way through prep-time).
How to Make Avocado Crema
Mix sour cream, mashed avocados, milk and salt together in a medium bowl and set aside. 
Prepping Your Veggies
Now it's time to prep your fruits veggies! This is always the most time-consuming part of taco night, so I always use at least a couple of items for New Morning Market's pre-cut fruit and veggie section. For this recipe I used New Morning Market's pre-cut coleslaw mix, pre-cut mangos.
Cut lime wedges, chop onions and cilantro and slice peppers (if using).
Searing Your Tuna
Sprinkle salt and pepper on all sides of each tuna steak. Note: the marinade and crema will be salted so don't overdo it. I recommend about ⅛ teaspoon of salt and ¼ teaspoon of pepper per steak. 
Heat 2 tablespoons of vegetable oil in a skillet over medium/high heat
Cook tuna steaks on each side for 30 seconds per side for rare steaks, 1 minute per side for medium rare steaks, and 2 minutes per side for well-done steaks.
Once you've cooked your tuna steaks, set them aside on a cutting board, letting them rest while you cook your tortillas.
Tortillas
The tuna steaks should rest for about 3-5 minutes before slicing them for tacos. This is a great time to heat your tortillas. I love Mi Tierra Organic Corn Tortillas and follow the directions on the package: Pre-heat pan until very hot. Place tortillas on pan and cook until soft, about one minute per side.
Building Your Tacos
Top tortillas with sliced tuna steaks, fruits, veggies and crema. Squeeze lime juice on top and enjoy this delicious dish!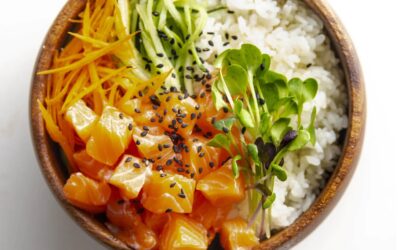 Hudson Valley Steelhead Poke Bowl Time: 25 min. Servings: 4 Ingredients 1lb Steelhead trout fillet 1/4 cup soy sauce 1 tsp rice wine or apple cider vinegar 1 tsp sesame oil 1 tsp siracha, chili paste or wasabi Pickled cucumber and carrots 2 x 6-inch Persian...