At Brookview Sugar House, the maple trees have awakened from their winter slumber and their production of maple sap signals that spring is just around the corner. On 25 acres of beautiful land tucked deep in Litchfield County, Connecticut, Harold and Delisse Cable start spring days early. Tirelessly prepping and harvesting the local maple woodlands they've nurtured for over 35 years. When the sap runs really hard, they've been known to work around the clock harvesting thousands of gallons of sap a day, to boil into nutritious and delightful maple syrup.
Harold always enjoyed and had a love for the outdoors. At age 10, he hounded his parents to help him tap his first maples until they relented and he started his tapping adventure with just three neighborhood trees. Boiling on his parent's old electric stove in the basement, he eagerly produced his first batches of syrup. As time went by, Harold said something extraordinary happened as he worked in the woods. Harold admits, "The maples are addicting. Making syrup gets in your blood." His passion continued to grow over the years and so did his skill sets. 
Today, this husband-wife duo doesn't just make syrup – they make REALLY GOOD, pure, wood-fired maple syrup. Now, it's certified organic and locally made with the finest resources. Harold & Delisse made the conscience choice long ago, to remain small for a reason. Delisse comments "Small is beautiful." They explain that overseeing every detail from start to finish, ensures they are making the highest quality syrup. They believe their time-honored, wood-fired cooking method is the key to making the difference in pure maple flavor. Taking pride in their entire process from using all stainless-steel and food-grade equipment to boiling with wood-fire. Wood-fire also ensures that carbon locked in the wood fuel is then returned right back to earth – a nutritive ash. Allowing mother nature to flourish with this no-waste mentality. Their goal has always been to produce the best pure maple syrup. Syrup they'd want to feed their own children. "We live the habit that we farm," says Delisse.
At Brookview Sugar House, being a local business that's part of the community is a very important core ethic. "We are providing a wonderful food source for the people we know in the community. We all know buying local supports small businesses, the people that work for them and invests back into the economy, but there's so much more to the story. Local businesses help give a community its own flavor and uniqueness. And when consumers personally know the people behind the business, they feel a connection they would not otherwise have." says the couple. When you buy Brookview Sugar House Maple Syrup, you are also contributing to the protection and preservation of Connecticut farms and the maple that thrive in this area. Many people don't realize maples are becoming more and more threatened due to the overdevelopment of land. Buying local syrup, makes you a good steward of the productive native woodlands and keeps this sacred resource intact for future generations to enjoy.
In fact, those future generations of maple lovers are getting first-hand experience with a unique agricultural collaboration. Many maple seasons ago, Brookview formed a friendship with the Connecticut Junior Republic (CJR). Since its founding in 1904, the Connecticut Junior Republic has helped thousands of young people go on to lead productive and fulfilled lives by providing the care, treatment and educational services necessary for growth and change to occur.
Harold was a guiding force behind the partnership with CJR and saw a natural fit with the agricultural platform there. He worked closely with Eric Elwell, Agricultural Instructor and Farm Manager, to form their joint effort with the Agricultural Science students at CJR. The youth get to participate in all aspects of maple production and operation. The students experience a modern, pipeline system on vacuum as well as maintaining an "old school" 35 tap, bucket collection method. Hands-on involvement from implementation and maintenance to collecting. Then finally, a visit to Brookview Sugar House where they observe the evaporator in-person. The students taste the magical wood-fired syrup as their finished product comes to life. Eric reflects on the partnership, "Harold has been really generous with his time and knowledge in this whole process. The learning outside of the classroom approach, allows the students to develop a skill set that will enhance their opportunities in the employment market. It brings them great exposure to another piece of agriculture, many of which have had no prior experience with farming or maple trees. The kids anticipate the harvest."
It goes without saying, this quaint little local sugar shack packs a powerful impact to the community it thrives in. Establishing transparency around what's in your food and where it comes from, creating more accessibility to healthy, real food for more people, supporting local, educating youth, all while taking care of mother nature. That's what Harold & Delisse Cable of Brookview Sugar House are all about.
Just 15 miles from the store, New Morning Market has been proudly selling Harold & Delisse's Brookview Sugar House Syrup for over 25 years. (Oh and did we mention Provender uses it by the drums in all sorts of recipes!) So stop in and pick up some local goodness for your favorite pancake recipe or try this staple recipe from Delisse (see below). You'll also find their popular syrup around town at local favorites like Woodbury Diner & Ovens of France.
Delisse's Maple Glazed Pork Chops or Salmon
Serves 4 (+/-)
2 Lbs. fresh Pork Chops, or fresh Salmon filets

1/4 – 1/3 Cup* pure Maple Syrup

1/4 – 1/3 Cup* Tamari or Soy Sauce, Worcheshire Sauce, or favorite spicy Barbecue Sauce, as preferred

1-2 Tablespoon +/- Garlic, finely minced

3 Tablespoons Olive Oil

1 Teaspoon-1Tablespoon fresh ground Black Pepper & Salt to taste if needed
*This is a great recipe to adjust to taste or to experiment with. You may marinate meat or fish with the Maple Syrup-Tamari (or Maple-BBQ Sauce) mixture in the fridge for an hour or two if desired, but it's not necessary for terrific flavor. Use 1/3 Cup amounts if you marinate.  Feel free to add favorite spices like Ginger &/or Cayenne Pepper.  Dispose of all left-over marinade after cooking.
Step 1
Unwrap meat and bring to room temp on a platter.  Rub surfaces with 1 Tablespoon
Olive Oil and some Minced Garlic.
Step 2
Combine Maple Syrup, Tamari (or Barbecue Sauce) with minced Garlic, 1 Tablespoon
Olive Oil and any additional spices you choose.
Step 3
Preheat a grill or heavy fry pan.  If cooking stovetop, when pan is hot, add 1 Tablespoon
Olive Oil.
Step 4
Seer both sides of Chops or Salmon (skin side up first) with Medium-High heat sufficient
to seal in juices.
Step 5
Continue grilling or frying meat or fish until halfway cooked to desired wellness.
Step 6
Brush top & sides of cooking meat/fish liberally with marinade or sauce mixture.
Turn each piece and brush with moisture while finishing.
Step 7
Garnish with lots of freshly ground Black Pepper and Salt to taste and serve.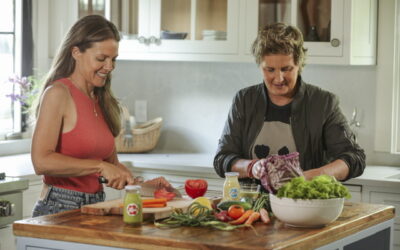 Tell us about Lisa's 1973Lisa's 1973 is a collection of refrigerated, ultra-clean, plant-based dressings and sauces filled with organic and functional ingredients - and what we've been told over and over again, phenomenal taste! We are 100% women-owned and...