At the risk of stating the obvious, 2020 has been one wild ride.  It has delivered "ALL THE THINGS" at a pace often too fast to process. 2020 has spotlighted that racism, inequality, and privilege still exist; that our food and other supply chains are flawed; that poverty is widespread; and that weather extremes including drought, hurricanes, floods and wildfires are more prevalent as our global climate changes.  In addition, the constant disruptions to our routines have left many of us feeling more vulnerable, unsafe, insecure, and anxious than we have felt before.
In light of "ALL THE THINGS" that 2020 has delivered, I am hopeful that the things we ultimately take away from 2020 are compassion and gratitude.  These are not high ideals, but they are also not passive pursuits. Compassion and gratitude take active practice. Compassion is not turning a blind eye to struggles, injustices, and threats around each of us. It is recognizing and honoring the circumstances and sufferings that shape how other people make decisions and actions. I think this year has helped many of us learn how to flex our muscles of compassion towards our fellow humans as we realize that we are all simply trying to survive 2020 however different our experiences may be. Because we all have our struggles, we need to greet people with the kindness of an open mind and open heart.
As for gratitude, it is the practice of appreciating what we have.  It is the practice of paying close attention and looking for the good wherever we can and being thankful for that good.  Practicing gratitude helps bring us into the present moment and bolsters us to face the challenges of the day instead of focusing on the unknowns of the future. Moving through the senses – what do we see, hear, smell, taste, feel – can help us look for that good. 
Here in the Pomperaug Watershed, we are surrounded by good.  We have beautiful rivers, lush forests, a variety of trails, diverse wildlife, strangers who smile as they pass, and a store that always had toilet paper in stock during this pandemic (thanks New Morning Market!). Like so many others, we at Pomperaug River Watershed Coalition (PRWC) have had to continually adapt to the ever-changing circumstances and felt the stress tied to canceling programs and events, developing online programs, limiting our interactions with volunteers, and working from home. Yet, we have actually managed to accomplish some pretty great things this past year. In addition to adopting new outreach strategies, PRWC made the following impact:
Collected bacteria, nitrate, and conductivity samples from 13 sites throughout the watershed twice a month to better understand local water quality and have made the results available on our website.
Conducted 22 stream crossing assessments (bridges and culverts) in Woodbury following North Atlantic Aquatic Connectivity Collaborative protocols to evaluate suitability for aquatic life passage and help prioritize crossings in need of improvement.
Performed 2.62 miles of streamwalk assessment surveys and neighborhood assessments in Woodbury and Southbury including portions of the Pomperaug River and Transylvania Brook to identify streambank stabilization projects and stormwater runoff mitigation projects that help maintain and improve river health.
Removed 15 cubic yards (a small dump truck full / 1 ton) of trash and debris from the river and streamside trails; also removed 700+ water chestnut seeds (highly invasive aquatic plants) from Transylvania Brook.
Planted 48 native trees and shrubs at Cedarland Park and Three Rivers Park to help reinforce the stream bank and provide shade to the river.
And through it all, gratitude is what has kept us going. On the hot summer days, we were grateful to be able to get in the river or to find some shade. When conducting trash clean-ups, we were grateful for an old leaky kayak that served as a trash barge and for the town crews that helped haul trash to the transfer station. We are grateful for continued grant support that allowed us to still hire high school and college students for the Youth Conservation Corps.  We are  grateful for our smaller team this season to ensure social distancing.  We are grateful to have plant materials donated for the stream bank stabilization projects.  We are grateful for every drop of rain received during this exceptionally dry year.  We are grateful that the lab we use to analyze our water samples stayed opened.  As our annual benefit was canceled, we are  grateful to still celebrate PRWC's 20th Anniversary with a Watershed Video Tour that shows people the beauty of local rivers and streams.
In recognizing the good that surrounds us, we are particularly grateful for our volunteers, supporters, sponsors, and conservation and municipal partners who recognize the importance of water and remain committed to protecting this vital resource. These coalition partners compassionately recognized that each day would be different and afforded us flexibility in how we approached our work this year.  They have helped us identify and adopt new ways of doing things to keep true to the organization's mission and helped maintain our daily operations in these challenging times.  As you practice gratitude this Thanksgiving, we hope you recognize the goodness of clean drinking water and scenic rivers here in the Pomperaug Watershed.  In recognizing this good, please consider making a donation to PRWC to help sustain its efforts to protect these vital resources for generations.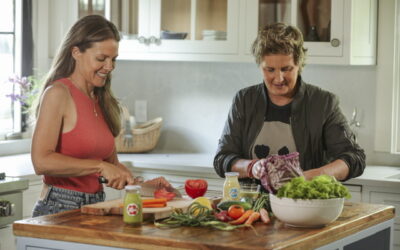 Tell us about Lisa's 1973Lisa's 1973 is a collection of refrigerated, ultra-clean, plant-based dressings and sauces filled with organic and functional ingredients - and what we've been told over and over again, phenomenal taste! We are 100% women-owned and...