Prep time: 5 min.
Cook time: 30 min.
Serves: 6
2 Pounds of Organic Carrots

2 Tablespoons of Olive Oil

1 Teaspoon of Salt

Fresh Ground Pepper to Taste

Fresh Thyme Sprigs
Step 1
Heat the oven to 400 degrees.
Step 2
Mix all ingredients together and place them on a sided baking pan.
Step 3
Roast for 30 minutes (roast longer for crispier carrots).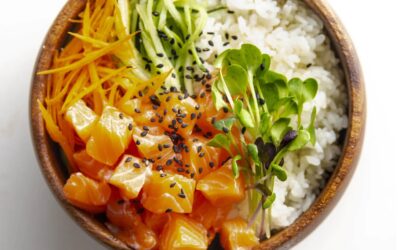 Hudson Valley Steelhead Poke Bowl Time: 25 min. Servings: 4 Ingredients 1lb Steelhead trout fillet 1/4 cup soy sauce 1 tsp rice wine or apple cider vinegar 1 tsp sesame oil 1 tsp siracha, chili paste or wasabi Pickled cucumber and carrots 2 x 6-inch Persian...