With Carolynn Schwartz & Family (Carolynn is the Giftware Buyer at New Morning Market)
I've always believed that starting with the freshest, highest quality ingredients one can reasonably afford is the key to making delicious food. Lucky for me, I've got the finest locally raised meat, locally grown produce, and organic products at my fingertips at New Morning Market. Honestly, I think I'm a bit spoiled with so much goodness but I'm not complaining, and neither is my family! Simplicity is also a hallmark of my home cooking, hence the necessity for quality ingredients. If it has more than 10 ingredients, chances are I'm not going to make it.
As a child the only roast lamb I ever had was during Passover and had the traditional mint sauce. I was not very fond of it and never thought to make my own until I was married with children and hosting my first Seder. I knew I had to make it my own so I headed right for the garlic, and lots of it. I also
knew from other favorite recipes that garlic and rosemary make wonderful companions, as do garlic and parsley. So I put them all together, added some olive oil, salt and pepper, smeared it all over, and Presto! Roast Lamb with garlic and herbs became the new family favorite.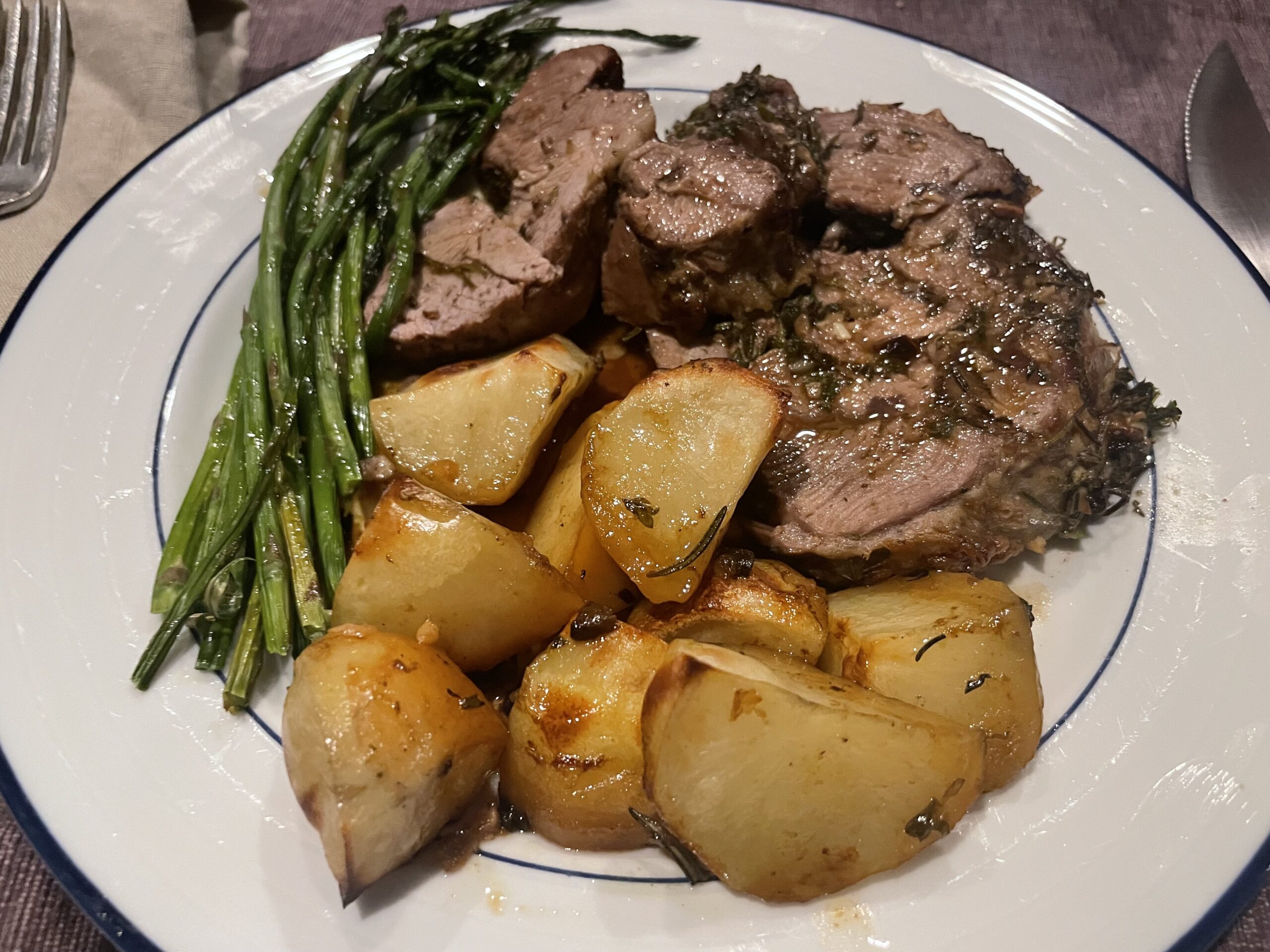 Roast Boneless Leg of Lamb with Garlic and Herbs
Ingredients
Boneless Leg of Lamb (or
shoulder) – 3-5 lbs

2 bulbs of Garlic

A few sprigs of Rosemary

Fresh Parsley – ½ a bunch

¼ cup Olive Oil

Salt and Pepper – I used

Jane's Krazy Mixed Up Salt, a staple in our pantry

Note: The amounts listed are for the 4.35lb
roast I cooked. My family also really likes garlic.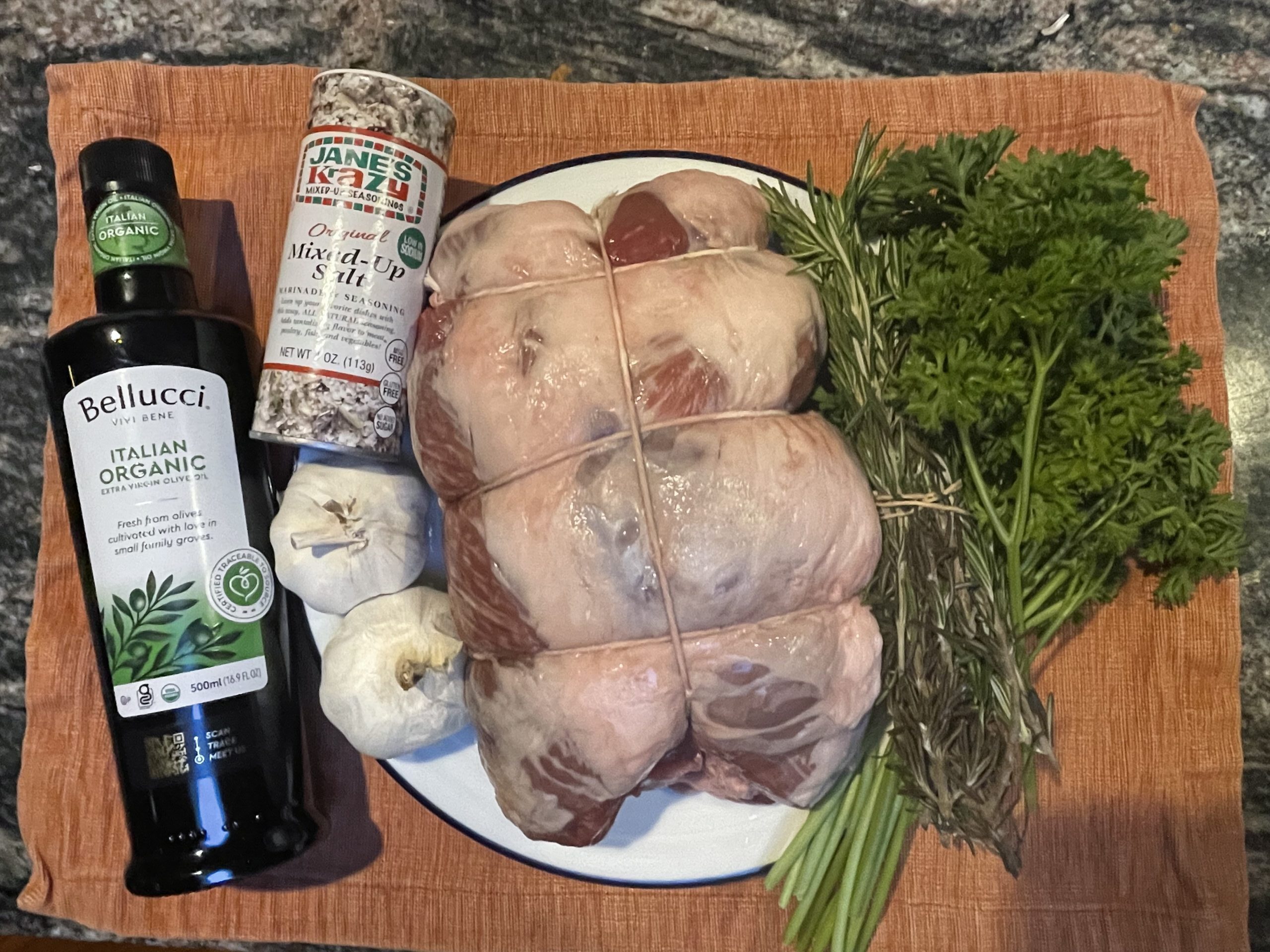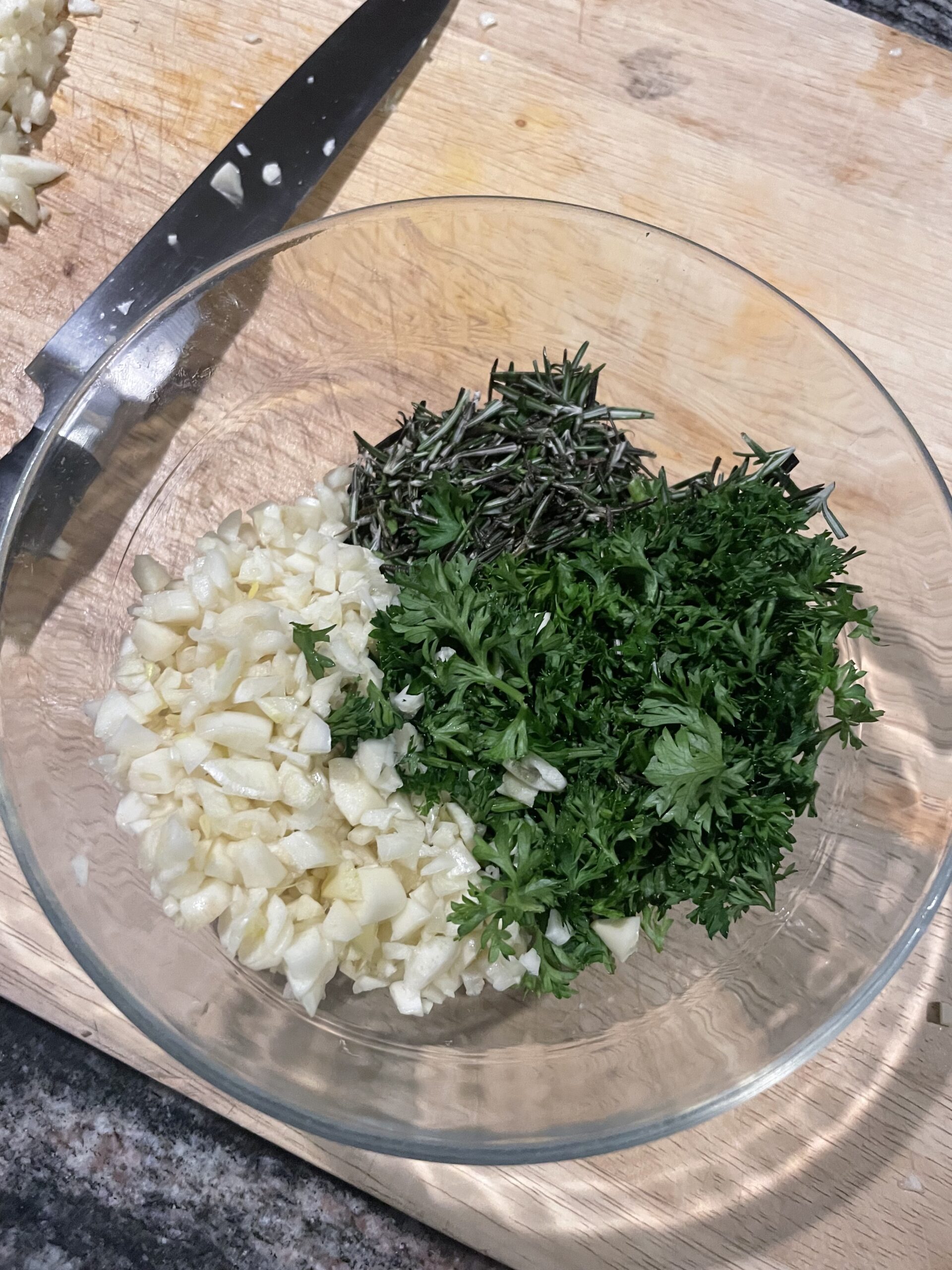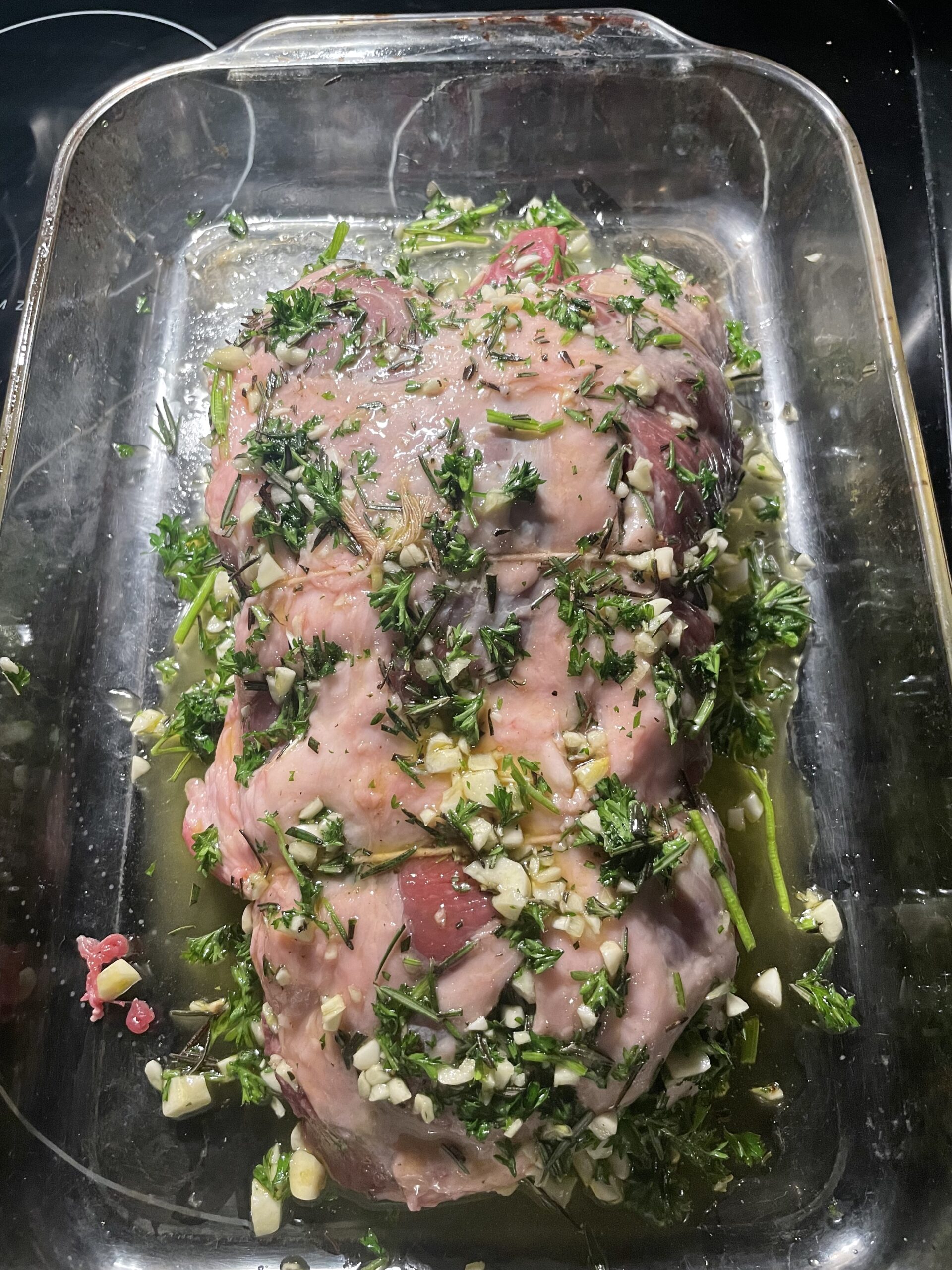 Step 1
Preheat oven to 350.
Step 2 
Chop the garlic, parsley, and rosemary and combine in a bowl with the olive oil, salt and pepper
Step 3 
If your lamb came wrapped in twine, remove it and lay it flat,
outside up. Using a sharp blade, make slits, deep and long enough to stick your finger into, but not all the way through.
Step 4
Flip the meat over and put in a baking or roasting pan. Using a spoon or your hands, smear half of the garlic mixture all over, getting in all the nooks and crannies. Carefully turn the meat back over and reshape it into an oval. If you can, put the twine back on to hold everything in place. I've used toothpicks to varying success. Fill the slits and cover the roast with the remaining garlic mixture.
Step 5
Cook for 2 – 2 ½ hours. At the
halfway mark, take it out to baste. I added peeled and quartered Yukon gold potatoes to the pan at this point. You could also add carrots or other root veggies as well.
Step 6
Take the meat out of the oven and let meat rest for 10 minutes before slicing. In the meantime raise the oven temp to 425 and return the potatoes to the oven after coating in the remaining juices. Enjoy!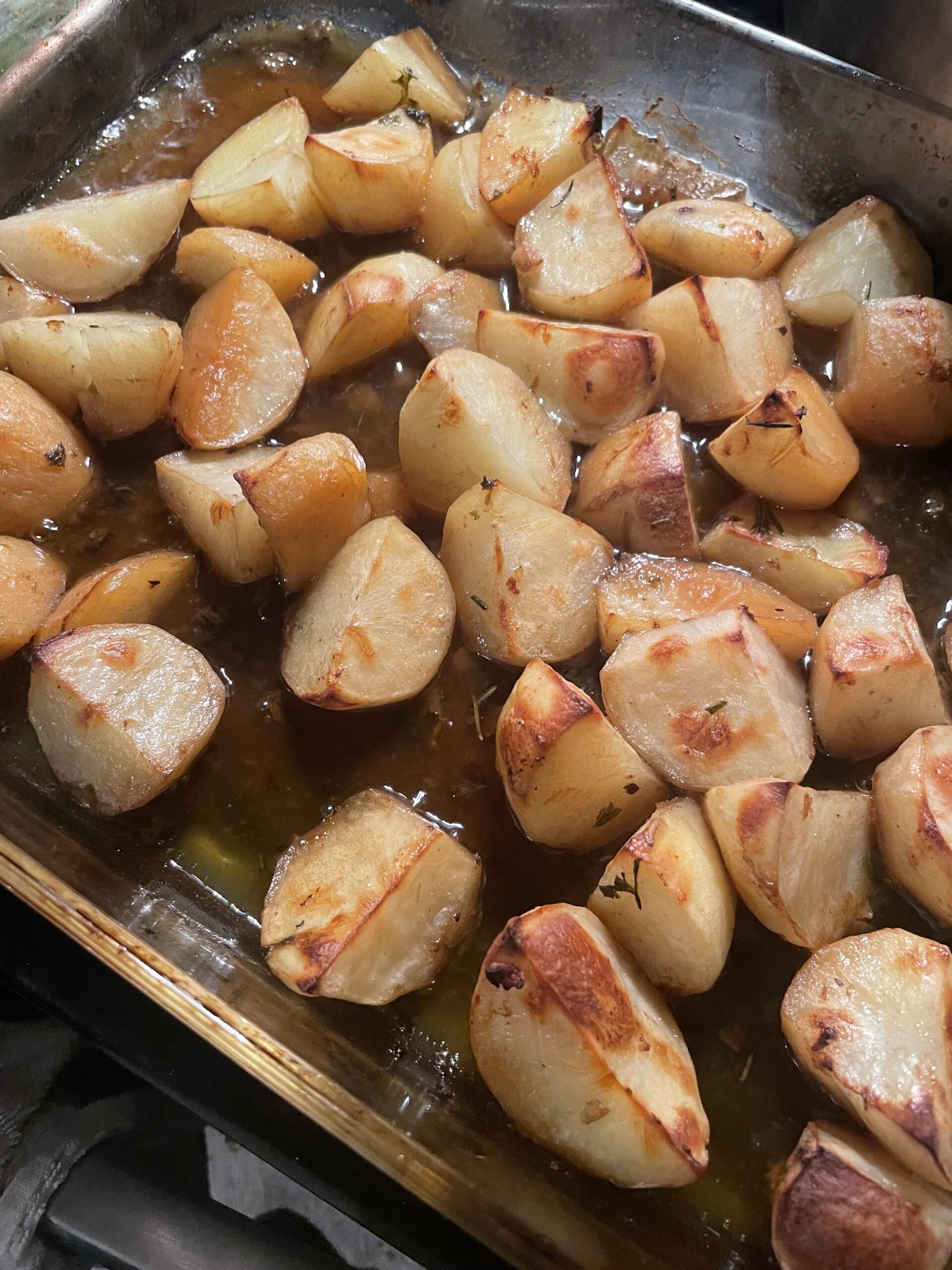 Lamb Meatballs
with Naan, Eggplant
and Tzatziki Sauce
Ingredients
Meatballs:
• 2 lbs ground lamb
• 1 cup diced onion
• 1 bulb Diced garlic
• 1 Egg
• Chopped fresh parsley
• Chopped fresh Cilantro
• ½ cup Bread crumbs or
matzoh meal
• 1tsp Cumin
• Salt and Pepper
Eggplant:
• 1 large eggplant
• Oilve oil
• ½ bulb diced garlic
• Chopped parsley
• Salt and pepper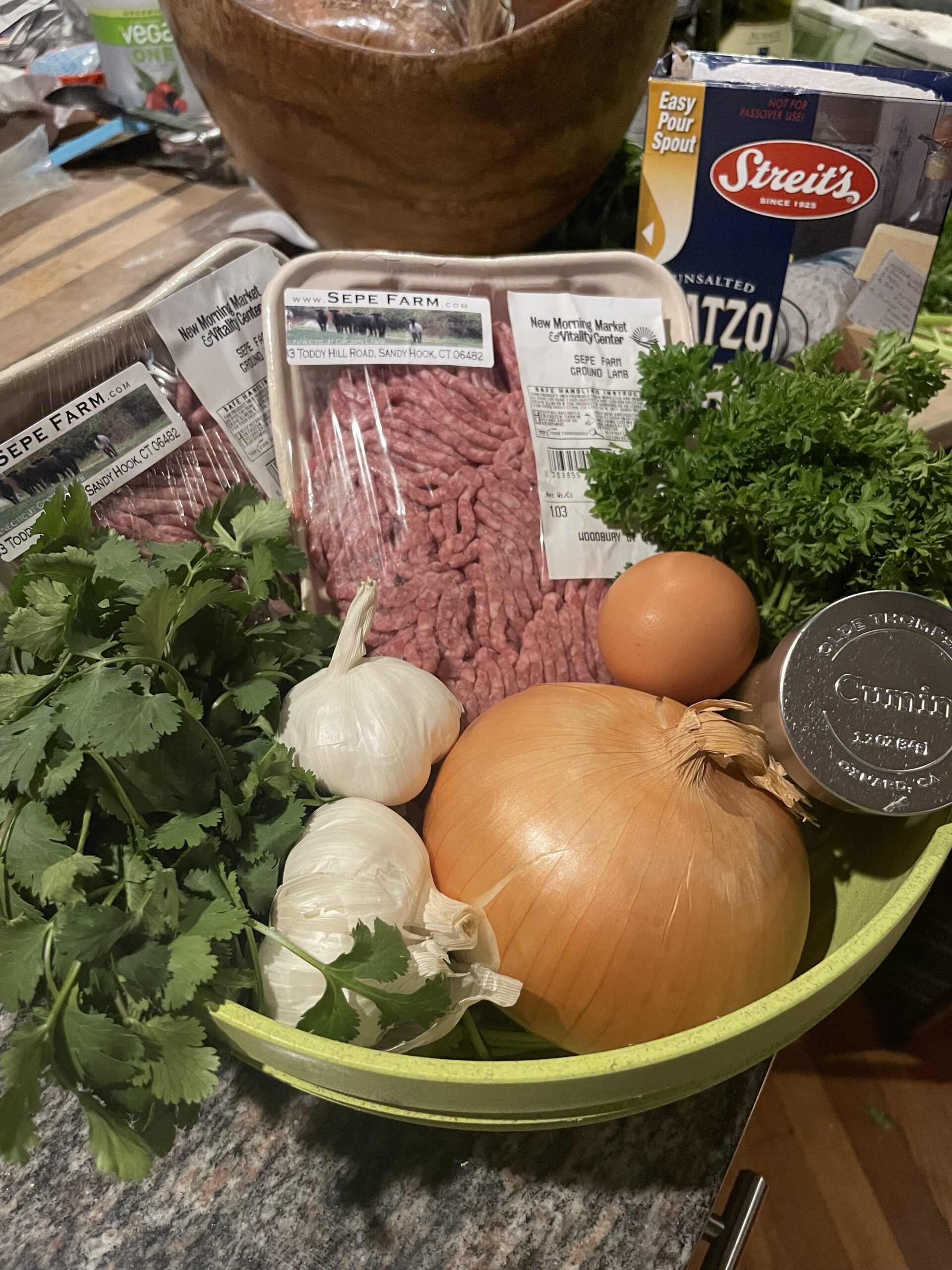 Step 1
Slice the eggplant into ½ inch rounds and coat with coarse salt and set aside for at least 30 minutes to tenderize.
Step 2 
In the meantime chop the garlic,
onion, and herbs.
Step 3 
Preheat the oven to 400.
Step 4
Combine the lamb, onion, garlic,
egg, parsley, cilantro, bread crumbs (or matzoh meal), cumin, salt, and pepper in a large bowl. You can use a masher or a large fork, but I have found the best way to mix meat for meatballs is just get your hands in there and squish, making sure to fully distribute everything. Form into 2 inch balls. At this point they can be refrigerated or frozen for later cooking.
Step 5
The meatballs can be fried over
medium heat in batches, and then drained on paper towel, OR baked at 400 for 20-25 minutes on a rack so they don't sit in their own fat.
Step 6
Rinse the eggplant and pat dry. Slice the rounds into ½ inch sticks. In a large bowl, combine the garlic, parsley, olive oil, salt and pepper and mix well. Toss the eggplant in this mixture and then spread out on a rimmed baking sheet and bake at 400 for 30-40 minutes. It should be crispy and creamy when done.
Step 7
Serve with warmed naan or pita bread and Tzatziki sauce.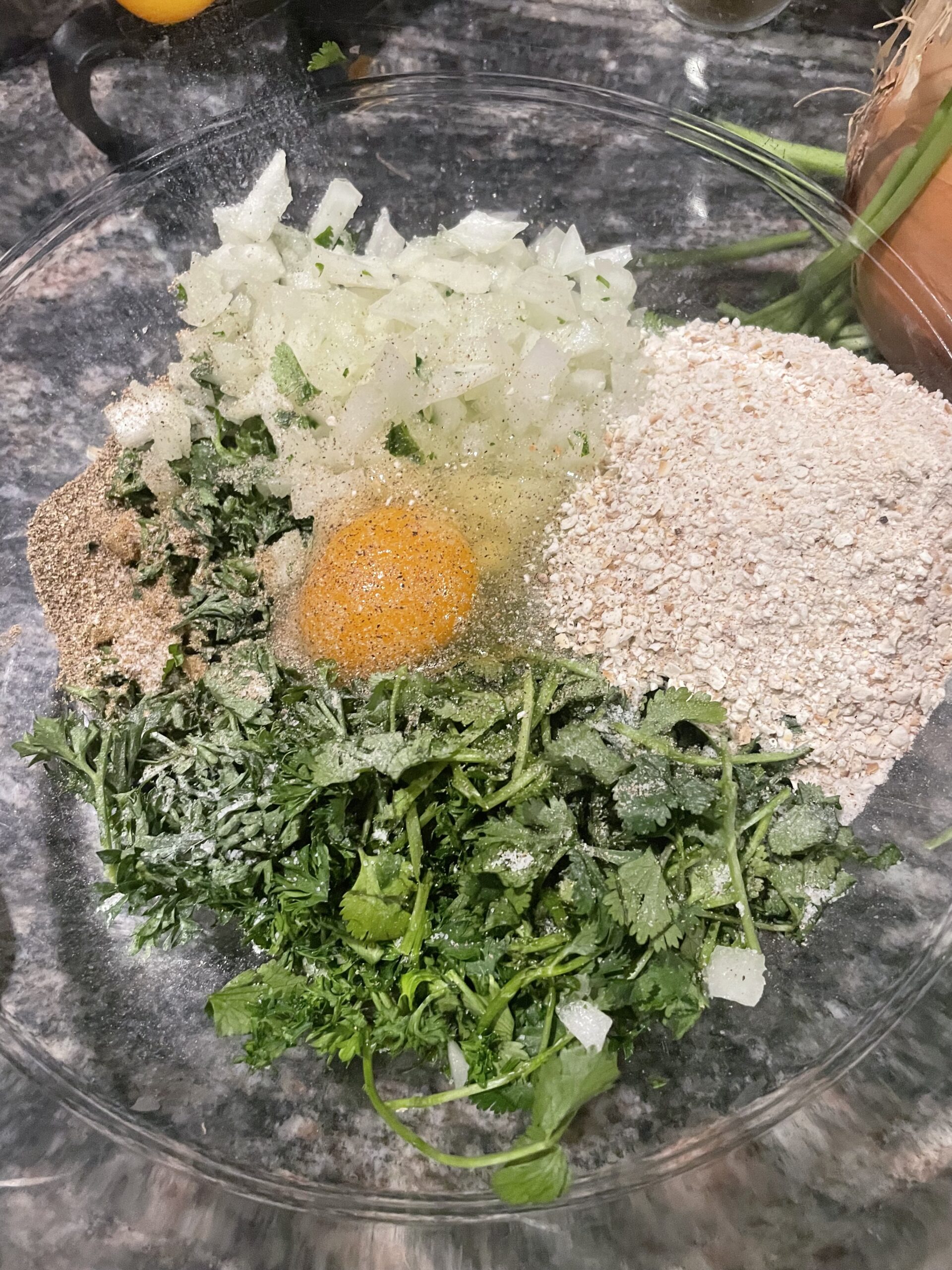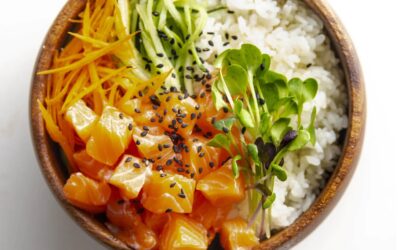 Hudson Valley Steelhead Poke Bowl Time: 25 min. Servings: 4 Ingredients 1lb Steelhead trout fillet 1/4 cup soy sauce 1 tsp rice wine or apple cider vinegar 1 tsp sesame oil 1 tsp siracha, chili paste or wasabi Pickled cucumber and carrots 2 x 6-inch Persian...