Hudson Valley Steelhead Burger
2 lb steelhead cubed

1 clove garlic

1/2 shallot

6 stems and leaves cilantro

1 T Ginger (fresh grated)

1 cup scallions

1/4 cup olive oil

1/4 cup soy sauce

1 T Jalapeno( Optional )

For Plating: bun, pita, naan, leaf lettuce and 1 sliced avocado
Step 1
Toss all ingredients in bowl to marinate 15 minutes. 
Step 2
Put all ingredients through a meat grinder or pulse in a food processor.
Step 3
Line a tray with wax paper and drizzle with olive oil or sesame oil to prevent sticking divide mixture into 6 equal parts, form into burgers and put on oiled tray.
Step 4
Refrigerate 1 hour or best results overnight.
Step 5
On a Griddle or Grill on med-high heat cook 4 minutes each side.
Step 6
Serve on Lettuce wrap, pita, nan or brioche bun with sliced or hand crushed avocado.
Step 7
 Garnish with lime, cilantro & sesame seeds
Recipe from Chef Constantine Kalandranis, The Greekish (Harrison and Nyack, NY) 
⁠
Hudson Valley Fisheries was inspired by their commitment to food security and environmental stewardship. Their goal is to protect wild fish populations and the environment through dedicated animal care and an advanced recirculating aquaculture technology.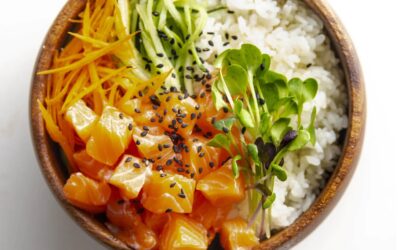 Hudson Valley Steelhead Poke Bowl Time: 25 min. Servings: 4 Ingredients 1lb Steelhead trout fillet 1/4 cup soy sauce 1 tsp rice wine or apple cider vinegar 1 tsp sesame oil 1 tsp siracha, chili paste or wasabi Pickled cucumber and carrots 2 x 6-inch Persian...