Garlic Roasted Eel with Polenta
2lb eel butterflied

10 garlic cloves 

10 springs fresh rosemary

1 cup dry white wine

4 tbsp extra virgin olive oil

Salt & pepper to taste

2/3 cup white polenta

1 ½ cup water

4 tbsp butter

Wooden skewers, soaked in water for 20 minutes
Step 1
Cut eel into 10 large chunks with a sharp knife, careful not to tear the skin
Step 2
Sear chunks, skin side down, quickly over high heat in cast iron skillet
Step 3
Let eel cool then place one garlic clove and one sprig of rosemary in the middle of each chunk
Step 4
Fold eel closed and skewer each eel chunk so it stays closed
Step 5
Preheat oven to 350 degrees
Step 6
Drizzle a baking sheet with olive oil and arrange eel in single layer spaced 1 inch apart
Step 7
Season liberally with salt and pepper and cook in over for 10 minutes
Step 8
Remove baking sheet and pour white wine over the eel, cook another 10 minutes in the oven
Step 9
For the polenta, bring water to a boil over medium heat and stir in polenta. Cook for 10 minutes, stirring constantly then add the butter and stir until fully combined
Step 10
To serve, place eel chunks on top of a spoonful of polenta and top with eel cooking juices.
 1.5 lb. eel filets
1 cup short grain Japanese
¼ cup soy sauce
½ cup mirin
1 tbsp honey
 ¼ cup sake
 Strips of nori seaweed
 Toasted sesame seeds
Step 1
To make kabayaki sauce combine soy sauce, mirin, honey and sake in a medium saucepan and reduce on medium-low heat until syrupy
Step 2
Meanwhile, bring a large pot of water to a boil and steam eel until the internal temperature reads 158 degrees Fahrenheit
Step 3
Cover cooked eel in kabayaki sauce and let rest
Step 4
In a medium pot combine rice with 2 ½ cups of water and bring to a boil.
Step 7
Cover rice and cook on low heat for 20 minutes, then remove from heat and let stand covered for an additional 10 minutes
Step 8
Cut marinated eel into 1-in pieces and sear in a cast iron skillet over medium-high heat until heated through (1 or 2 minutes per side)
Step 9
Serve eel over rice and sprinkle with nori strips and sesame seeds on top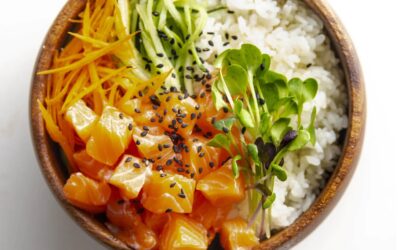 Hudson Valley Steelhead Poke Bowl Time: 25 min. Servings: 4 Ingredients 1lb Steelhead trout fillet 1/4 cup soy sauce 1 tsp rice wine or apple cider vinegar 1 tsp sesame oil 1 tsp siracha, chili paste or wasabi Pickled cucumber and carrots 2 x 6-inch Persian...