Alex Grant is New Morning Market's own resident seafood expert with not only years of experience taking care of customers like you, but a lifetime of experience enjoying and perfecting family recipes. This holiday season he is sharing his family's Oven Baked Branzino recipe with us!
2 whole Branzino, gutted and scaled (800-1000g)

4 tablespoons salted butter, melted

 2 tablespoons extra virgin olive oil

2 teaspoons garlic powder

1 teaspoon dried oregano

1 teaspoon dried thyme

1 teaspoon paprika

3 tablespoons lemon juice

6 garlic cloves, minced

1 medium onion, sliced thin

2 lemons, sliced

Fresh parsley

Salt & pepper to taste

2 yellow potatoes, sliced

2 bell peppers, sliced
Step 1
Preheat the oven to 400 degrees. Rinse fish under cool water and pat dry on all sides and inside the cavity.
Step 2
Slit the skin on both sides of the fish three times. In a small bowl, combinethe melted butter, olive oil, salt, pepper, garlic powder, oregano, thyme and lemon juice.
Step 3
Place fish on a greased baking sheet and brush
seasoning mixture on both sides and inside the cavity.
Step 4
Add minced garlic, half of the sliced onion and lemon slices to both cavities. Push lemon slices into slits on the side as well.
Step 4
In a separate bowl combine the rest of the sliced onion, the bell peppers and potatoes and season with olive oil, salt and pepper.
Step 5
Frame the fish with the potato pepper mixture and add the white wine to the sheet. Sprinkle paprika over everything and bake uncovered for about 30 minutes, or until the fish flakes easily and the potatoes are soft.
Step 6
Serve with fresh parsley, a squeeze of lemon juice and enjoy!
Spaghetti with Fresh Tuna & Mint
1/3 cup extra virgin olive oil

4 garlic cloves, crushed

1.5 lb fresh tuna, cut into cubes

1 tablespoon minced garlic

2 tablespoons chopped flat-leaf parsley

1/2 cup dry white wine

2 cups peeled, seeded and diced fresh tomatoes

Salt & pepper to taste

1 pound dried spaghetti

1 tablespoon chopped mint
Step 1
Heat oil in large skillet over medium heat. Add in the crushed garlic and sauté until fragrant, about 30 seconds. Remove garlic and discard. 
Step 2
Add tuna to the garlic oil and sear on all sides, about one minute. Then add the minced garlic, parsley and white wine, stir to combine.
Step 3
After one minute add the tomatoes and stir frequently until the tuna is fully cooked, about five minutes.
Step 4
In a separate large pot, bring salted water to a rolling boil. Add spaghetti and cook until it is almost fully cooked, roughly five to seven minutes.
Step 5
Drain the pasta well then add to the skillet, combining it with the sauce. Add the mint and continue to cook on low heat for a couple minutes, until the sauce thickens.
Step 6
Serve with a squeeze of fresh lemon and enjoy!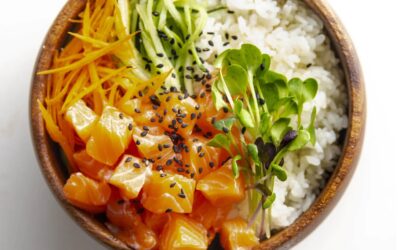 Hudson Valley Steelhead Poke Bowl Time: 25 min. Servings: 4 Ingredients 1lb Steelhead trout fillet 1/4 cup soy sauce 1 tsp rice wine or apple cider vinegar 1 tsp sesame oil 1 tsp siracha, chili paste or wasabi Pickled cucumber and carrots 2 x 6-inch Persian...