Alex Grant is New Morning Market's own resident seafood expert with not only years of experience taking care of customers like you, but a lifetime of experience enjoying and perfecting family recipes. This holiday season he is sharing his family's Oven Baked Branzino recipe with us!
Spaghetti with Fresh Tuna & Mint
1/3 cup extra virgin olive oil

4 garlic cloves, crushed

1.5 lb fresh tuna, cut into cubes

1 tablespoon minced garlic

2 tablespoons chopped flat-leaf parsley

1/2 cup dry white wine

2 cups peeled, seeded and diced fresh tomatoes

Salt & pepper to taste

1 pound dried spaghetti

1 tablespoon chopped mint
Step 1
Heat oil in large skillet over medium heat. Add in the crushed garlic and sauté until fragrant, about 30 seconds. Remove garlic and discard. 
Step 2
Add tuna to the garlic oil and sear on all sides, about one minute. Then add the minced garlic, parsley and white wine, stir to combine.
Step 3
After one minute add the tomatoes and stir frequently until the tuna is fully cooked, about five minutes.
Step 4
In a separate large pot, bring salted water to a rolling boil. Add spaghetti and cook until it is almost fully cooked, roughly five to seven minutes.
Step 5
Drain the pasta well then add to the skillet, combining it with the sauce. Add the mint and continue to cook on low heat for a couple minutes, until the sauce thickens.
Step 6
Serve with a squeeze of fresh lemon and enjoy!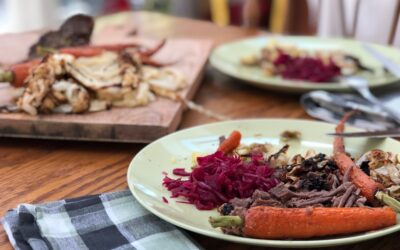 Garrett Valley Farms goes the extra mile to ensure our products are all natural to its truest definition. That means always free of antibiotics, nitrates, nitrites, preservatives, and artificial ingredients. Ingredients 3-5 lbs. Garett Valley corned beef...