Red Kuri squash have an incredibly smooth and creamy texture when cooked. Their flavor is nutty, subtly sweet, and a bit earthy — somewhat like chestnut. The skin is tender, thin, and edible! You can cook them whole or halved, or sliced into wedges or cubes.
How to Cut Red Kuri Squash:
1. With a sharp knife cut off the top & bottom stems of the squash.
2. Next, carefully cut the squash in half and scoop out the seeds.
3. Lay halves on the cutting board with the skin side up and slice into roughly 1″ width strips.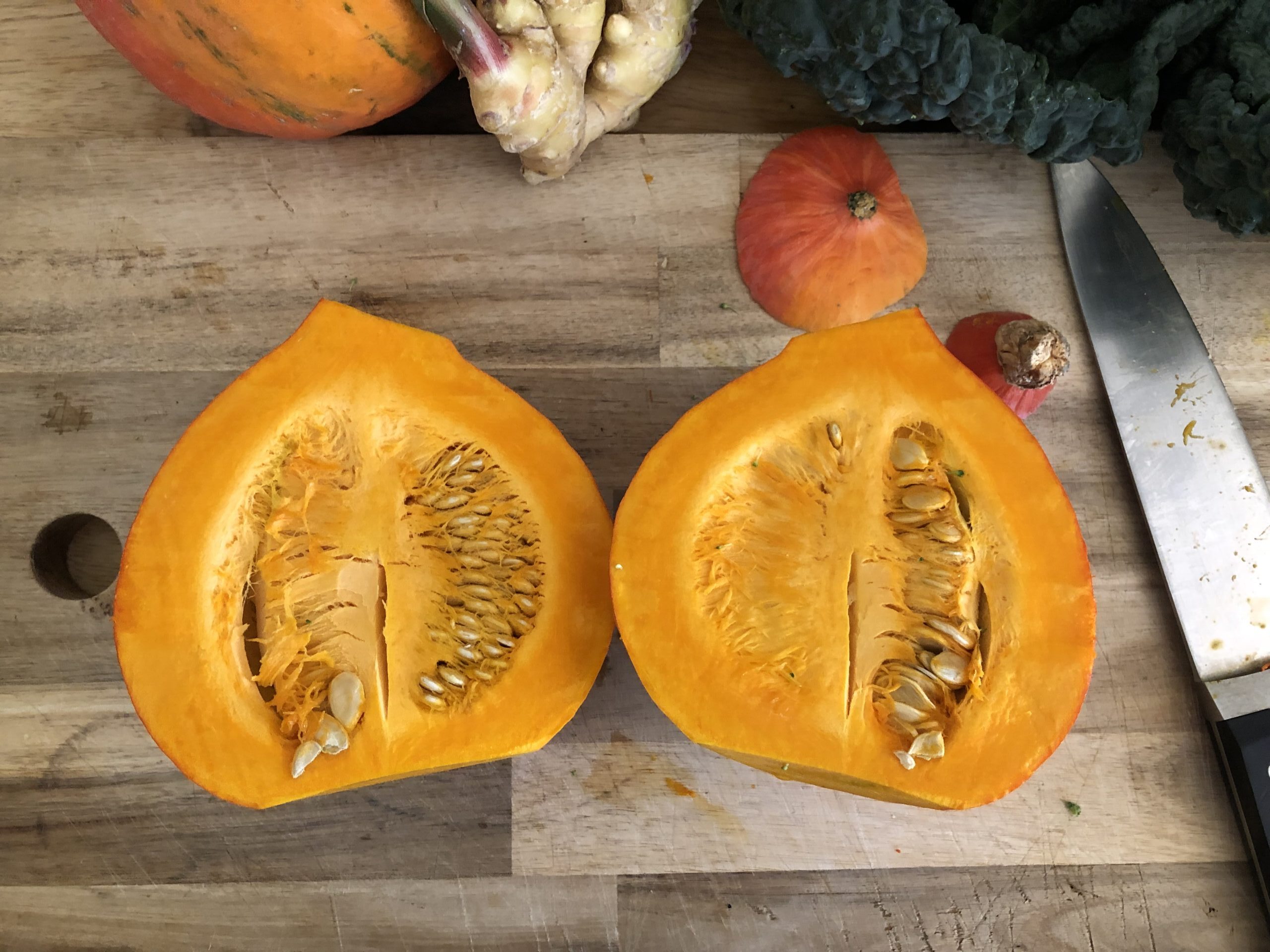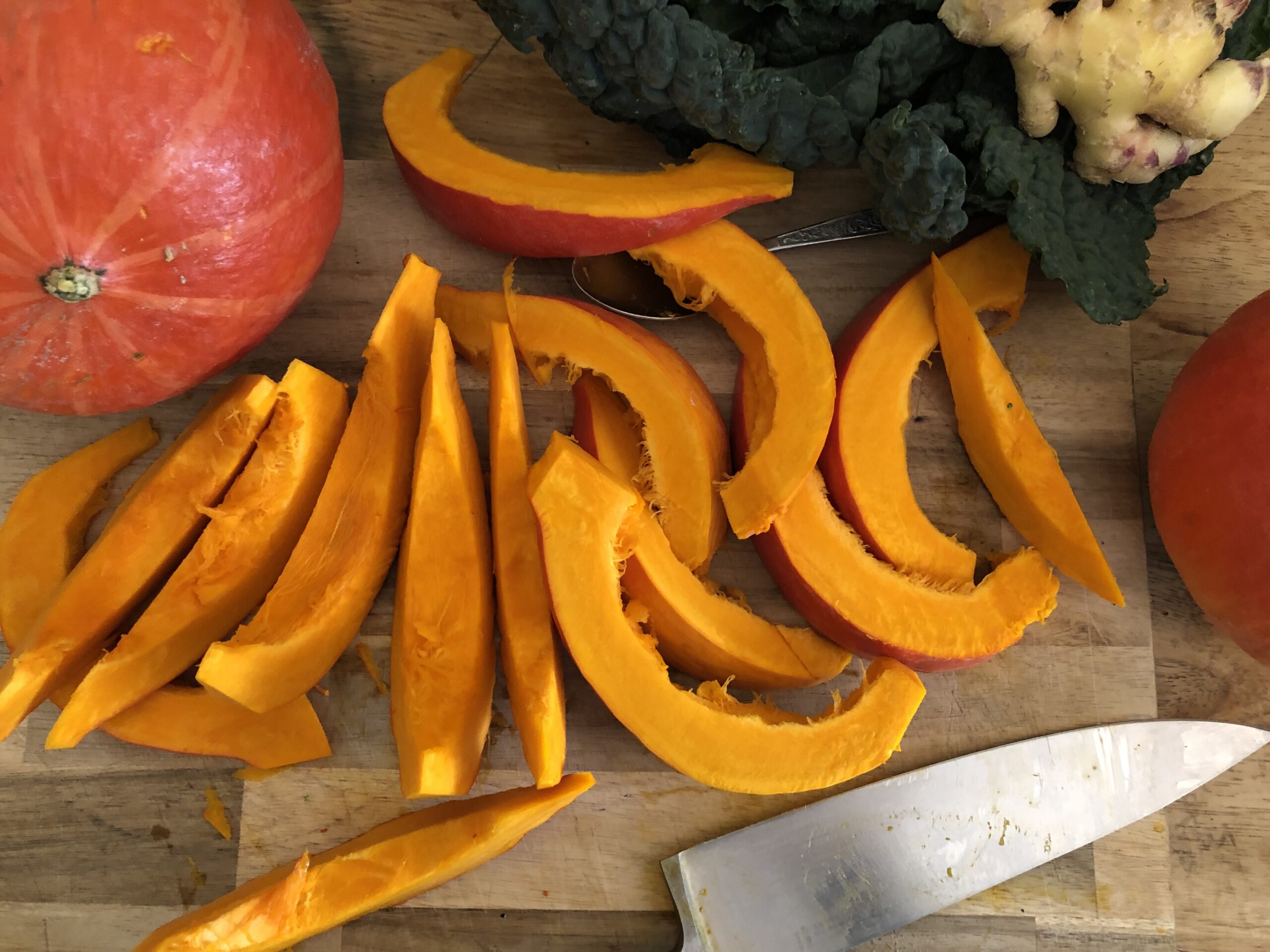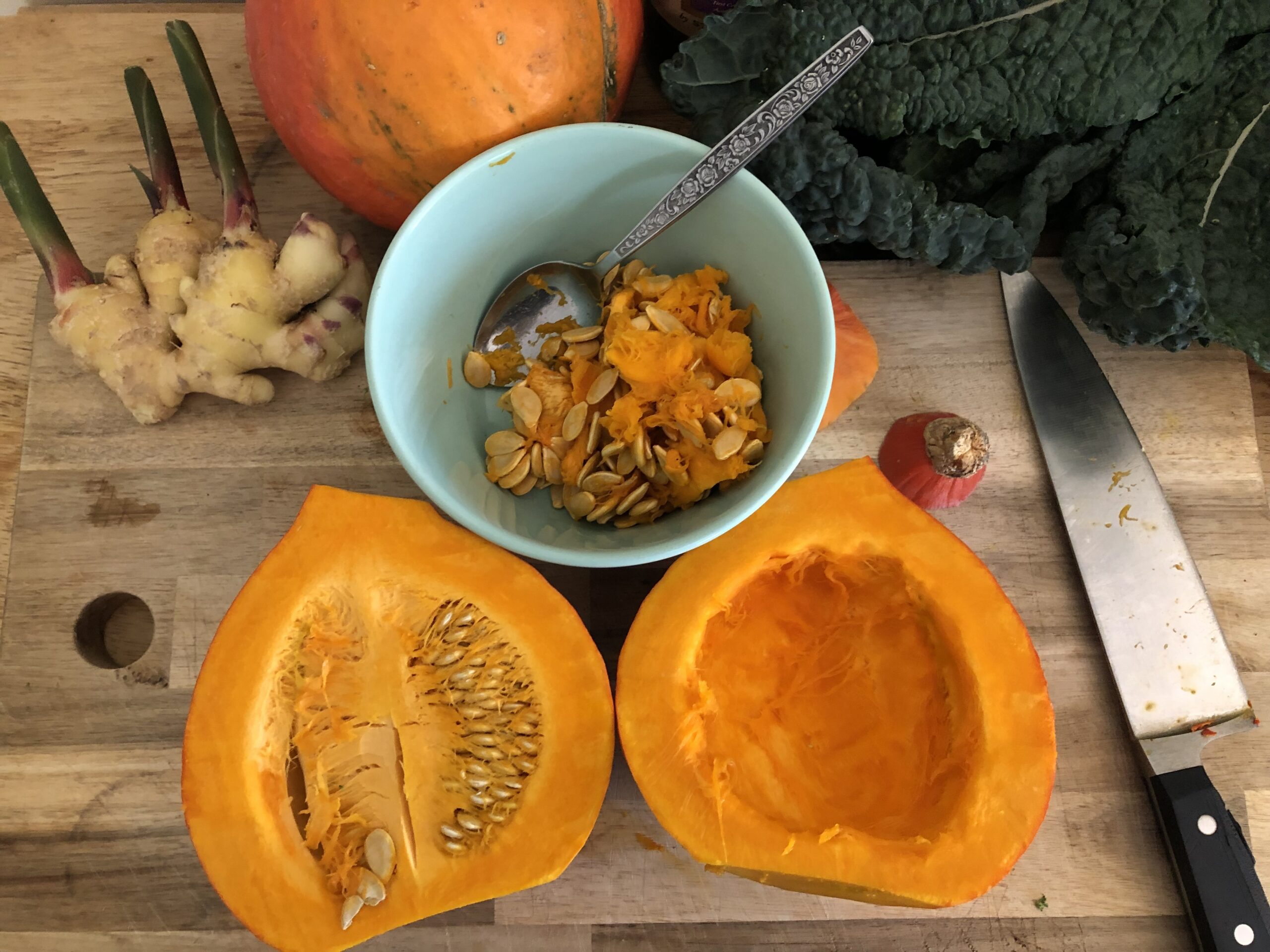 Roasted Red Kuri Squash with Garlicky Tahini Greens
Roasted Red Kuri Squash
1 medium-large Red Kuri Squash, seeded

and cut into wedges

3 tbsp. coconut oil, melted

 1 healthy pinch each salt and pepper

 2 tbsp. maple syrup (optional)

1 tsp. cinnamon (optional)

1 tsp. fresh grated ginger (optional)

handful of pomegranate seeds (optional)
Garlicky Greens
1 tbsp. coconut oil
3 cloves of garlic, minced
1 bunch lacinato kale, roughly chopped
Juice from a whole lemon
Salt & pepper to taste
Quick Tahini Dressing
¼ cup tahini
1 ½ tsp. dijon mustard
Juice from one lemon
1 tsp. apple cider vinegar
1 tsp. maple syrup
1 healthy pinch each salt and pepper
2-4 tbsp. water to thin
Step 1
 Preheat your oven to 400 degrees.
Step 2
 Line a baking sheet with parchment paper and set aside. Cut up your squash and place into mixing bowl. Whisk together the melted coconut oil, maple syrup, and spices. Mix well until all of the squash is coated. 
Step 3
Lay the squash out onto a baking sheet and bake for 25-30 minutes or until tender.
Step 4
In the meantime, prepare dressing. Add all dressing ingredients to a powerful blender or whisk by hand until you have a creamy consistency.  Add water if needed to make pourable. 
Step 5
 Next, start on your greens. Heat up coconut oil in a cast iron skillet. Once oil is hot, add garlic and saute until lightly browned. Then, add in greens and allow them to wilt. Remove from heat and add lemon juice, salt and pepper to taste.
Step 6
Arrange the maple roasted squash over your greens. Garnish with tahini dressing and pomegranate seeds and enjoy!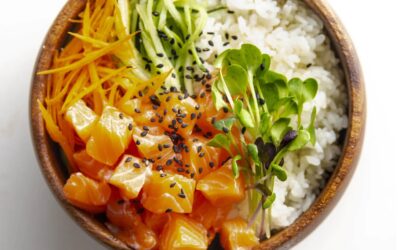 Hudson Valley Steelhead Poke Bowl Time: 25 min. Servings: 4 Ingredients 1lb Steelhead trout fillet 1/4 cup soy sauce 1 tsp rice wine or apple cider vinegar 1 tsp sesame oil 1 tsp siracha, chili paste or wasabi Pickled cucumber and carrots 2 x 6-inch Persian...