Although maple sap harvesting runs sometime between January and March, nothing says "Autumn" like pure, organic maple syrup. Maple syrup pairs well with a variety of autumn tastes, like winter squashes and root vegetables, apples, cinnamon, nuts, and slightly bitter vegetables like brussels sprouts.
"At Fat Stone Farm, we've been making maple syrup since the early 2000s in Lyme, Connecticut. We tap about 2500 mature maple trees in Lyme and East Haddam. The maple trees here surely benefit from the protected nature of our environment. For example, over 50% of land around us is in some type of protected status, and we adjoin the "Last Green Valley"-designated Connecticut River Valley."
Did you know?
• 50 to 80 gallons of sap make 1 gallon of syrup. Some years the sap contains more sugar right out of the tree, other years less sugar.
• Sap runs once the daytime temperatures rise above freezing and stop once night time temperatures fall below freezing.
• Light colored syrup is usually first in the season. When the days warm up, the syrup turns out darker.
• There are hundreds of naturally-occurring flavors in pure maple syrup, just like wine and coffee. Fat
Stone Farm syrup tends to taste brown-sugary, with butter, vanilla, and sometimes pecan or caramel undertones.
• Maple Syrup is a good source of zinc and manganese.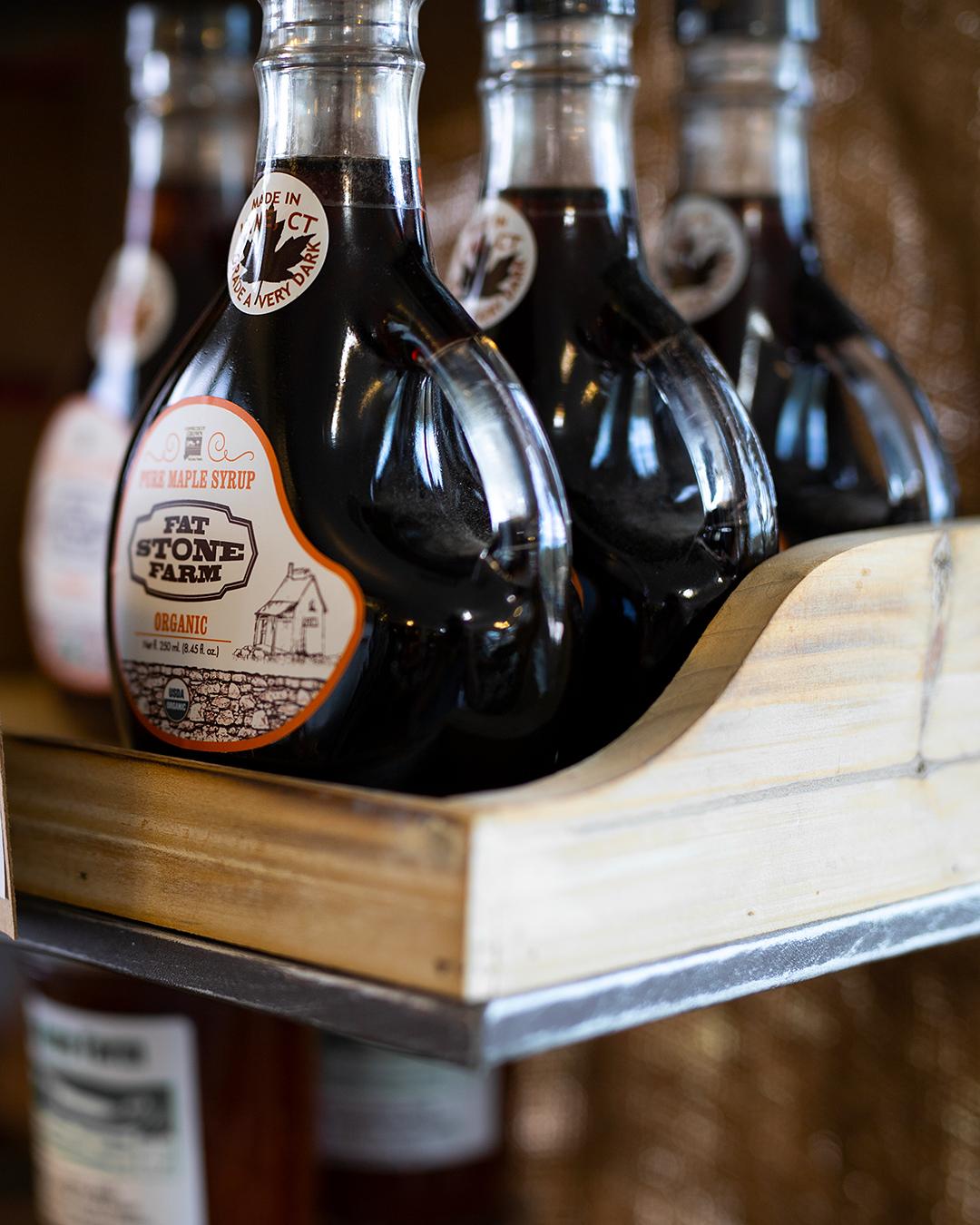 Why Choose Fat Stone Farm pure organic maple syrup?
• Certified Organic AND local. We follow organic standards in all stages of production, from tapping
trees to equipment cleaning.
• Glass packaging. We didn't want to wonder about plastic leaching (maple syrup goes into the bottles
around 200F), and love to see the product.
• Small footprint. Early on, we installed solar panels, steam-recycling evaporator hoods, and decided on wood as a renewable heat source (rather than oil or propane), and we re-use as much of our excess water as safely possible.
• While we don't re-use empty glass bottles, research shows that glass is much more likely to enter the
recycling stream than plastic. Our bottles are pretty enough to put right on the brunch table.
• The agricultural practice of maple sugaring keeps local forests productive. It encourages adults and children to think about how local trees and forests can be food sources. It keeps alive the Native American practice of boiling maple sap into a sweet treat. Try our easy Maple-Glazed Carrot recipe and help keep the tradition alive.
Fat Stone Farm Maple Glazed Carrots
Ingredients:
• 1 lb carrots
• 2 tbsp butter
• 1 to 3 tbsp maple syrup
• Salt to taste
Directions:
1. Peel and slice carrots about 1/4 inch thick, on the diagonal preferably.
2. Place carrots in a saucepan with about 2 cups of water.
3. Place the lid on the pan and boil for 4-6 minutes. The boiling time will increase if your carrots
are more thickly sliced.
4. Remove the lid and continue to boil, allowing most of the water to evaporate. Add the butter, maple syrup, and salt. Stir or swirl the pan to mix and continue to cook for 1 additional minute.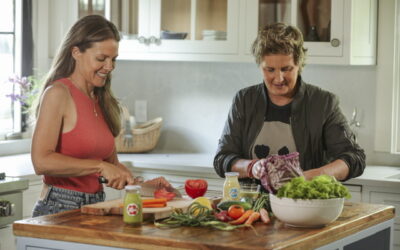 Tell us about Lisa's 1973Lisa's 1973 is a collection of refrigerated, ultra-clean, plant-based dressings and sauces filled with organic and functional ingredients - and what we've been told over and over again, phenomenal taste! We are 100% women-owned and...