Coq Au Vin Pot Pie
Serves 6
2 tbsp. Olive Oil

1 cup thinly sliced shallots

2 cups sliced baby bella
mushrooms

2 cups thinly sliced carrots

2 pounds boneless chicken thighs

 ½ tsp. Salt

 ½ tsp. Black pepper

 ¼ cup White wine vinegar

 ½ cup heavy cream (brought to room temperature) + 3 tbsp.

 2 tbsp. fresh thyme

 2 tbsp. almond flour

 3 tbsp. softened butter

 1 Package of Schaar Gluten-Free Frozen Puff Pastry Dough
Step 1
 Preheat the oven to 400 degrees. In a Dutch oven or high-sided skillet, heat 1 tbsp. of the olive oil over medium heat. Add mushrooms and sauté until browned. Add carrots and shallots and cook until tender and fragrant – about 5-7 minutes, stirring occasionally. Remove the mushrooms, carrots and shallots from the pot and set aside in a bowl.
Step 2
Add 1 tbsp. of oil to your Dutch oven or skillet that is still over medium heat. Salt and pepper the chicken evenly on each side. Add seasoned chicken to the Dutch oven or skillet and brown on each side – about 3 minutes per side – or until light golden brown. Remove browned chicken from the Dutch oven or skillet and turn off heat.
Step 3
Stir in the white wine vinegar and scrape up browned bits from the bottom of your Dutch oven or skillet. In a small bowl stir together the softened butter and almond flour to create a roux (or smooth paste).
Step 4
Add ½ cup of heavy cream to your pot with the white wine vinegar, whisking while you slowly pour the cream in. Add the roux to your pot, whisking until the wine wine, heavy cream and roux has become a thin gravy. Add browned chicken to the pot.Top with cooked mushrooms, carrots and shallots.
Step 5
Carefully unroll your pastry sheet (thawed according to package instructions). You can cut or pull apart the pastry sheets in irregular pieces or grab a favorite seasonal cookie cutter to make festive shapes. Arrange pastry pieces over the chicken and veggies. Brush with additional cream and bake for 15 – 20 minutes or until the pastry is golden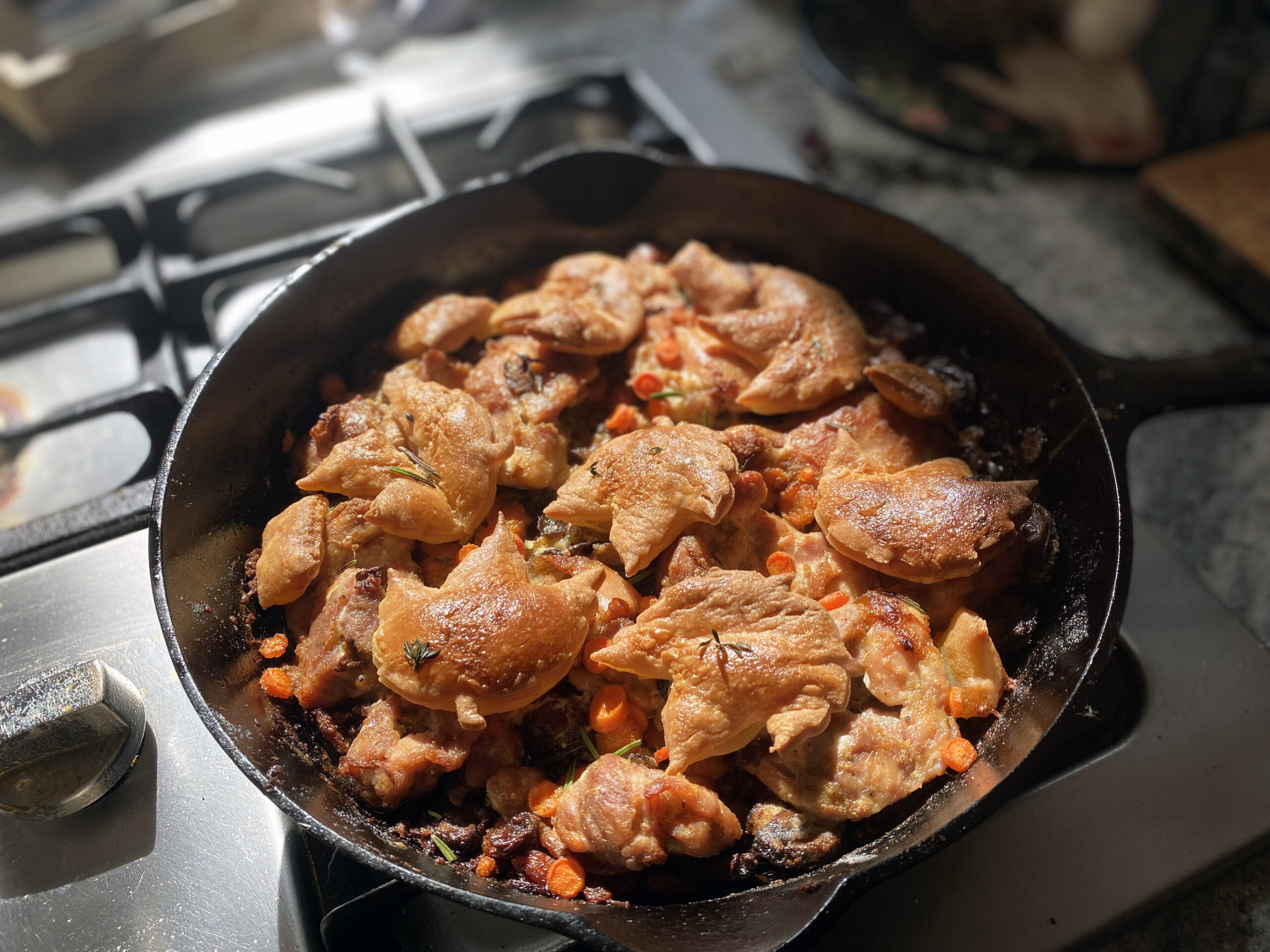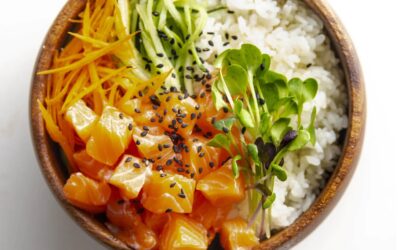 Hudson Valley Steelhead Poke Bowl Time: 25 min. Servings: 4 Ingredients 1lb Steelhead trout fillet 1/4 cup soy sauce 1 tsp rice wine or apple cider vinegar 1 tsp sesame oil 1 tsp siracha, chili paste or wasabi Pickled cucumber and carrots 2 x 6-inch Persian...