monk fish, 1lb cubed

2 carrots, diced

1 celery stalk, diced 

1/2 medium onion, diced

4 garlic cloves, minced

1lb green beans, trimmed

2 sweet potatoes, cubed (optional: 1.5lb bag fingerling potatoes)

1 tablespoon fish sauce 

3 tablespoons red curry paste

1 tablespoon curry powder

1 can coconut milk

2 cups fish or vegetable stock
Optional toppings:
lime wedges

bean sprouts 

cilantro
Step 1
Preheat oven to 450 degrees.
Step 2
Place sweet potatoes on a baking sheet and season with olive oil salt and pepper.
Step 3
Cook in the oven for 20 minutes, flipping halfway through.
Step 4
Sauté onions, carrots and celery for five minutes on medium heat. Add garlic and cook for another minute.
Step 5
Season everything with salt, pepper, curry powder and curry paste. Cook for another five minutes.
Step 6
Add fish sauce then your stock of choice and bring to a slow boil. Cover and cook on low for ten minutes.
Step 7
Uncover the curry and add the green beans and any other vegetables of your choice (broccoli, zucchini or spinach is great).
Step 8
Cook for an additional five to ten minutes.
Step 9
 Add the coconut milk, bring curry back up to a boil then place in the monk fish.
Step 10
Cover and cook for five more minutes.
Step 11
Serve with sweet potatoes and toppings such as bean sprouts, lime wedges and cilantro. Enjoy!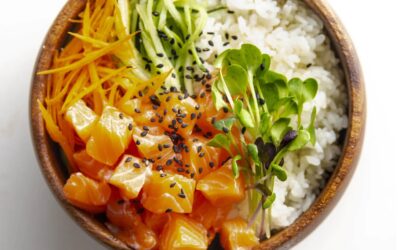 Hudson Valley Steelhead Poke Bowl Time: 25 min. Servings: 4 Ingredients 1lb Steelhead trout fillet 1/4 cup soy sauce 1 tsp rice wine or apple cider vinegar 1 tsp sesame oil 1 tsp siracha, chili paste or wasabi Pickled cucumber and carrots 2 x 6-inch Persian...