2 pounds beef stew meat

2 tablespoons of vegetable oil

Salt & Pepper

 1 cup diced onion (2 small onions or 1 big
onion)

2 carrots chopped

2 celery stalks chopped

3-5 cloves of garlic

1 cup red wine (can omit and substitute
with beef broth)

 3 cups vegetable broth

1 fresh or dried herb bouquet

 2 bay leaves

 2 small or one large parmesan rind

Your favorite potatoes – big mashed
ones, little roasted ones, doughy gnocchi
ones, or what the heck, even french fried
ones, this dish needs potatoes!
Step 1
 Heat oven to 300 degrees
Step 2
Heat oil to medium-high in a Dutch Oven or high-sided skillet with a lid
Step 3
 In a medium sized bowl toss meat with salt and pepper (about ½ tsp. of salt and ¼ tsp. of pepper)
Step 4
Browning the Meat – place pieces of stew meat in the oil one by one without crowding the pan – you may need to brown the meat in batches. Sear about 3 minutes per side or until each side has turned a carmely roasted brown. Transfer cooked pieces to a plate (I use the lid of my Dutch Oven)
Step 5
Remove all meat from the pan
Step 6
Add onions, carrots, celery and garlic and saute until fragrant, about 5 min, stirring regularly
Step 7
Season vegetables with salt and pepper
Step 8
Pour red wine or beef broth in pan over the veggies and bring to a slow simmer
Step 9
Pour in vegetable broth and bring to a full boil. Leave boiling for 5 minutes
Step 10
Add fresh herb or dried herb bouquet, dried bay leaf and parmesan rinds
Step 11
Turn off heat, place lid on top and transfer to 300 degree oven. Cook for 4 hours
Step 12
Remove from the oven and cook over medium heat on stove top until the liquid thickens and the meat pulls apart easily with a fork
Step 13
Prepare potatoes during the above step
Step 14
 Serve with potatoes, parmesan shavings, hot sauce and or truffle oil, but most importantly, enjoy!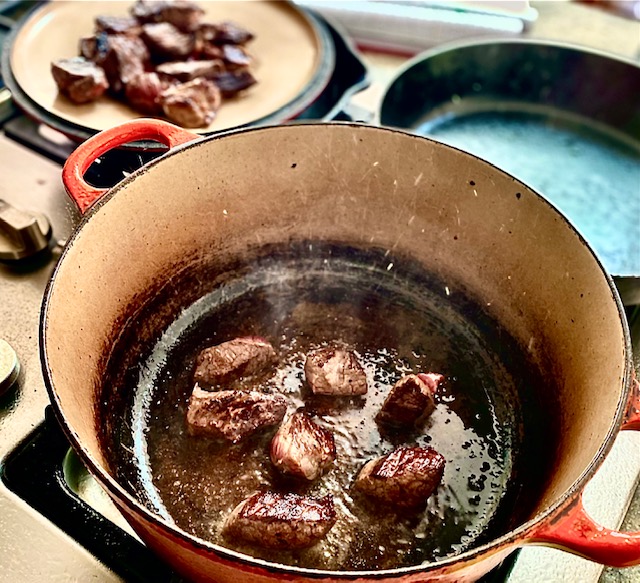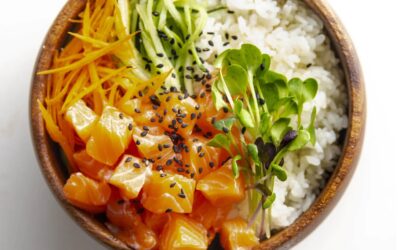 Hudson Valley Steelhead Poke Bowl Time: 25 min. Servings: 4 Ingredients 1lb Steelhead trout fillet 1/4 cup soy sauce 1 tsp rice wine or apple cider vinegar 1 tsp sesame oil 1 tsp siracha, chili paste or wasabi Pickled cucumber and carrots 2 x 6-inch Persian...