We love these fudgy, decadent, refined sugar-free brownies. The secret ingredient? Sweet potatoes! Sweet potatoes give these brownies an extra fudgy texture and add just the right amount of sweetness.
Sweet Potato Brownies*
Gluten-Free, Vegan, Dairy-Free, Nut-Free
2 tbsp ground flaxseed

6 tbsp water

1 large baked sweet potato, skin removed OR

1 16 oz. can sweet potato puree

¼ cup melted coconut oil

4 tbsp maple syrup or sweetener of choice

1 cup seed or nut butter of your choice

½ cup raw cacao powder

 ½ tsp sea salt

½ tsp baking soda

1 cup chocolate chunks or chips

For garnish

handful of rose petals

sea salt flakes

chopped pistachios
Step 1
Preheat oven to 375°F. Grease an 8×8 baking pan with oil of choice or line with parchment paper.
Step 2
Make flax eggs** by stirring together ground flaxseed and water in a small bowl. Set aside for at least 10 minutes.
Step 3
Combine flax eggs and all remaining ingredients (except chocolate chips) in a large mixing bowl until super smooth. Add chocolate chips.
Step 4
Pour batter into a baking pan and spread evenly.
Step 5
Bake for about 30 minutes, checking in occasionally. Brownies should be slightly firm on top.
Step 6
Remove from oven and allow to cool before garnishing and serving.
*Inspired by Sahara Rose's Eat Feel Fresh Sun-Butter Sweet Potato Brownies
**A flax egg is a vegan egg substitute, that is made up of ground flax seeds and water. After a few minutes, the mixture will begin to thicken and get goopy (like an egg) – and you have your flax egg!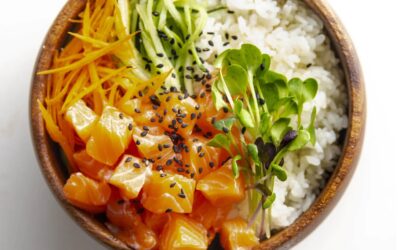 Hudson Valley Steelhead Poke Bowl Time: 25 min. Servings: 4 Ingredients 1lb Steelhead trout fillet 1/4 cup soy sauce 1 tsp rice wine or apple cider vinegar 1 tsp sesame oil 1 tsp siracha, chili paste or wasabi Pickled cucumber and carrots 2 x 6-inch Persian...