This holiday season impress your friends and family with these sustainable wrapping ideas. You won't believe how easy it can be to use things you already have around the house or can gather from nature to create some gift wrapping magic and add that extra touch this holiday season. The additional time it takes will be worth the excitement on their faces! Not to mention, you can feel good about reuseable options that limit waste!
Kraft Paper or Recycled Paper Bags
Brown kraft paper (a roll of it) or recycled brown paper bags (with print on inside) and some string or twine are some of the easiest ways to create uniform, yet simple wrapping that wows!
Once the gift is wrapped, take a walk in nature gathering found objects like pine sprigs, pine cones, leaves, twigs etc. You can even source fresh herbs from your garden or yard to tie onto your paper with twine, like rosemary, holly or juniper.
Finish with a homemade gift tag and even add a candy cane, cinnamon sticks, or dried citrus slices if you need that extra pop of holiday color.
Tie in Recycled Scarf/Fabric
Search for a cloth, scarf or recycled fabric you already have on hand.
Depending on the size of the box or gift, cut an appropriate square of fabric that you will be able to manipulate and use.
The simple knot at the top can be embellished with an ornament or any tie-off you may have around the house that adds some festiveness to the gift. Or simply leave as is and add your homemade gift tag to the knot.
Use That Extra Canvas Tote for the Fastest Way to Finish Your Gift!
If you don't have an extra canvas tote lying around the house, simply pick one up at checkout the next time you're shopping in New Morning Market or your local farmers market. It's really a great way to give a bonus gift for that special friend or family member to re-use later. They'll think of you everytime they re-use the bag!
Choose the style and size that best fits the gift, grab some tissue paper and go!
Finish with a festive final tie-off (sourced from nature or even your house like an extra ornament).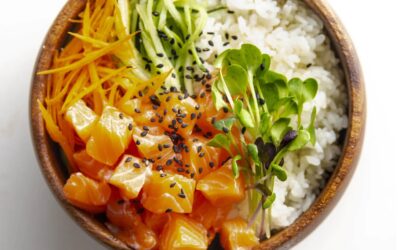 Hudson Valley Steelhead Poke Bowl Time: 25 min. Servings: 4 Ingredients 1lb Steelhead trout fillet 1/4 cup soy sauce 1 tsp rice wine or apple cider vinegar 1 tsp sesame oil 1 tsp siracha, chili paste or wasabi Pickled cucumber and carrots 2 x 6-inch Persian...