Dinner? Done!
Our easy weeknight meals are made with minimal ingredients, require few steps, and budget friendly!
This simple red lentil soup is nourishing, rich, creamy and made with wholesome ingredients. Plus it's vegan and gluten-free! Makes an easy weeknight dinner or a perfect warming holiday meal to share with friends and family. Stores well in refrigerator for up to 5 days or freeze for 1 month. Makes great leftovers!
Charlotte is the Creative Lead at New Morning Market and a lover of all things plant-based! She loves spending time in the kitchen and creating nourishing meals that anyone can enjoy – whether you're vegan or not! 
Prep time: 10 min.
Cook time: 35 min.
Serves: 6
 2 tbsp. olive or coconut oil

1 medium sized leek, roughly chopped

1 ½ cups red lentils, rinsed and sorted

1 large stalk celery, diced

1 large carrot, diced

4 garlic cloves, roughly chopped

1 2-inch knob of ginger, finely diced

1 cup spinach or kale

1 15 oz. can unsweetened coconut milk
4 cups vegetable broth
1 cup water
1 tsp. salt
1 ½ tsp. cumin
1 ½ tsp. coriander
1 tsp. turmeric
¼ tsp. crushed red pepper flakes
1 lemon, juiced
cilantro and lemon wedges for garnishing
Step 1
Heat oil in a Dutch oven or pot over
medium-low heat. Add leek, celery and carrots and saute for about 5 min., stirring occasionally.
Step 2 
Mix in garlic, ginger, spices and season with salt and pepper until fragrant (about 1-2 min.).
Step 3
Add lentils and stir for 1 min. Add vegetable broth, water, and coconut milk. Bring mixture to a boil then reduce heat and simmer gently for 30-40 min. or until lentils reach desired softness. Stir occasionally.
Add a bit more water if you prefer a more brothy soup.
Step 4
Once everything is tender, remove from heat. Add lemon juice. Garnish with a lemon wedge, fresh cilantro, or both!
Step 5
Serve over brown rice, with crusty bread, or a big salad!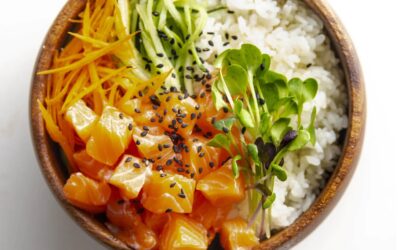 Hudson Valley Steelhead Poke Bowl Time: 25 min. Servings: 4 Ingredients 1lb Steelhead trout fillet 1/4 cup soy sauce 1 tsp rice wine or apple cider vinegar 1 tsp sesame oil 1 tsp siracha, chili paste or wasabi Pickled cucumber and carrots 2 x 6-inch Persian...