Prep time: 5 min.
Cook time: 30 min.
Serves: 6
2 Bags of Small Whole Potatoes (3 – 4 lbs of loose potatoes)

¼ Cup of Extra Virgin Olive Oil

2 Teaspoons of Salt

Fresh Ground Pepper to Taste

3 Packed Tablespoons of Roughly Torn or Chopped Fresh Sage Leaves
Step 1
Heat the oven to 400 degrees.
Step 2
Mix all ingredients together and place them on a sided baking pan.
Step 3
Roast for 30 minutes.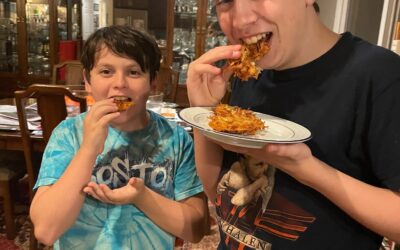 Grandma's Latkes with Carolynn Schwartz & Family I've been making latkes (potato pancakes) for Chanukah every year for as long as I can remember, and I turn 51 at the end of December. As in many Reform Jewish households, most holidays for my family centered around...