This rich, authentic holiday drink is originally from Puerto Rico. If you like coconut and eggnog, you'll love this twist and it may quickly become a new holiday tradition in your house!
Prep time: 10 min.
Serves: 6-8
2 Cans (12.2 oz each) Evaporated Coconut Milk
1 Can (13.5 oz) Coconut Whipping Cream
1 Can (11.5 oz) Sweetened Condensed Coconut Milk
2 Cups Non-Dairy Milk (like coconut, oat or almond milk)
1 Tablespoon Vanilla Extract
½ Teaspoon Ground Cinnamon (plus more for garnish)
Cinnamon Sticks, grated Nutmeg & Whole Star Anise for garnish
Step 1
Using a blender or hand mixer, blend
together evaporated coconut milk, coconut whipping cream, sweetened condensed coconut milk, non-dairy milk, vanilla extract and ground cinnamon for about 1 minute. Blend longer if needed to fully combine ingredients.
Step 2
Transfer the mixture to a pitcher and chill for 1 – 2 hours before serving.
Step 3
Serve in a festive glass or mug and
garnish with ground cinnamon, cinnamon sticks and whole star anise.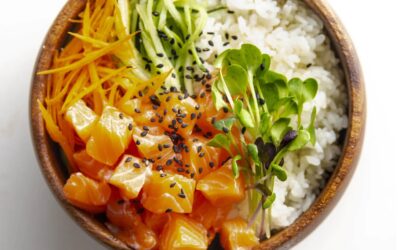 Hudson Valley Steelhead Poke Bowl Time: 25 min. Servings: 4 Ingredients 1lb Steelhead trout fillet 1/4 cup soy sauce 1 tsp rice wine or apple cider vinegar 1 tsp sesame oil 1 tsp siracha, chili paste or wasabi Pickled cucumber and carrots 2 x 6-inch Persian...