Prep time: 30 min.
Cook time: 1 hour
Serves: 6
4 – 6 Garlic Cloves, Chopped

2 tbsp. of Whole Grain Dijon Mustard

2 tbsp. of Maple Syrup

¼ Cup of Extra Virgin Olive Oil

1 ½ – 2 lbs. of Pork Tenderloin (a packaged pork tenderloin over 1 ½ lbs. will likely include 2 tenderloins)

1 tbsp. of Fine Kosher Salt

2 tbsp. of Vegetable Oil

½ Cup of Vegetable Broth

Fresh Rosemary Sprigs

Pomegranate Seeds

Step 1
Heat your oven to 350 degrees.
Step 2
Whisk the chopped garlic, whole grain dijon mustard, maple syrup, and extra virgin olive oil together in a bowl and set aside.
Step 3
Sprinkle salt on all sides of the pork tenderloin(s) and gently massage the salt in.
Step 4
Rub the garlic/mustard/maple syrup/olive oil mixture evenly on the pork.
Step 5
Heat a large skillet with a lid or Dutch oven over medium heat. Add the vegetable oil.
Step 6
Sear the tenderloin(s) for 3-5 minutes on each side (until the tenderloin is a medium golden brown). If working with two tenderloins, you may have to work in batches depending on the size of your skillet or Dutch oven.
Step 7
Once your tenderloin(s) are seared, place both in the skillet or Dutch oven.
Step 8
Add ½ cup of vegetable broth to your skillet or Dutch oven.
Step 9
Cover your skillet or Dutch oven with a lid and place it into the oven. Cook for 1 Hour.
Step 10
Remove from the oven and let the tenderloin(s) stand for 10 min.
Step 11
 Slice into one-inch medallions. Plate & garnish with fresh rosemary sprigs and pomegranate seeds.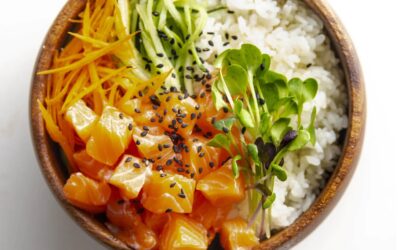 Hudson Valley Steelhead Poke Bowl Time: 25 min. Servings: 4 Ingredients 1lb Steelhead trout fillet 1/4 cup soy sauce 1 tsp rice wine or apple cider vinegar 1 tsp sesame oil 1 tsp siracha, chili paste or wasabi Pickled cucumber and carrots 2 x 6-inch Persian...