Prep time: 5 min.
Cook time: 12 min.
Serves: 6
6 Red Pears

½ Cup of Unsalted Butter, Melted

2 Teaspoons of Ground Cinnamon
Step 1
Turn your oven broiler setting to low.
Step 2
Whisk the ground cinnamon into the melted butter.
Step 3
Place the pears in a high-sided baking dish or pie dish.
Step 4
Pour the butter mixture evenly over the pears.
Step 5
Place pears into the oven and broil for up to 12 minutes, checking the butter every 3 – 5 minutes. The butter will brown at different times depending on your oven's low-broil temperature. You want the butter to be a light golden brown.
Step 6
Remove the pears from the oven.
Step 7
Plate the pears and top evenly with the melted butter mixture.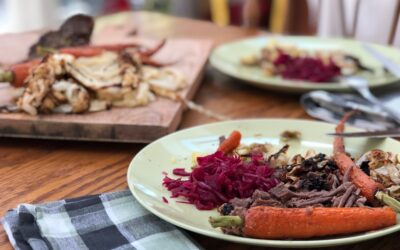 Garrett Valley Farms goes the extra mile to ensure our products are all natural to its truest definition. That means always free of antibiotics, nitrates, nitrites, preservatives, and artificial ingredients. Ingredients 3-5 lbs. Garett Valley corned beef...