Prep time: 5 min.
Cook time: 12 min.
Serves: 6
6 Red Pears

½ Cup of Unsalted Butter, Melted

2 Teaspoons of Ground Cinnamon
Step 1
Turn your oven broiler setting to low.
Step 2
Whisk the ground cinnamon into the melted butter.
Step 3
Place the pears in a high-sided baking dish or pie dish.
Step 4
Pour the butter mixture evenly over the pears.
Step 5
Place pears into the oven and broil for up to 12 minutes, checking the butter every 3 – 5 minutes. The butter will brown at different times depending on your oven's low-broil temperature. You want the butter to be a light golden brown.
Step 6
Remove the pears from the oven.
Step 7
Plate the pears and top evenly with the melted butter mixture.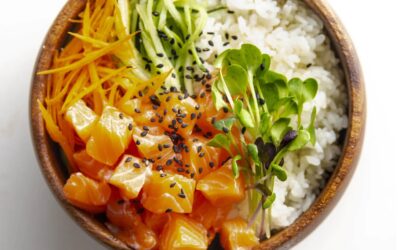 Hudson Valley Steelhead Poke Bowl Time: 25 min. Servings: 4 Ingredients 1lb Steelhead trout fillet 1/4 cup soy sauce 1 tsp rice wine or apple cider vinegar 1 tsp sesame oil 1 tsp siracha, chili paste or wasabi Pickled cucumber and carrots 2 x 6-inch Persian...