Grandma's Latkes with Carolynn Schwartz & Family
I've been making latkes (potato pancakes) for Chanukah every year for as long as I can remember, and I turn 51 at the end of December. As in many Reform Jewish households, most holidays for my family centered around gathering together to light candles and eat yummy food. Chanukah is no exception.
The main story goes something like this:in 168 B.C.E., the Syrian king Antiochus Epiphanes sent his soldiers to Jerusalem. The Syrians desecrated the Temple, the holiest place for Jews at that time. So a band of Jewish brothers, the Maccabees, fought the Syrians and won against all odds. When they reclaimed their temple, there was only enough oil to keep the eternal flame lit for one day, but it lasted for eight days until they were able to get more. Modern Jews cook things in oil like donuts and latkes, spin dreidels (tops with Hebrew letters), and light candles for eight days to commemorate the miracle we call The Festival of Lights. Many families also exchange gifts.
While we lit candles each night, my family would celebrate at least one of the eight nights with all the grandparents, aunts, uncles, and cousins at our house, lighting the menorah, gift giving, playing dreidel, and enjoying a delicious meal of brisket, green beans, noodle kugel, and of course, latkes. LATKES! You can smell them before you even walk in the front door. The house reeks for days of cooking oil and onions, and that's just fine with me. As a little girl it was my job to wash and peel the potatoes. When I graduated to tending to the latkes as they cooked in the hot oil I felt so proud that I had finally earned my mother's trust! 40 years later while teaching my own children how to make them I finally figured out she just needed time to get ready for our guests. Latkes take time and patience to get right, and you can only fit so many in the fryer at once. And since you don't want them to sit too
terribly long before eating, they're the last thing to make before people start to show up.
6 russet potatoes

2 medium onions

2 eggs

½ cup Flour

½ Tbsp Salt

Pepper to taste

Oil for the fryer –

Vegetable

or Canola
Step 1
Peel and grate the potatoes. If you have a food processor now is a good time to use it. If you want to include the skins, be sure to give them a really good scrub first. Let the grated potatoes sit in a colander to drain while you grate the onions. The original recipe as it is written in my mother's recipe book called for one onion, but we ALWAYS ended up adding more, so I went ahead and changed it to two. Next, grate the onions. Before adding onions, press down on the grated potatoes to remove excess starchy liquid and add to onions in a large bowl. Add two beaten eggs, flour, salt, and pepper. Mix until well combined. We use our hands, but you could also use a spoon.
Step 2 
Add enough oil to a fryer so there is about ½ inch layer and heat on high until hot. We use my Grandma
Marcia's 1958 Westinghouse fryer – the one she used, and then my mother used. It only gets taken out once, maybe twice a year, and ONLY for latkes. One year it wouldn't heat up and I panicked, but the lovely man at the appliance shop sold me a new plug and it was good to go. Whew!
Step 3
Carefully drop the potato mixture by the tablespoonful into the oil and flatten slightly. The first batch will take the longest, so watch them carefully. Flip when bottoms are starting to brown. They are finished when they are golden brown all over. Some people like them super crispy and some opt for the more meaty variety (meaty is latke-maker linger for thick!) I like mine somewhere in between.
Step 4
Remove with a slotted spoon and drain on a cooling rack over some newspaper or paper towel. Make sure you taste that first batch after they have cooled and add more salt or pepper if necessary. I find it best to
undersalt the original batch because you can always add more.
Makes about 30, depending on how big and how many you taste-test.
It is traditional to serve latkes with applesauce and sour cream. My mother and I like to eat them with a little sugar on top but we may be the only people on the planet who do that. Latkes make a great side dish for dinner, but are also fantastic with eggs the next morning if you are lucky enough to have leftovers.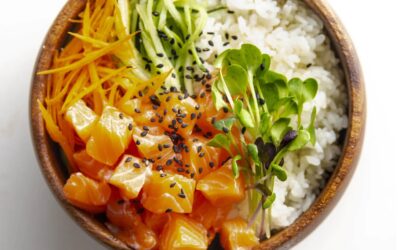 Hudson Valley Steelhead Poke Bowl Time: 25 min. Servings: 4 Ingredients 1lb Steelhead trout fillet 1/4 cup soy sauce 1 tsp rice wine or apple cider vinegar 1 tsp sesame oil 1 tsp siracha, chili paste or wasabi Pickled cucumber and carrots 2 x 6-inch Persian...