Cubed or Shredded Turkey + Gravy + Your Favorite Frozen Veggies + Frozen Pie Shells = Roasted Turkey & Veggie Pot Pie
Step 1
Pre-bake one of the two pie shells according to the directions on the package.
Step 2
Combine about 3-4 cups of cubed or shredded roasted turkey, 1 bag of frozen mixed veggies (like carrots, peas and green beans) and 1 cup gravy in a large pot.
Step 3
Stir over medium heat for about 5 minutes.
Step 4
Transfer mixture to the pre-baked pie shell.
Step 5
Top with the second frozen pie shell.
Step 6
Bake until the top pie shell is golden brown (time and temp according to the directions on the pie shell package).
Cooks Notes
• You can sub broth or a soup like cream of mushroom for gravy
• Have fun and add some of your other leftovers like squash, sweet potatoes and Brussels
sprouts.
• Be extra daring and add stuffing! Yes that's right – stuffing!
• For an extra golden crust, brush the top of the crust with an egg wash.
• For an extra pop of flavor, sprinkle the top crust with flaky smoked salt.
• Serve with your favorite hot sauce.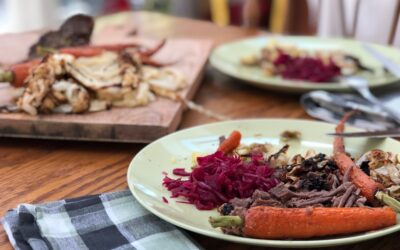 Garrett Valley Farms goes the extra mile to ensure our products are all natural to its truest definition. That means always free of antibiotics, nitrates, nitrites, preservatives, and artificial ingredients. Ingredients 3-5 lbs. Garett Valley corned beef...