Cubed or Shredded Turkey + Gravy + Your Favorite Frozen Veggies + Frozen Pie Shells = Roasted Turkey & Veggie Pot Pie
Step 1
Pre-bake one of the two pie shells according to the directions on the package.
Step 2
Combine about 3-4 cups of cubed or shredded roasted turkey, 1 bag of frozen mixed veggies (like carrots, peas and green beans) and 1 cup gravy in a large pot.
Step 3
Stir over medium heat for about 5 minutes.
Step 4
Transfer mixture to the pre-baked pie shell.
Step 5
Top with the second frozen pie shell.
Step 6
Bake until the top pie shell is golden brown (time and temp according to the directions on the pie shell package).
Cooks Notes
• You can sub broth or a soup like cream of mushroom for gravy
• Have fun and add some of your other leftovers like squash, sweet potatoes and Brussels
sprouts.
• Be extra daring and add stuffing! Yes that's right – stuffing!
• For an extra golden crust, brush the top of the crust with an egg wash.
• For an extra pop of flavor, sprinkle the top crust with flaky smoked salt.
• Serve with your favorite hot sauce.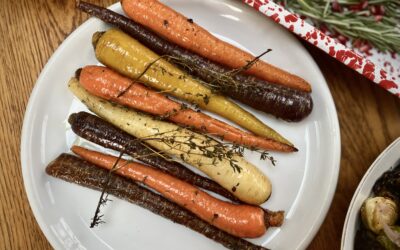 Prep time: 5 min. Cook time: 30 min. Serves: 6Ingredients 2 Pounds of Organic Carrots 2 Tablespoons of Olive Oil 1 Teaspoon of Salt Fresh Ground Pepper to Taste Fresh Thyme Sprigs DirectionsStep 1 Heat the oven to 400 degrees. Step 2 Mix all ingredients...