Dinner? Done!
Our easy weeknight meals are made with minimal ingredients, require few steps, and budget friendly!
Tis the season for warm, spicy and comforting foods! This vegan korma is creamy, rich, and can be made in any variation, with any variety of veggies you wish. 
Perfect for your next holiday gathering or for a quick weeknight meal solution. Especially when you have a bunch of leftover winter squash from the holidays and want to turn it into something new and delicious.
Charlotte is the Creative Lead at New Morning Market and a lover of all things plant-based! She loves spending time in the kitchen and creating nourishing meals that anyone can enjoy – whether you're vegan or not!
Prep time: 20 min.
Cook time: 40 min.
Serves: 6-8 
1 red kuri squash, halved and chopped into 1 inch cubes   

½ medium onion, roughly chopped into 1 inch cubes

3-4 garlic cloves, roughly chopped

1 jalapeno, keep seeds for extra heat 

1 2-inch knob of ginger, finely diced 

½ cup frozen peas 

1 cup white basmati rice

1 15 oz. can chickpeas, drained and rinsed

1 15 oz. can coconut milk

1 5.5 oz can tomato paste 

½ cup cashews 

1 tbsp. Curry powder

1 tbsp. Garam masala

1 ½ tsp. Cumin, coriander, turmeric, cardamom

½ tsp. fennel seed

Salt + cracked pepper, to taste

1-2 tbsp. Coconut oil 

1 tbsp. Coconut sugar 

Cilantro for garnishing 

Optional add-ins: tomatoes, green beans, cauliflower, potatoes, or whatever veggies you have in the fridge!
Step 1
Quick soak cashews by boiling water and pouring over nuts in a small bowl to soften for 10-20 minutes. Once soaked, place cashews and coconut milk in a high speed food processor or vitamix and blend until smooth. Set aside.
Step 2 
Heat oil in a Dutch oven over medium-low heat. Add onion and saute until translucent (about 5 minutes), stirring occasionally. Mix in garlic, jalapeno, spices and season with salt and pepper until fragrant.
Step 3
Add squash and tomato paste, stir to coat. Add blended cashew coconut mixture and increase heat to medium to cook for 20-25 minutes partially covered until the squash is tender. Stir frequently so bottom of pan doesn't burn.
Step 4
Prepare rice. Add 1 cup of dry rice and 2 cups water to a rice cooker. For stovetop method, combine rice and water and bring to boil. Reduce heat to low and simmer, partially covered for 15 minutes. Turn off heat and tightly cover. Allow to steam for 10 more minutes.
Step 5
Reduce heat to low, add chickpeas, frozen peas, desired greens and simmer for an additional 10-15 minutes.
Step 6
Once tender everything is tender, remove from heat. Add coconut sugar. Serve over rice topped with plenty of fresh cilantro.
Cooks Notes
Red Kuri squash has smooth flesh and a rich sweet flavor, making it perfect for not only desserts, but also savory dishes like this one! Although I chose Red Kuri squash for this recipe, any sweet winter squash would do. I recommend Butternut as a nice alternative. Same with sweet potatoes!
Wondering how to prepare your squash? No need to peel, Red Kuri squash skin is edible. Just cut your squash in half, scoop out the seeds, and cut into roughly 1 inch cubes. If you've got the time, you can save the seeds and toast them just like pumpkin seeds! 
Don't have time for rice? Grain Trust's frozen rice makes this meal so convenient! It comes in 3 frozen packages and only takes 3 minutes to prepare. Also great served with cauliflower rice or fluffy naan bread.
If you're looking for a little extra protein and beans aren't cutting it, try adding tofu to this recipe. 
Stores well in refrigerator for 5-6 days or freeze for 1 month. Makes great leftovers!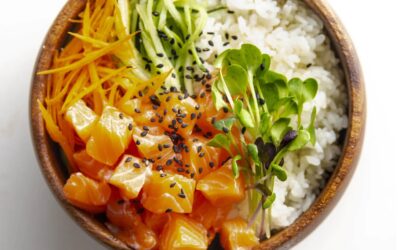 Hudson Valley Steelhead Poke Bowl Time: 25 min. Servings: 4 Ingredients 1lb Steelhead trout fillet 1/4 cup soy sauce 1 tsp rice wine or apple cider vinegar 1 tsp sesame oil 1 tsp siracha, chili paste or wasabi Pickled cucumber and carrots 2 x 6-inch Persian...