Dinner? Done!
An elevated side dish for your Thanksgiving feast or a hearty 2nd act for your roasted butternut side dish? You decide!
Roasted butternut squash is a tradition for our Thanksgiving table. Once the turkey is out of the oven I toss together about 4 lbs of cubed butternut squash, 4 tablespoons of fresh chopped garlic, ¼ cup of olive oil and salt and pepper then roast the mixture on lined & rimmed baking sheets (it takes two baking sheets for a 4lb batch) for about 30 minutes at 400 degrees. 
This is a more savory take on roasted butternut squash and pairs perfectly with the sweet and hearty flavors of the Thanksgiving feast – and I always cook extra to make a pot of Gingered Roasted Butternut Squash Bisque for the weekend. 
I make Gingered Roasted Butternut Squash Bisque, from my Thanksgiving left-overs, every year on the Saturday after Thanksgiving – starting it in the slow cooker in the morning before we head out for our tree and by the time we come home the house is filled with the smell of warm squash soup and ginger. 
And while this soup is the perfect weekend supper, it also makes a beautiful elevated side for any Thanksgiving celebration. Just a few extra steps and your guests will be warmed and delighted with this delicious and decadent twist on a classic dish. 
Whether you include this dish in your feast, or save it for butternut squash's 2nd act, I hope you enjoy this tradition as much as I do.
A quick note for special diets – while I do add cream to my recipe, I save a small batch before I add it for anyone joining us who prefers the soup dairy-free. The bisque is absolutely delicious both ways.
Julie Thorpe is the Marketing Director at New Morning Market and a home cook with 20+ years in the natural foods world. While she's been lucky enough to work with celebrity and top chefs over the years her favorite cooking buddy is her 9-year-old kiddo Arlo who always provides inspiration and brutally honest feedback for all of her dishes. 
Prep time: 20 min.
Cook time: 3-5 hours
Serves: 6-8
2.5 lbs cubed and savory roasted butternut squash (see notes above)

2 Tablespoons of fresh chopped ginger

1 large sliced onion

4 cups of vegetable broth 

¼ teaspoon cayenne pepper

1/2 cup of heavy cream at room temp

1 package Walden Hill Acorn Fed Bacon, cooked and crumbled
Step 1
Add roasted butternut squash, chopped ginger, sliced onion, vegetable broth and cayenne pepper to a slow cooker.
Step 2
Cook on low for 6-8 hours or on high for 3-5 hours
Step 3
Blend the soup until creamy using an emulsion blender or work in batches using a blender or food processor. If using an emulsion blender I suggest transferring the soup to a Dutch oven and not working within your slow cooker.
Step 4
At this point the soup should be thick and creamy like a bisque. Stop here if making a meat free-dairy free version.
Step 5
Add heavy cream to the soup and stir
Step 6
Serve and top with Walden Hill Acorn Fed Bacon crumbles.
Cooks Notes
There are many variations to this recipe that you can use to make this your very own special tradition. Adding local apples stored from your orchard adventures or chopped fresh carrots adds extra nutrients and sweetness. Throw in extra garlic or ginger for a bigger kick. Top with fried sage, toasted seeds or toasted bread cubes left-over from your holiday rolls. Coconut cream would make a delicious vegan-friendly substitute and add a delicious complex flavor…you decide! This is your new tradition!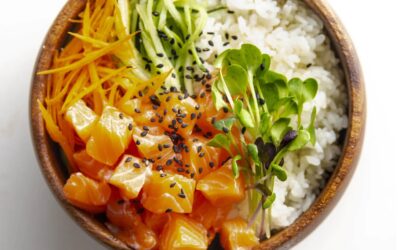 Hudson Valley Steelhead Poke Bowl Time: 25 min. Servings: 4 Ingredients 1lb Steelhead trout fillet 1/4 cup soy sauce 1 tsp rice wine or apple cider vinegar 1 tsp sesame oil 1 tsp siracha, chili paste or wasabi Pickled cucumber and carrots 2 x 6-inch Persian...