Dinner? Done!
Our easy weeknight meals are made with minimal ingredients, require few steps, and budget friendly!
Just because you're vegan or plant based doesn't mean you can't have pizza night! These Ugly's Bakery Pizza Crusts are my go-to choice. They're handmade in the Hudson Valley, gluten-free, vegan, and made with the best ingredients. Top with your favorite sauteed veggies, tomato sauce, a little vegan cheese, and you're good to go!
Charlotte is the Creative Lead at New Morning Market and a lover of all things plant-based! She loves spending time in the kitchen and creating nourishing meals that anyone can enjoy – whether you're vegan or not!
Prep time: 10 min.
Cook time: 12-15 min.
Serves: 2
1 12 inch Ugly's Bakery GF Sourdough Pizza Crust

1 package Miyoko's Vegan Mozzarella

1 jar Cucina-Antica Pizza Sauce

½ medium onion, roughly chopped into 1 inch cubes

1 bell pepper, roughly chopped into 1-inch cubes

½ bunch broccoli rabe

⅓ cup fresh or frozen corn

3-4 garlic cloves, roughly chopped

Salt + cracked pepper, to taste

1 tbsp. Italian herb blend

1-2 tbsp. olive oil 

Other suggested veggies: mushrooms, broccoli, cauliflower, sun-dried tomatoes, jalapenos
Cashew Parm
⅔ cup raw cashews

⅓ cup nutritional yeast 

½ tsp. salt

¼ tsp. garlic powder
Step 1
Preheat oven to 425°F. Line baking sheet with parchment paper. Place unwrapped pizza crust(s) on parchment.
Step 2 
Bring large skillet to medium-low heat. Add 1 tbsp. olive oil. Add onions and sauté until translucent, stirring occasionally. Add remaining veggies of choice and season with salt, pepper, garlic, and desired herbs. Cook until slightly softened. Set aside.
Step 3
Top pizza crust with desired amount of tomato sauce and sauteed veggies. Finish with thin slices of Miyoko's Vegan Mozzarella, a few dollops of pesto and a sprinkle of cashew parm!
Step 4
Place pizza in oven and follow directions on package for cook time. 
Step 5
While pizza is cooking, prepare the cashew parm. Add all ingredients to a food processor and pulse until desired consistency. It should resemble parmesan cheese. Add any additional herbs and spices you wish.  
Step 6
Serve with extra cashew parm, fresh basil, crushed red pepper, or anything else your heart desires!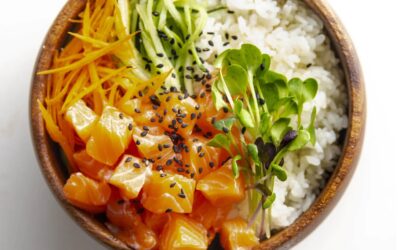 Hudson Valley Steelhead Poke Bowl Time: 25 min. Servings: 4 Ingredients 1lb Steelhead trout fillet 1/4 cup soy sauce 1 tsp rice wine or apple cider vinegar 1 tsp sesame oil 1 tsp siracha, chili paste or wasabi Pickled cucumber and carrots 2 x 6-inch Persian...