Dinner? Done!
Our easy weeknight meals are made with minimal ingredients, require few steps, and budget friendly!
Kids love these burgers and unless you tell them, they'll have no idea these patties are packed with fresh veggies. For this recipe I used carrots, zucchini and yellow squash for my hidden veggies, but you can sub in baby kale, spinach, and/or butternut squash. 
Kids of all ages (including those young at heart) love smash burgers. The crispy outsides are reminiscent of the "flame broiled" burgers we often avoid, and let's face it, often crave. But in my opinion the Magic Sauce seals the whole deal for this burger. Not only is Magic Sauce creamy and delicious, it magically makes any traceable texture or stand-out flavor of the hidden veggies disappear. 
To keep these burgers gluten free, make sure you are using gluten free Worcestershire sauce, gluten free breadcrumbs and of course, gluten free buns. I absolutely love O'Dough's gluten free buns in the freezer aisle at New Morning Market! 
Why breadcrumbs for this dish? The combo of ground turkey (with less fat than other ground meat) and veggies with high water content like squash can make for loose patties. The bread crumbs hold it all together while adding a nice texture to the cooked patties.
And finally, the Big Kid Fries! The larger cut fries are delicious and introduce a new potato texture to little ones who are used to shoe-string style fries. 
Enjoy your burgers and fries (and veggies…shhhhhhh…)!
Julie Thorpe is the Marketing Director at New Morning Market and a home cook with 20+ years in the natural foods world. While she's been lucky enough to work with celebrity and top chefs over the years her favorite cooking buddy is her 9-year-old kiddo Arlo who always provides inspiration and brutally honest feedback for all of her dishes. 
Prep time: 20 min.
Cook time: 45 min. total (includes potato roasting time)
Serves: 4-5
2 Russet Potatoes

2 tablespoons vegetable oil

Salt

Pepper

1 Small Onion

1 Carrot

1 Small Zucchini Squash

1 Small Yellow Squash

1/2 Cup mayo

1 tablespoon mustard

1/2 teaspoon Gluten Free Worcestershire sauce

¾ – 1 lb ground turkey

3 oz/about 1 cups Gluten Free Bread crumbs

Gluten Free Hamburger Buns
Step 1
Heat the oven to 400 degrees. Slice potatoes into large "fries" – about 16 pieces per potato – l prefer these fries with the skin on.
Step 2
Place your potatoes in a medium bowl and cover them with water, letting them soak for about 20 minutes while you prep the other veggies.
Step 3
Roughly chop one onion and blend in a food processor for about 30 seconds, pausing to scrape down sides as needed. The onions should be finely chopped and a little juicy. Scrape onions and juice into a medium bowl (to be used later to make Magic Sauce!) and set aside.
Step 4
Roughly chop the carrots and place in a food processor for 35 seconds.
Step 5
Roughly chop the squash and add to the food processor for about 1-minute, scraping down sides as needed. The result should be a puree.
Step 6
Using a colander, drain the water from the potatoes and toss them to remove excess water.
Step 7
Toss the potatoes with 1 tablespoons of vegetable oil and sprinkle with salt and pepper. 
Roast potatoes in 400 degree oven for 45 min.
Step 8
In the bowl with the small onion add mayonnaise, mustard and worcestershire sauce. Mix together and set aside. You now have Magic Sauce! 
Step 9
Place the ground turkey in a medium bowl (the potato soaking bowl will be perfect to reuse for this!).
Step 10
Add 1 teaspoon of salt, fresh ground pepper to taste (I used about 4 cranks of Brad's Natural's black pepper), veggie puree and gluten free bread crumbs.
Step 11
Mix ingredients with your hands and divide the mixture 4 times so you can form 8 equal(ish) patties that are about 1 inch thick.
Step 12
Add 1 tablespoon of oil to the heated pan, allowing the oil to heat up for about 1 minute
Add your burger buns face down (you may have to work in batches) and toast for about 3 minutes per side. Set aside once the buns are toasted on both sides.
Step 13
Add burger patties (working in batches) to the pan.
Step 14
Using a flat bottom bowl or small cake pan and a piece of parchment, flatten each burger to about ¼ inch thick.
Step 15
Add a dollop of magic sauce to the uncooked top of the burger and flip after 4 minutes.
Step 16
Flip and cook on the other side for 4 additional minutes.
Step 17
Remove fully cooked burgers from the pan and build your burgers using your favorite toppings and of course, an extra dollop of Magic Sauce! Serve with your Big Kid Fries and Enjoy!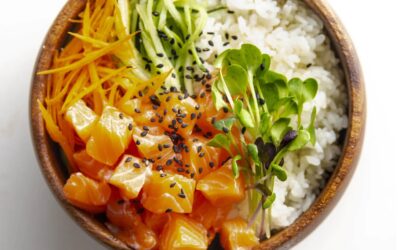 Hudson Valley Steelhead Poke Bowl Time: 25 min. Servings: 4 Ingredients 1lb Steelhead trout fillet 1/4 cup soy sauce 1 tsp rice wine or apple cider vinegar 1 tsp sesame oil 1 tsp siracha, chili paste or wasabi Pickled cucumber and carrots 2 x 6-inch Persian...