Dinner? Done!
Our easy weeknight meals are made with minimal ingredients, require few steps, and budget friendly!
I love so many things about this recipe – the yummy sweet and smoky smell that fills the kitchen while the pork is slow cooking, the compliments and exclamations of "yum!" that come out between bites (and sometimes during bites, but I'll always let manners slide when compliments are at risk) – but what I love most of all is the simplicity and versatility of a recipe that tastes so delicious and complex.
When using a premade rub like Market House BBQ Grilling Spice Rub, seasoning the pork takes less than a couple of minutes. The remainder of the prep time is used searing each side of the roast for 2 to 3 minutes per side. The rest of the time your slow cooker does the work (I love you Slow Cooker!). The result is a sweet and smoky, unbelievably yummy, pull apart with a fork, pork that is as perfect and easy for a weeknight meal as it is for a holiday feast. 
For this recipe I dug into my midwestern and southern roots by making a pulled pork sandwich with lots of extra sauce and sweet pickles. I've also made this recipe for tacos with red cabbage and cotija cheese, and with roasted potatoes and braised greens. My grandpa would have insisted on serving this dish with stewed apples and sweet creamed corn. Whichever way you serve this dish, I hope you enjoy it as much as my family and I do!
Julie Thorpe is the Marketing Director at New Morning Market and a home cook with 20+ years in the natural foods world. While she's been lucky enough to work with celebrity and top chefs over the years her favorite cooking buddy is her 9-year-old kiddo Arlo who always provides inspiration and brutally honest feedback for all of her dishes. 
Prep time: 20 min.
Cook time: 6 hours (on high) or 8 hours (on low)
Serves: 4-6
⅓ lb Pork Butt per person (about 1 ⅓ lb for 4 people or 2 lbs taco-night leftovers)

⅓ Cup (about ½ container) Market House BBQ Grilling Spice Rub. (See Cook's Tips and Tricks to read about why Kevin in the meat department suggests this seasoning.)

2 tablespoons vegetable oil

1 bottle (18 oz) True Made Foods Kansas City BBQ Sauce (or your favorite BBQ sauce). (See Cook's Tips and Tricks before for why we love True Made Foods.)

18 fl oz Vegetable Broth (see Cooks Note)
Mustard (I love True Made Foods Bavarian Style)

Hot Sauce (Date Lady Sweet Chili Sauce is a favorite in my family for it's subtle sweetness and light spicy kick)

Pickles (Bubbie's Pickles are a classic and remind me of the southern-style pickles I grew up with)
Step 1
Season pork butt with Market House BBQ Grilling Rub by rubbing spice generously on the pork. 
(I used 5 tablespoons – or approximately ⅓ cup – of seasoning on just over 2lbs of pork)
Step 2
Heat vegetable oil in high-sided pan (I recommended a Dutch Oven for this step) over medium heat
Step 3
Add pork to pan and sear on all sides (top/bottom/and sides) until browned (about 3 minutes per side)
Step 4
Transfer pork from pan to slow cooker 
Step 5
Cover pork with True Made Foods Kansas City BBQ Sauce
Step 6
Fill now empty True Made Foods Kansas City BBQ Sauce container with vegetable broth, replace lid, shake and pour over the pork. (See Cook's Tips and Tricks for why I take this step.)
Step 7
Cook in slow cooker on high for 6 hours or low for 8 hours
Step 8
Remove from slow cooker and onto a plate or cutting board
Step 9
Pull apart with two forks and enjoy this favorite! 
Building Your Sandwich
My new favorite gluten-free buns are O'Dough's. Not only delicious, but the texture is great and the buns hold up against pulled pork dripping with sauce. I toasted the buns slightly to give them a little extra crisp to compete with the pork. When it comes to topping, I don't hold back, lots of extra sauce, mustard and pickles (and napkins at the ready) – you can also add coleslaw, greens or melt a nice sharp cheddar cheese on the bread while you're toasting it.
Cook Tips & Tricks
This one is straight for Kevin in our Meat Department, Kevin says everyone deserves the sweet smokey taste of slow smoked goodness, even if you don't have the equipment or time – so he recommends Market House BBQ Grilling Spice Rub, an all-purpose smoky and sweet season found in New Morning Market's meat department. Kevin also stresses the importance of seasoning and searing the pork butt before putting it in the crock pot. This seals in the juices and gives the seasoning a delicious toasty flavor.
Looking for an even smokier flavor? Many slow cooker pulled pork recipes call for Liquid Smoke. If you'd like to try this, remember, a little goes a long way. I would recommend adding no more than 2 teaspoons to this recipe. 
The two most used pieces of kitchen equipment in my house are my slow cooker and my Dutch Oven. I used my Dutch Oven almost daily – and while a high-sided skillet will do nicely, a the high sided and sturdiness of a Dutch Oven will keep splatter down when dealing with larger cuts of meat like a pork butt.  
You'll see that I recommend two different True Made Food products – the Kansas City BBQ Sauce and the Bavarian Style Mustard. I love True Made Foods. Their products are absolutely delicious and they contain veggies like butternut squash and carrots, upping True Made Food's nutrient density, and in my opinion overall yumminess.
This dish is thick and rich, with smoky and sweet flavors. I like to serve it with a crisp fresh salad. For ease and deliciousness, I chose Josie's Organic's Kale salad. 
Searing can leave a bit of a crusty mess in your pan – and who wants an easy recipe if clean up is beastly? I love this article from Food 52 about deglazing a pan for easy clean-up. It works every time and makes clean-up a breeze: https://food52.com/blog/9234-how-to-deglaze-a-pan
And lastly, why do I pour vegetable broth in my empty BBQ sauce bottle? Pouring broth into your bottle, re-capping it, and shaking it gets all of the extra bits of sauce out of the bottle while providing the perfect measurement of broth.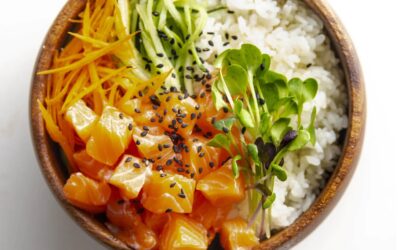 Hudson Valley Steelhead Poke Bowl Time: 25 min. Servings: 4 Ingredients 1lb Steelhead trout fillet 1/4 cup soy sauce 1 tsp rice wine or apple cider vinegar 1 tsp sesame oil 1 tsp siracha, chili paste or wasabi Pickled cucumber and carrots 2 x 6-inch Persian...