Dinner? Done!
Our easy weeknight meals are made with minimal ingredients, require few steps, and budget friendly!
This recipe is super delicious and easy breezy to make. Don't let the 45 minutes of cooking time scare you away – with the one-pot ease of this dish you'll be able to while away the time rocking on the back porch or, let's be honest, catching up on your full inbox. 
Check out the Tips and Tricks section below for suggestions for altering this dish, from how to make it even easier, to making it vegan friendly and a few other little tidbits. 
And yes, those are LEGO pieces and fidget poppers you see in the background of the photos (if you look really hard, I did try to crop them out), proving this recipe is a crowd pleaser for all ages and can be easily made amongst the kitchen chaos of daily life! Enjoy!
Julie Thorpe is the Marketing Director at New Morning Market and a home cook with 20+ years in the natural foods world. While she's been lucky enough to work with celebrity and top chefs over the years her favorite cooking buddy is her 9-year-old kiddo Arlo who always provides inspiration and brutally honest feedback for all of her dishes. 
Prep time: 15 min.
Cook time: 45 min.
Serves: 4-6
4-6 Bone-in Skin on chicken breast

½ teaspoon salt

¼ teaspoon pepper

2 tablespoons vegetable oil

1 medium onion thinly sliced

4-5 sweet peppers cut into ring slices

4 garlic cloves chopped

1 cup brown rice

½ cup Bunches & Bunches Ltd. Red Dried Chilaca Mole Sauce (found in the spice aisle at New Morning Market)

1 1/2 cup chicken broth

1 15.5 oz can black beans

Optional: 1 package ready to cook sausages (see Tips and Tricks)
Step 1
Heat oven to 375 degrees.
Step 2
Salt and pepper chicken on both sides. Heat oil in 12-inch high sided skillet or Dutch Oven over medium heat. Place chicken skin side down in heated pan and cook until golden brown (about 10 minutes).
Step 3
Turn the chicken and cook on the other side for 5 min. Remove chicken from skillet and set aside.
Step 4
Add onions to the skillet and cook until soft and translucent (about 3-5 minutes). Place chicken back in the pan on top of the onions.
Step 5
Add sweet peppers, garlic, rice and beans to pan, dispersing evenly around the chicken, trying to avoid placing any vegetables or grains on top of the chickens
Step 6
Pour in simmer sauce and broth on top of chicken, vegetable, rice and beans and bring to a slow simmer 
Step 7
Remove from stove top and transfer to 375 degree oven.
Step 8
Cook uncovered for 45 minutes or until the liquid is absorbed the rice is fully cooked 
Step 9
Serve with sliced avocado, chopped cilantro and red onions and lime juice.
Tips & Tricks
When making a one-pot dish your goal may be to have as many leftovers as possible. It's easy to extend the servings in this dish by adding roasted & sliced ready to cook sausages and shredding the chicken off of the bone before serving – turning this dish into skillet chicken, sausage, rice and beans – Yum!
And speaking of leftovers! This dish is even more delicious the next day! Store and go with New Morning Market's assortment of glass containers with eco-friendly bamboo lids. Keep your left overs fresh and easy to transport with these easy to carry, easy to clean containers. 
Make this dish Vegan-Friendly with a couple of easy adjustments! Sub the chicken for sliced firm tofu or seitan, reducing the searing time to 3-5 minutes on each side. Veggie stock or broth can be used in place of chicken broth – and add a cinnamon stick for an extra level of rich flavor.
Cut down on the prep time by shopping at New Morning Market's pre-cut section where you can find pre-peeled garlic, chopped onions, and so much more!
Are you hungry for the heat? Use jalapenos, sliced poblanos, or even pickled pepperoncinis in place of sweet peppers.
Have enough spice in your life and like to play it cool? Replace the Mole Sauce with broth, totally 2 cups of broth.
Cook's Notes
Once this dish is tucked in the oven you can leave it be while you tend to other other things. The 45-minute cooking time might seem like a chunk of time, but it's inactive cooking, so you have that time to check other things off your list. 
Remember the end goal is for all of the liquid to be absorbed and the rice to be fully cooked, so you may want to peek at it after 30 minutes or so. Cooking times may vary depending on your oven, so don't be alarmed if it takes longer than 45 minutes for the liquid to fully cook away. 
Save Room for Dessert!
I love dessert and try to incorporate something sweet as much as possible, but I also like to keep us eating healthy by making sure lots of fresh fruits make it on the plate. Freshly sliced peaches with a dollop of crème fraiche and a sprinkle of maple sugar is the perfect combo. You can substitute the peaches for any of your favorite stone fruit or berries or a mix of them all.
Mapley Peaches and Creme Fraiche
Prep time: 5 min.
Serves: 4
4-6 Peaches Slices

1 cup creme fraiche

2 tablespoon maple sugar (or more if you're serving a sweet tooth)
Step 1
Divide sliced peaches evenly into 4 bowls.
Step 2
Evenly dollop cream fraiche on top of peaches.
Step 3
Evenly sprinkle maple sugar onto the peaches and crème fraiche.
Step 4
Remove from stove top and transfer to 375 degree oven.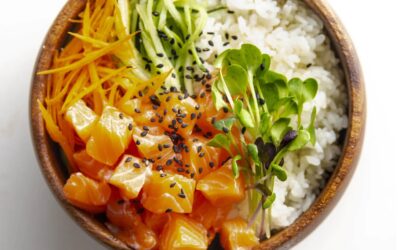 Hudson Valley Steelhead Poke Bowl Time: 25 min. Servings: 4 Ingredients 1lb Steelhead trout fillet 1/4 cup soy sauce 1 tsp rice wine or apple cider vinegar 1 tsp sesame oil 1 tsp siracha, chili paste or wasabi Pickled cucumber and carrots 2 x 6-inch Persian...