Dinner? Done!
Our easy weeknight meals are made with minimal ingredients, require few steps, and budget friendly!
This plant-based recipe is super easy to make and packed with hearty flavor. I love it because you can get creative with your ingredients and add in whatever veggies you have hanging out in your fridge! Enjoy with crispy naan bread or served over fluffy rice.
Charlotte is the Creative Lead at New Morning Market and a lover of all things plant-based! She loves spending time in the kitchen and creating nourishing meals that anyone can enjoy – whether you're vegan or not!
Prep time: 10 min.
Cook time: 30 min.
Serves: 4-6
1 medium onion, thinly sliced

1 bell pepper, thinly sliced

1 jalapeno (for added spice, leave the seeds in!)

3 garlic cloves, chopped

½ bunch fresh cilantro (including stems!)

1 5 oz. box of baby spinach

Salt + pepper, to taste

2 tbsp. olive or coconut oil

1 cup white basmati rice 

1 15.5 oz. can garbanzo beans, drained and rinsed

1 jar Maya Kaimal Vegan Tikka Masala Simmer Sauce 

Optional add-ins: cherry tomatoes, cauliflower, potatoes, or whatever veggies you have in the fridge!
Step 1
Dice onion, garlic, and jalapeno and set aside. 
Step 2
Heat oil in a dutch oven over medium-low heat. Add onions and saute until translucent (about 5 minutes), stirring occasionally. Season with salt, pepper, garlic, and jalapeno (if using).
Step 3
While the onion and spices are cooking, dice remaining veggies (peppers, tomatoes, cauliflower, etc.)
Step 4
Add remaining vegetables and drained chickpeas and mix well. Add 1 jar of simmer sauce. Partially cover and reduce heat to low. Simmer until tender—about 10-15 minutes.
Step 5
In the last 5 minutes of simmering, fold in baby spinach to allow enough time for it to wilt.
Step 6
Meanwhile, prepare rice. Add 1 cup of basmati rice and 2 cups water to a rice cooker. For stovetop method, combine rice and water and bring to boil. Reduce heat to low and simmer, partially covered for about 15 minutes.
Step 7
Turn off heat and tightly cover. Allow to steam for 5 minutes. Fluff with fork. Serve topped with chickpea curry and plenty of fresh cilantro!
Tips & Tricks
Short on time? Use frozen veggies or take advantage of New Morning Market's pre-cut section where you can find pre-peeled garlic, chopped onions, and so much more!
Looking for extra fire? Add a few jalapenos (and their seeds) or even a bit of minced ginger. 
The simmer sauce is very mild so adding jalapenos and ginger will give it the spice you're craving! 
Maya Kaimal makes a great line of Indian simmer sauces, a lot of which are completely dairy-free! Some have more spice than others so pick your favorite or try them all! This recipe can be adapted for any flavor of simmer sauce. The Vegan Tikka Masala sauce is very tomatoey – so you may not want to add any more. But if you're like me, I love to add local tomatoes to everything I cook at this time of year! 
Originally I used two jars of simmer sauce for this recipe, and found it to be a bit too much liquid. So, if you like it saucy, feel free to add 2 jars of sauce to your mix! 
This dish stores well for 3-4 days and makes a great leftover lunch for you and your family!
Save Room for Dessert!
Craving a little sweetness to round out your meal? Slice up some mango, scoop up some ice cream, add a pinch of salt & spice and ta-da! Feel free to use dairy ice cream for this recipe, or any type of fruit you like. 
Coconut Ice Cream with Mango, Chili Flakes & Pink Salt
Prep time: 5 min.
Serves: 3-4
1 ripe mango, peeled and diced

Vanilla ice cream (vegan or not!)

Pinch of chili flakes

Sprinkle of pink Himalayan sea salt
Step 1
Find the stem of mango. Position the stem so it's on top, then slice off the sides of the mango and fully avoid pit. 
Step 2
Using a paring knife, cut a grid pattern onto each mango piece but be sure not to cut through the skin. Use a spoon or paring knife to scoop fruit from mango skin.
Step 3
Scoop ice cream into bowl, top with diced mango, a pinch of chili flakes and a sprinkle of pink salt!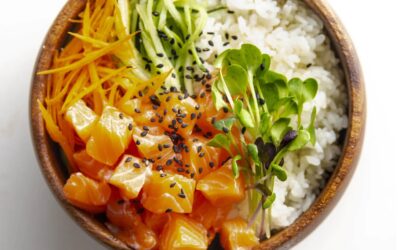 Hudson Valley Steelhead Poke Bowl Time: 25 min. Servings: 4 Ingredients 1lb Steelhead trout fillet 1/4 cup soy sauce 1 tsp rice wine or apple cider vinegar 1 tsp sesame oil 1 tsp siracha, chili paste or wasabi Pickled cucumber and carrots 2 x 6-inch Persian...