Some say, happiness is the smell of freshly baked bread. We think that holds true and that authentic breads bring a sense of goodness you can't find elsewhere. In fact, we love bread so much we seek out only the best, local breads to sell in our store. 
One of those special local bakeries we can't get enough of is Berkshire Mountain Bakery. A local artisanal bakery with a very BIG cult following. If you've ever been to the Berkshires, you've probably heard of them and if you haven't been well…you've still probably heard of them. They make the best of the best. Bread that is crunchy outside, dense and chewy inside, loaded with good ingredients. They deliver local bread the only way they know how – the authentic way with time honored traditions from Europe. This bakery is the real deal, wholesome and natural – just how we like it.
"People drive all the way to the Berkshires to get this bread, it has been around for a really long time and is such good quality. It is the foundation for artisan bread in the New England region. The cherry pecan and chocolate boule are a must have and the quickest to sell out each week." Gabby – New Morning Market Assistant Kitchen Manager 
With over 25 years of sourdough breadmaking, they've perfected the art. Richard Bourdon, owner and baker, studied and practiced the art of natural sourdough bread baking in Europe for years before he brought his skills to the states. He is a baker who is truly committed to bringing better food to this world. "A man who still speaks with a gentle French accent who is passionate about the food he produces. His knowledge and enthusiasm will leave you wondering if he is a baker, or a teacher or a philosopher."
– Berkshire Mountain Bakery
New Morning Market loves what Berkshire Mountain Bakery stands for so much, that we carry an exclusive selection of their fresh baked bread in store every week. Delivered with mouthwatering aromas every Wednesday, it doesn't last long. And when it's gone, it's gone. 
"You've gotta try the Berkshire Mountain Chocolate Boule, it's a unique bread that is packed with chocolate and like no other. I use it for French toast and it's always a hit!" Cody, New Morning Market Grille Cook & Bread Enthusiast
So don't drive all the way to the Berkshires. We've got you covered with satisfying taste and the nostalgia this fresh bread brings. Whether you are looking for savory or sweet, or just something to impress your brunch guests with. Stop in today and pick up one of the exclusive varieties below. (But don't delay this bread goes FAST and for good reason! Insider tip: Get to the store by Wednesday evening for your first pick of the goodness.) 

16 ounce cherry pecan boule
16 ounce chocolate boule
4 ounce cheese and herb mini ciabatta rolls
12 ounce Baggette
16 ounce freeform raisin bread
16 ounce freeform olive bread
22 ounce spelt pan loaf 
24 ounce sunny flax pan loaf
Oh yeah, and did we mention you can even watch Richard and Berkshire Mountain Bakery in Cooked, a Netflix 4-part documentary. A must watch for discussing the ways we nourish and love through food. We promise if you watch, you'll find an even BIGGER reason to buy and love this bread.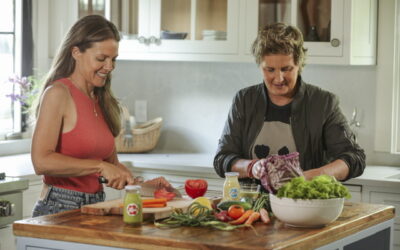 Tell us about Lisa's 1973Lisa's 1973 is a collection of refrigerated, ultra-clean, plant-based dressings and sauces filled with organic and functional ingredients - and what we've been told over and over again, phenomenal taste! We are 100% women-owned and...