Dinner? Done!
Our easy weeknight meals are made with minimal ingredients and require just a few simple steps!
Thanks so much to Walden Hill for providing us with this easy, delicious recipe! 
1 package Walden Hill Fresh Chorizo Sausage
1/2 cabbage shredded or chopped
1 small yellow onion diced
1 lime
1 avocado sliced
pinch of chili powder
1 cup plain Greek yogurt or sour cream
1/4 cup hot sauce of choice (We like The Bronx Green Hot Sauce by Small Axe Peppers)
1 package corn tortillas
2 tablespoons chopped fresh cilantro (optional)
Step 1
Using scissors or a sharp knife remove sausage from casing and place in a pan over medium heat (no oil
necessary). Cook until browned all the way through and then let cook for 1-2 minutes more to get a bit crispy and cooked through. Remove pan from heat.
Step 2
In a large bowl mix together cabbage and onion. Add the juice of half of the lime, the pinch of chili powder and the cilantro if using.
Step 3
In a small bowl mix together yogurt or sour cream with hot sauce to make a spicy crema.
Step 4
Warm tortillas per package instructions.
Step 5
Cut remaining half lime into wedges.
Step 6
Assemble tacos with chorizo, cabbage slaw, and avocado. Top with squeeze of lime and spicy crema.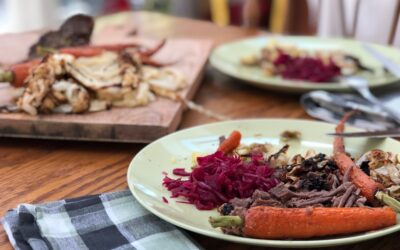 Garrett Valley Farms goes the extra mile to ensure our products are all natural to its truest definition. That means always free of antibiotics, nitrates, nitrites, preservatives, and artificial ingredients. Ingredients 3-5 lbs. Garett Valley corned beef...