We make Elderberry Apple Shots here at Fat Stone Farm (Lyme, CT) because we personally wanted a more potent, and less processed, Elderberry Syrup than what we could find in the market.
Back in 2010, we planted our first Elderberry bushes and after our first harvest, we couldn't believe the vitality we could feel from those berries! After searching through hundreds of cookbooks for inspiration on what to do with these naturally bitter powerhouses, we found a recipe for Elderberry Apple Pie. Coincidentally, we were also exploring how to make our own apple syrup. We found the winning combination. Also coincidentally, 2010 was the year of swine flu, and as new parents, we became aware of elderberry syrup as a way to stay healthy.
Our Elderberry Apple Shots have only two ingredients, and more minimally-processed elderberry than any elderberry syrup on the market. How can we, a small Connecticut farm, do this? By pressing berries (rather than using dried ones, or highly concentrated extractions), and filling 1/2 of the bottle with the pressed elderberries (elderberry juice). The other half of the bottle is apple syrup, an heirloom New England ingredient which dates back to the 1600s. Apple Syrup is simply apple cider boiled down to a syrup consistency. The apples are a natural preservative as well. Like mushrooms, they have anti-microbial properties. They also add natural sweetness/sugars which extends the shelf life. We don't have to add synthetic preservatives, or something with a low pH like lemons or vinegar.
Because Elderberry Apple Shots is a food item and does not contain added vitamins or minerals, it's very easy to add into everyday eating. Many customers enjoy a splash of Shots in their smoothies, oatmeal, and yogurt. It also lends itself to seltzers, sparkling water, juices, and iced and hot teas. Lemon and lime pairs very well with Elderberry Apple Shots, along with ginger and honey. A few customers have also contributed cocktail ideas!
 Our true joy is growing and making simple farm products, sometimes with an updated twist. Some people call it functional food, but our goal is to make something delicious. It's not difficult, but it takes time. Here are the factors we believe makes our food taste amazing. We focus on:


Building healthy soil

Harvesting quickly

Following certified organic practices

Choosing non-toxic packaging


Working with professional, responsible growers and suppliers (when we need to supplement our own farm produce with another farmer's)
We are always available to answer any questions you may have. If you don't know your farmer, you don't know your food!
Written By Guest Blogger Elizabeth Farrell of Fat Stone Farm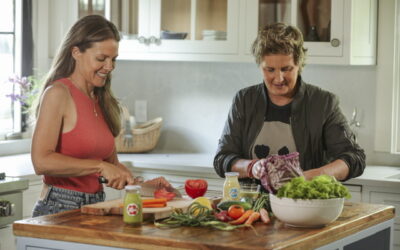 Tell us about Lisa's 1973Lisa's 1973 is a collection of refrigerated, ultra-clean, plant-based dressings and sauces filled with organic and functional ingredients - and what we've been told over and over again, phenomenal taste! We are 100% women-owned and...