We started our business because we love to eat great, vegetable-based foods, and we wanted to make the food we enjoy more accessible and available.  We hope that in doing so we can change how people view vegetables and enable them to incorporate more vegetables into their diet. 
Our Story
We met in New Haven a couple years ago while we were toiling on our own food businesses – Zoni and Plentiful.  Serendipitously, we were both in the same town, with the same mission, making similar products. Realizing our shared values and vision, we decided to partner up to create the next rendition of our products.
New Name and Better Food
Some of you may already be familiar with Zoë and her former line of products under Zoni Foods, which was stocked at New Morning Market. In listening to feedback from our customers, we realized there were some major changes we wanted to make to our old products. We worked together to improve  and re- envision our brand and packaging. What did we want our product to be? What did we want our brand to stand for? What did we want our packaging to look and feel like? In order to answer those questions, we realized we needed to ask ourselves what we cared about and why we were creating these products in the first place. 
During this process, we knew we had a passion to help people eat well and to do so in a way that preserves the earth, instead of destroying it. We were both passionate about creating what we like to call 'good food' – food that is truly delicious, high quality, and nutritious. 
Another passion we share is well prepared vegetables. Through our travels and combined years of eating, we learned that there are many cultures around the world that have figured out how to make vegetable dishes that taste fantastic. These dishes, which are wholesome and healthy, are craved by consumers – not because of their health attributes, but because of their culinary merits. We drew inspiration from a variety of cuisines like Ethiopian, French, and Mexican, to create our current lineup. This ethos also helped lead us to our name.  Fire Ox is drawn from the title of a book written by Zoë's ancestor on his travels around the world in the early 1900s.  His curiosity and appreciation for people and nature are at the roots of our brand.
We also wanted our new brand to stand for the appreciation we have for the natural world and our values around sustainability.  We wanted to be conscious of how we make our food, package it, and distribute it. Unlike most other frozen food, our meal carton is made from 100% recycled paper and is uncoated, which allows it to be recycled. We believe eating more vegetables and less meat and dairy is better for our health and the environment – that's why we have crafted our meals to be centered around both vegetables and flavor. We also plan on sourcing locally-grown vegetables to make a line of seasonal meals in the future. 
We are lucky to have great customers and partners like the team at New Morning that support us and appreciate what we do.  And we are always trying to honor that by sticking to our values while improving what we do.  If you have any questions about us, constructive thoughts or feedback on our meals, or have things you'd like to see us do, please reach out.  You can find us on social media @fireoxfoods or email us at hello@fireoxfoods.com. We would love to hear from you! 
Stay well,
Zoë and Jason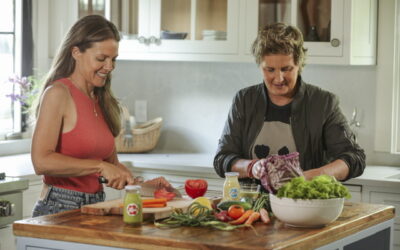 Tell us about Lisa's 1973Lisa's 1973 is a collection of refrigerated, ultra-clean, plant-based dressings and sauces filled with organic and functional ingredients - and what we've been told over and over again, phenomenal taste! We are 100% women-owned and...