Embrace the Fall Equinox with Yoga and Herbal Medicine
As the leaves begin to paint the world in hues of red and gold, and the days grow shorter, we find ourselves at the cusp of the fall equinox. This annual celestial event, marking the balance between day and night, invites us to reflect on the changing seasons and embrace the transformative energies of autumn. It's a time to ground ourselves amidst the shifting rhythms of nature, and what better companions for this journey than yoga and herbal medicine?
Connecting with the Equinox
The fall equinox, also known as Mabon in some traditions, signals the arrival of fall when the Earth's axis aligns in a way that daylight and darkness are nearly equal. This moment of balance is an excellent opportunity to find equilibrium within ourselves, especially when we may be feeling the rush and chaos of life's changes.
Yoga: A Path to Inner Harmony
Yoga offers a perfect conduit for connecting with the energies of the fall equinox. Through mindful movement and breath, it helps us find our center, just as nature does during this season. Here is an amazing pose to ground yourself during this transition:
Child's Pose (Balasana):

Curl up into Child's Pose, a soothing posture that encourages introspection and relaxation. Start by kneeling on your yoga mat with your knees spread to the width of the mat. Exhale slowly and hingle at your hips, lowering your torso forward and down in between your knees bringing your forehead towards the mat. Extend your arms out in front of you with palms facing down, or place your arms alongside your body with palms facing up. 
Herbal Medicine: Nourishing Your Inner Garden
As we align with the fall equinox, herbal medicine offers its own special magic. It can bolster your immune system, support your well-being, and keep you grounded in the face of seasonal shifts. One delightful herbal remedy to explore is Elderberry Tea.
Recipe: Immune-Boosting Elderberry Tea
Ingredients:
2 tablespoons dried elderberries

1 cinnamon stick

2 cloves

1 slice of fresh ginger

2 cups of water

Honey (optional, for sweetness)
Instructions:
In a small saucepan, combine elderberries, cinnamon stick, cloves, and ginger with 2 cups of water.

Bring the mixture to a boil, then reduce heat and simmer for about 15-20 minutes, allowing the flavors to meld.

Remove from heat and strain the tea into your favorite mug.

Sweeten with some raw honey if desired, and savor the immune-boosting, grounding flavors of this fall elixir.
Closing Thoughts
As the fall equinox ushers in change, take the time to connect with the balance it represents. Whether through the gentle flow of yoga or the nurturing embrace of herbal medicine, you can stay grounded and centered amidst the shifting seasons. Embrace the autumnal energies, sip your elderberry tea, and find your inner harmony as you journey through this transformative time of year.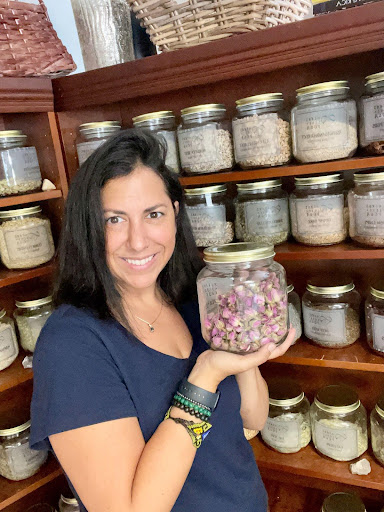 Ready to enhance your well-being through the power of yoga, herbal remedies, and personalized guidance? Register for one of our yoga classes, herbal workshops, or one-on-one herbal consultations at www.herbsloveandyoga.com Spots are limited, so don't wait—take the first step now to living your best life.
Herbs Love and Yoga Weekly Class Schedule:
Tuesday 6-7 pm: Yoga Class with Reiki
Wednesdays: 10-11 am Morning Yoga Class
Wednesdays 6-7:15 pm: Herbal Workshop. See website for topics by date.
Thursdays: 6-7 pm: Yoga Class + Herbal Tarot
 Alyssa Mancini is the owner of Herbs Love + Yoga in Sandy Hook, CT. She is a clinical herbalist, yoga instructor, reiki master, and high school science chemistry, and biology teacher. Her mission is to empower individuals and communities to discover their own path to feeling empowered and healthy. With a focus on holistic healing and mindful living, Alyssa offers private herbal consultations, yoga classes, herbal workshops, and, reiki sessions. You can learn more about her and her business  at www.HerbsLoveAndYoga.com