As Summer approaches, it's time to go through that old beach bag of leftover sunscreens and figure out what stays and goes. Afterall, good sun care starts with owning quality sunscreen products. Sunscreens are required to remain at their original strengths for at least three years per the FDA. (That's good news for any sunscreen leftover from last season!) However, it's a good idea to check the expiration dates on all sunscreens and discard any that are nearing their end date. Here are our tips for replacing those sunscreens with clean, non-chemical screens and what that all means.
To understand sunscreen choices, you need to know there​ ​are​ ​two​ ​major​ ​types​ ​of​ ​sunscreens –​ ​physical &​ ​chemical. Physical sunscreens, more commonly known as "mineral sunscreens," work by creating a physical barrier on the skin that shields you from the sun's rays. Physical​​ sunscreens​ ​contain​ ​zinc oxide​ ​which​ ​acts​ ​as​ that​ ​barrier​​to prevent​ ​all​ ​of​ ​the​ ​sun's​ ​rays​ ​from​ ​getting​ ​to​ ​us.​​ What's great about zinc​ ​oxide​ ​is that it does​ ​not penetrate​ ​the ​​skin,​ ​or ​convert​ ​to​ ​anything​ ​harmful​ ​once​ ​it​ ​comes​ in contact​ ​with​ ​the​ ​sun's​ ​rays. And it's reef-friendly and safe for the environment. ​On the opposite spectrum are chemical​ sunscreens. These sunscreens typically contain things like oxybenzone or octinoxate and only block some of the sun's rays. These chemicals can often be converted to potentially more dangerous substances once they come in contact with the sun
on our skin and are NOT reef-friendly.
Here are our favorite mineral-based sunscreen picks to explore this season!
One of our all-time favorite safe sunscreens is Badger. A brand that's about ingredients which are minimally processed and grown in nature. Badger sunscreens use mineral zinc oxide, the safest active ingredient available for effective broad-spectrum protection. Every formula is safe for coral reefs, manufactured with 100% solar power, and certified cruelty-free.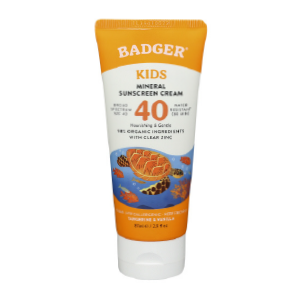 For the Littles in your life:
Kids Natural Mineral Sunscreen in Tangerine & Vanilla – Broad Spectrum SPF 30
Kids will crave the dreamy creamsicle smell and parents will love how super rich it is with oils and beeswax to give it excellent staying power.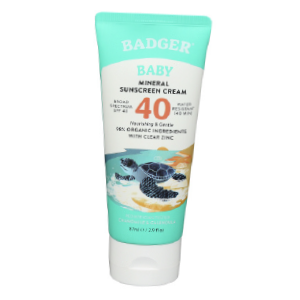 Badger Baby Mineral Sunscreen Cream – Broad Spectrum SPF 40
Safely protect those babies and toddlers with a pediatrician-tested sunscreen cream. With just 7 simple ingredients, this natural zinc oxide has sunflower oil and vitamin E for smooth application on those squirmy little ones.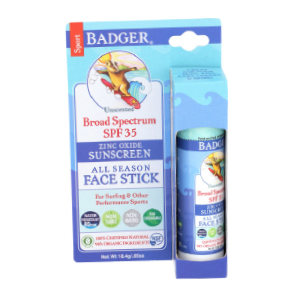 Badger All Season Face Stick – Broad Spectrum SPF 35
We love this handy, no mess stick that's ready for your purse for on the go fun! With no added fragrance and 99% organic ingredients this sunscreen is perfect for even the most sensitive faces.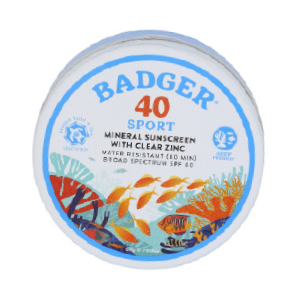 Looking for sunscreen with no white cast? Try any of Badger's Clear Zinc formulas which absorb quickly with no white residue.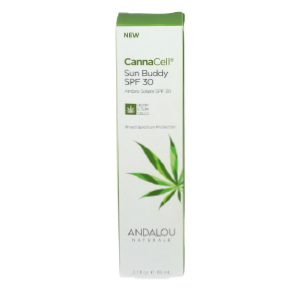 For those wanting added skincare + suncare together:
Andalou Naturals CannaCell Sunbuddy SPF 30 is all about care and protection. Rich with super-powered hemp stem cells, organic hemp seed oil, and pure plant essentials oils, this sunscreen seems to do it all. It will help protect, moisturize and repair damage from sun exposure. Made with bioavailable vegan ingredients to be gentle and effective for all skin types.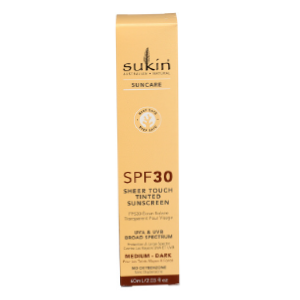 For those looking for the tinted sunscreen solution:
Another favorite brand of ours is Sukin. A company that believes everything we need to nourish our bodies can be found in nature. Who doesn't love that? With several natural, sheer touch, tinted sunscreens made for daily use. Zinc Oxide is the hero and active ingredient for UVA & UVB broad spectrum protection and this reef friendly formula is oxybenzone & octinoxate free. Did we mention it's non-greasy, doesn't leave a white cast and is tinted to match several skin tones? Antioxidant blends of Rosehip Oil, Green Tea and Cucumber will completely nourish the skin. Sukin products are 100% Carbon Neutral, so every purchase helps reduce your impact on the environment too.
Try Sukin SPF 30 Sheer Touch Tinted Sunscreen choose from Light Medium and Medium Dark to meet your skin tone needs.
No matter what sunscreen you choose, remember these tips to help reduce your sun risk and protect yourself. Your skin will thank you later.
Get some shade. Limit time in the sun between 11:00 a.m. and 2:00 p.m. This is when the sun's rays are most intense.

Up your coverage. Wear protective clothing that covers skin that is exposed to the sun. Add a hat with a wide brim and your style game will be on par.

Reapply! Set a timer on your phone so you remember to reapply sunscreen every 2 hours.

Don't forget some fashionable sunnies to cover those eyes. Proper sunglasses should have 100% protection from both UVB and UVA rays.

Hydrate your body. Sun exposure usually means your body will also start to sweat. Ensure you maintain proper hydration by bringing a water bottle and drinking often. Your skin will thank you! (And don't forget to moisturize your skin when you get back home for added hydration.)