Dinner? Done!
Our easy weeknight meals are made with minimal ingredients, require few steps, and cost under $10 per serving! 
Who doesn't love a Chicago dog? An icon with particular acclaim in the Midwest, we've made our own East Coast version using all-beef Brooklyn hot dogs, fermented dill pickles, jalapeño relish and, our most radical change, blistered shishito peppers in lieu of the traditional celery-salted sport pepper. Don't knock it till you try it!
Prep time: 5 min.
Cook time: 15 min.
Serves: 3-6
1 package Brooklyn Hot Dogs (we went all-beef per Chicago tradition!)

2 large beefsteak tomatoes

1 small yellow onion

12 shishito peppers

½ tsp. high heat cooking oil

Flaky sea salt

Jalape

ñ

o relish (try the Backyard Food Company!)

Dill pickles (Real Pickles Dill Pickles)

Classic yellow mustard

1 package hot dog buns (we used Vermont Bread Company's potato buns!)

Optional: poppy seed for garnish
Step 1
Assemble your toppings. Slice tomatoes in half and then into thick wedges. Dice onion. 
Step 2
Heat oil in a cast iron skillet on medium-high. Add shisitos and cook until blistered, carefully turning on occasion, about 7 – 10 min. Season with salt and set aside.  
Step 3
Hydrotoast your dogs! This is Brooklyn Hot Dogs' recommended cooking method. Pour ¼ in. water into a large, deep frying pan and place on high. Once simmering, add the dogs. Cook 5-8 minutes, gently rolling the hot dogs. Lower temperature as needed to avoid splitting.
Step 4
Once the hot dogs are cooked, place each in a bun. Top with the following: two slices of tomato, a dill pickle spear, a tbsp. of diced onion, a tbsp. of jalapeño relish, two blistered shisito peppers, and generous squirt of yellow mustard.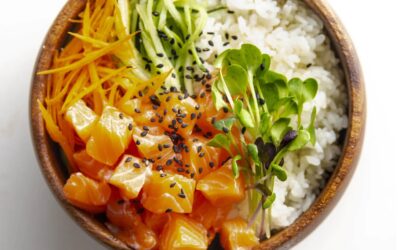 Hudson Valley Steelhead Poke Bowl Time: 25 min. Servings: 4 Ingredients 1lb Steelhead trout fillet 1/4 cup soy sauce 1 tsp rice wine or apple cider vinegar 1 tsp sesame oil 1 tsp siracha, chili paste or wasabi Pickled cucumber and carrots 2 x 6-inch Persian...