Dinner? Done!
Our easy weeknight meals are made with minimal ingredients, require few steps, and cost under $10 per serving! 
Who doesn't love a Chicago dog? An icon with particular acclaim in the Midwest, we've made our own East Coast version using all-beef Brooklyn hot dogs, fermented dill pickles, jalapeño relish and, our most radical change, blistered shishito peppers in lieu of the traditional celery-salted sport pepper. Don't knock it till you try it!
Prep time: 5 min.
Cook time: 15 min.
Serves: 3-6
1 package Brooklyn Hot Dogs (we went all-beef per Chicago tradition!)

2 large beefsteak tomatoes

1 small yellow onion

12 shishito peppers

½ tsp. high heat cooking oil

Flaky sea salt

Jalape

ñ

o relish (try the Backyard Food Company!)

Dill pickles (Real Pickles Dill Pickles)

Classic yellow mustard

1 package hot dog buns (we used Vermont Bread Company's potato buns!)

Optional: poppy seed for garnish
Step 1
Assemble your toppings. Slice tomatoes in half and then into thick wedges. Dice onion. 
Step 2
Heat oil in a cast iron skillet on medium-high. Add shisitos and cook until blistered, carefully turning on occasion, about 7 – 10 min. Season with salt and set aside.  
Step 3
Hydrotoast your dogs! This is Brooklyn Hot Dogs' recommended cooking method. Pour ¼ in. water into a large, deep frying pan and place on high. Once simmering, add the dogs. Cook 5-8 minutes, gently rolling the hot dogs. Lower temperature as needed to avoid splitting.
Step 4
Once the hot dogs are cooked, place each in a bun. Top with the following: two slices of tomato, a dill pickle spear, a tbsp. of diced onion, a tbsp. of jalapeño relish, two blistered shisito peppers, and generous squirt of yellow mustard.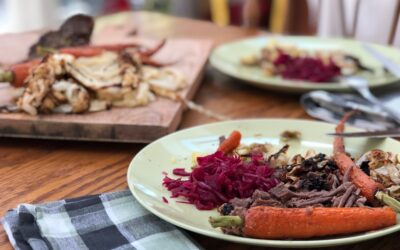 Garrett Valley Farms goes the extra mile to ensure our products are all natural to its truest definition. That means always free of antibiotics, nitrates, nitrites, preservatives, and artificial ingredients. Ingredients 3-5 lbs. Garett Valley corned beef...