Dinner? Done!
Our easy weeknight meals are made with minimal ingredients, require few steps, and cost under $10 per serving! 
You would never know that our Easiest Ever Fish Tacos are made with frozen fish nuggets! The simple cilantro-lime slaw combined with the bright and pungent lime crème fraîche transform these flaky crispy pollock nuggets into a restaurant-quality and, dare we say, flawlessly cooked fish taco.  
Prep time: 20 min.
Cook time: 15 min.
Serves: 3-4
3-4 limes

1 bunch cilantro

1 bunch scallions

3 jalape

ñ

os

1 package corn tortillas (we like VT Tortilla Company)

4 oz. 

crème fraîche 

(try Vermont Creamery) or sour cream

12 oz. package frozen Henry & Lisa's Crispy Wild Alaskan Fish Nuggets

1 package Fresh Cut Organic Coleslaw Mix

1 avocado

3 tbsp. olive oil

½ tsp. ground cumin

¼ tsp. salt

fresh ground pepper

1 tsp. maple syrup (optional)
Step 1
Preheat oven to 425°F. Arrange fish nuggets on a baking sheet. Bake 15-17 minutes, flipping halfway through. 
Step 2
Meanwhile, prepare slaw. Add coleslaw mix to bowl. Thinly slice 2 scallions, mince a ½ cup of cilantro leaves and stems, and dice 2 seeded jalapeños. Add to slaw. To make dressing, whisk together 3 tbsp. olive oil, 2 tbsp. fresh lime juice (from 2 small limes or 1 large lime), 1 tsp. maple syrup, ½ tsp. cumin, salt and pepper. Add to slaw and toss to coat. Set aside.
Step 3
In a small bowl, mix ½ cup crème fraîche with 1 tbsp. lime juice. 
Step 4
Prepare garnishes. Halve, core, and slice avocado into ten wedges. Thinly slice remaining jalapeño (leave seeds in for a pop of heat). Quarter remaining limes.
Step 5
Remove fish nuggets from oven. Break each nugget in half with a fork.
Step 6
Place tortillas on a baking sheet and heat in oven for 2-3 minutes (until warm).
Step 7
Assemble tacos! Layer slaw, an avocado slice, and fish in each tortilla. Drizzle with crème fraîche and desired garnishes. Serve with a lime wedge!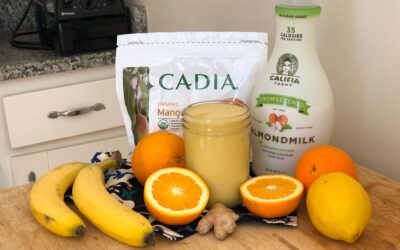 This smoothie is loaded with bright citrus flavor to warm you up during the winter months. Add in kale or spinach for a greens boost or your favorite protein powder! Prep time: 5 min. Serves: 1-2 Ingredients 2 navel oranges, peeled, halved...