There's something special about a glass of kombucha straight from the tap according to Liz and Ian Ceppos of Cross Culture Kombucha. In fact, this very notion transformed them from homebrewers to business owners. Ian first started making small batches of kombucha, a probiotic-rich fermented tea, on his kitchen counter. He brewed tea, inoculated it with a symbiotic culture of bacteria and yeast (otherwise known as a SCOBY), and added organic sugar to fuel the fermentation process. After a week or two, the tea was completely transformed.
This culinary alchemy is reason enough to raise a glass. For Ian, who doesn't drink alcohol, the celebratory air that kombucha provides is intoxicating. Kombucha resembles the initial brew (boasting the floral bloom of an Earl gray or jasmine green tea), but its similarities to tea stop there: fermentation renders kombucha fizzy and sweet and decidedly, pleasantly sour. This is a drink to be shared—over a dinner at home or while out on the town. Herein Ian and Liz saw an opportunity to spread their passion with their community: in surveying the drink scene statewide, they noticed there wasn't a local kombucha on tap in restaurants and bars.
Cross Culture Kombucha quickly grew from the Ceppos' kitchen to Connecticut's first full-fledge kombucha brewery and taproom. Located in downtown Danbury, a former bike shop now doubles as a production space to fill orders for Cross Culture's 70+ wholesale accounts and an industrial-chic tasting room where folks can sample a flight of four flavors or fill-up a growler to go while getting a sneak peak of the process.
In the summer months, look for Cross Culture's seasonal brews featuring flavors made in collaboration with other Connecticut producers—and some of New Morning Market's vendors. A previous batch blended local blueberries with ginger grown by Fort Hill Farm in New Milford. Another favorite brew utilized locally roasted coffee, with notes of citrus and chocolate, from Sacred Grounds Coffee Roasters in Sherman. Through their taproom and New Morning's juice bar and café, Cross Culture Kombucha is encouraging people to celebrate with every sip.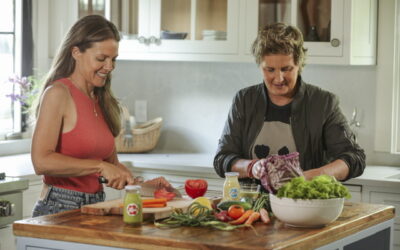 Tell us about Lisa's 1973Lisa's 1973 is a collection of refrigerated, ultra-clean, plant-based dressings and sauces filled with organic and functional ingredients - and what we've been told over and over again, phenomenal taste! We are 100% women-owned and...