Prep time: 30 min.
Serves: 4-6
1/4 cup dehydrated reishi (powdered in coffee grinder)

1/4 cup cocoa powder

2 tbsp. coconut shreds

2 tbsp. coconut oil

2 tbsp. cacao butter

4 tbsp. honey

1 tsp. vanilla

1 pinch sea salt

optional garnish: cinnamon, cardamom, cacao powder, rose petals 
Step 1
Line small loaf tin with parchment paper. 
Step 2
Grind 1/4 cup of reishi in a coffee grinder into a fine powder; set aside.
Step 3
Combine coconut oil, cacao butter, honey, vanilla & sea salt in a metal bowl.
Step 4
Simmer water in a medium saucepan .
Step 5
Rest the metal bowl with ingredients over the saucepan, simmering until contents are melted (about 20 minutes).
Step 6
Turn off heat, wisk in cocoa powder, reishi powder and coconut flakes.
Step 7
Pour mixture into a loaf tin & place in the fridge to set for one hour.
Step 8
Cut into squares. Garnish as desired. 
Prep time: 30 min.
Serves: 4-6
3 4 cup/ 32 fl. oz. sealable containers (Ball Jars work well!)

cheese cloth or coffee filters

dried Chaga mushrooms

100 proof alcohol- vodka, brandy or moonshine work fine

1/2 gallon water

funnel 
Part One: Alcohol Extraction 
Step 1
Fill 1 sterilized quart-sized/ 32 oz jar halfway with dried Chaga mushrooms.
Step 2
Add about 16 ounces of 100 proof alcohol- leaving about a 1/2 inch space from the top of container.
Step 3
Cut a portion of wax paper, folding it as many times as needed to create a square. Place this over the top of your container before screwing the lid on. This prevents the components of the lid from interfering with the extract. 
Step 4
Label your container "Chaga" and the date.
Step 5
5. Allow this to sit for at least 1 month from the date it was created. Shaking the container once a day.
Step 6
After at least 1 month, strain your Chaga extract. Take another 1 quart sterilized jar and layer your cheesecloth or coffee filters over the top. Push some of the material into the container to create a "basket" effect. Poor your extract over the filter and allow it to drain. This will filter any lingering plant material out of your product. 
*If plant material remains in the product repeat this process. Lingering plant material can cause your product to lose stability and promote the growth of bacteria. 
Step 7
Save the mushrooms used to make your extract.
Part Two: Water Extraction
Step 8
8. Get your simmer pot and add 1 gallon/ 8 cups of water. Add heat and allow the water to simmer. You do not want to boil your mushrooms.
Step 9
 Once simmering, add the mushrooms used for your extract. 
Step 10
Allow the mushrooms to simmer for about 2 hours. Keep an eye through this process as you do not want all the water to evaporate out and you may need to add water periodically. You should be left with about 8-16 oz of water. 
Step 11
Remove from your heat source and allow it to cool. 
Step 12
Once cooled strain the mushrooms from the water extraction using a sterilized jar and cheesecloth or coffee filters. 
Step 13
Once all plant material is strained out combine the alcohol and liquid extracts into one jar. This should fill one 32 ounce container. 
Step 14
You now have a complete double extraction Chaga tincture!
Optional: using a funnel you can divide your tincture up into smaller bottles.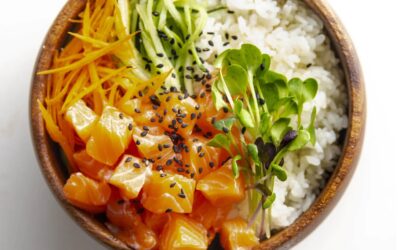 Hudson Valley Steelhead Poke Bowl Time: 25 min. Servings: 4 Ingredients 1lb Steelhead trout fillet 1/4 cup soy sauce 1 tsp rice wine or apple cider vinegar 1 tsp sesame oil 1 tsp siracha, chili paste or wasabi Pickled cucumber and carrots 2 x 6-inch Persian...