As someone who grew up in a vegetarian family, plant-based eating has always come pretty naturally to me. I've found that the most delicious, creative, and filling recipes tend to be plant-based. When I tell people I am vegan, most people's first question is "so what do you eat, salad?" I eat a whole lot more than salad. I'm a lover of all vegetables, but that doesn't mean they must be raw or in salad-form! 
Tonight I was feeling a little sleepy and in need of some comfort from a classic meal, so I decided to go with pasta. With a slight nip in the air still lingering in the evenings, I'm still finding myself wanting warming and grounding foods. I love pasta sauces that are packed with veggies, not just tomatoes! The one I used tonight has carrots, red bell peppers, sweet potato, butternut squash, spinach, red beets, onion, garlic, AND shiitake mushrooms! What more could you need in a sauce?
 When I'm making pasta dishes like this one, I like to add red lentils into the sauce to get a little extra protein and texture. It's a nice sneaky way to get in some added protein. They're quick and easy to cook, and can be added into the sauce at the end. Last but not least, I always top with fresh-cut basil (soon to be from my garden, fingers crossed!) and a little vegan parmesan.
Starting on a plant-based journey can be pretty intimidating, but rest assured, there's no need for an all-or-nothing mentality. Even eating plant-based one night a week has great environmental impact. I usually start off by picking a vegetable or two and then go from there. After that, I raid my pantry to see what kind of dried grains I have on hand (lots, lately, because I stocked up pre-virus right before our bulk section scaled down!) 
Once I have my veggies and grains picked out (think Basmati rice, quinoa, pasta), I usually add some type of protein source. Plant-based proteins are abundant! My favorites are: tempeh, beans (of any shape or size), lentils and tofu. One of my favorite things about plant-based cooking is that it allows me to really put my intuition and creativity to work.
If you're a little uncertain to start, we've pinned some great one-pot vegan meals and recipe inspirations on our Pinterest page. Happy cooking!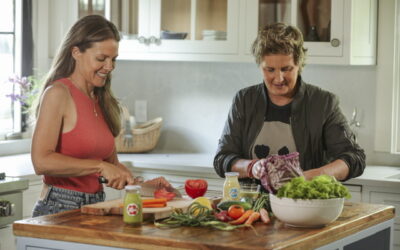 Tell us about Lisa's 1973Lisa's 1973 is a collection of refrigerated, ultra-clean, plant-based dressings and sauces filled with organic and functional ingredients - and what we've been told over and over again, phenomenal taste! We are 100% women-owned and...