Quilts That Care is a Waterbury, CT, based non-profit that has been "wrapping cancer patients and their families in comfort and hope, one quilt at a time" since 2012. Deborah Van Steenbergen founded the group when her late husband Robert was undergoing cancer treatment. In accompanying him to treatments at Harold Leever Regional Cancer Center, Deborah was struck by witnessing other patients going through similar experiences alone and wanted to help them. She wanted to make quilts for them. 
Why quilts? As Deborah sees it, most of us have wrapped ourselves up in a cozy blanket when we're not feeling well. Quilts are like that favorite blanket, but better. Quilts are made with love. They not only provide warmth, but comfort. When you have cancer, you're the same person but going through something extremely difficult in your life. Cancer patients, says Deborah, deserve something beautiful.
Deborah, who learned the art of quilt-making from her mother and grandmother, approached the cancer center to see if she and a small group of quilters could use a room after hours. To her surprise, the first meeting of Quilts That Care attracted twenty-five volunteer quilters. Over eight months of weekly sewing circles, the volunteers turned out an impressive 107 quilts—far surpassing Deborah's hope of twelve. As the organization approaches their eight-year anniversary this April, their numbers continue to grow. In 2019 alone, the more than eighty volunteer quilters stitched 737 quilts. That's sixty quilts per month on average!
Each and every stitch is truly something beautiful. A completely volunteer-run organization, there is an incredible amount of collaboration and work that goes into each quilt. To start, volunteers collect donated fabric from across the state. They then iron and cut precise squares and triangles, arranging the fabric's colors to match intricate patterns before they are expertly stitched into quilt fronts (two are required per quilt), and finally stuffed with cotton batting.
The 3,500+ quilts made to date have been anonymously donated to children and adults with cancer through the organization's state-wide network of hospitals, cancer centers, and hospices. Quilts That Care also tries to honor individual requests made directly from cancer patients' loved ones, like a gardening-themed quilt for a green-thumbed grandmother or a superhero quilt that doubles as a cape for someone's son.
This March you can support Quilts That Care through New Morning Market's Round-up for a Cause program. At the register, simply choose to round-up to the nearest dollar and 100% of your donation will contribute to the mission of Quilts That Care. For more information about donating directly to the organization (they accept 100% cotton fabric, gift cards to craft stores, and money), as well as volunteer and quilting class opportunities, please visit quiltsthatcare.org.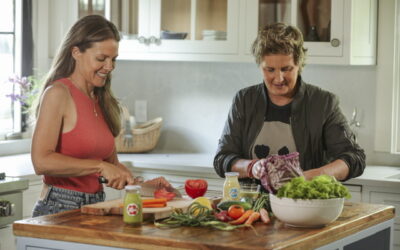 Tell us about Lisa's 1973Lisa's 1973 is a collection of refrigerated, ultra-clean, plant-based dressings and sauces filled with organic and functional ingredients - and what we've been told over and over again, phenomenal taste! We are 100% women-owned and...