Dinner? Done!
Our easy weeknight meals are made with minimal ingredients, require few steps, and cost under $10 per serving! 
Our family-style cheesy broccoli baked potatoes are a winning solution for families divided by dietary differences. Starting with naturally gluten-free russet potatoes baked to perfection, each person can top their potato based on what they like! The easy cheesy sauce is vegan, and carnivorous eaters can add crispy bacon. For a full meal, serve with your favorite pre-made soup (we love Amy's Organic Chunky Vegetable!).
Prep time: 20 min.
Cook time: 1 h
Serves: 4
4 large russet potatoes

8 oz. Miyokos Roadhouse Cheese Spread (we used Cheers to Cheddah)

2 medium-sized heads broccoli

Fresh chives

2 tbsp. vegan butter (melted) or high-heat oil

Salt and pepper

Bacon (optional)
Step 1
Preheat oven to 450°F. Wash russets and prick all over with a fork. Set either directly on the oven's top rack with a sheet pan underneath (to catch drippings) or on a wire cooling rack inside a rimmed baking dish. Bake for 1 hour, then remove from oven and brush with vegan butter. Season with salt and pepper. Return to oven for another 10 minutes.
Step 2
Meanwhile, prepare toppings. Snip scallions and set aside. Cut broccoli into florets and steam for 10-12 minutes in a steamer basket inside a pot. 
Step 3
Cook bacon (if using). It's easy to do in the oven! Place bacon in a single layer in a foil-lined baking dish. Bake until desired crispiness (around 15 minutes). 
Step 4
To make vegan cheese sauce, mix 8 oz. of Miyokos with 2 tbsp. water in a small saucepan. Heat over low heat, stirring, for 5 minutes. It should be smooth and creamy.
Step 5
Assemble loaded baked potatoes! Carefully cut a slit in each potato. Add a generous pat of vegan butter and then layer with broccoli, vegan cheese sauce, and chives. Crispy bacon optional.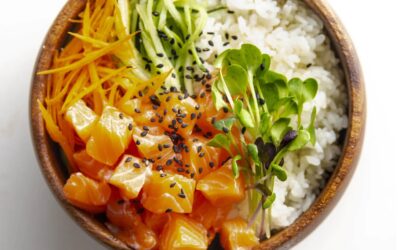 Hudson Valley Steelhead Poke Bowl Time: 25 min. Servings: 4 Ingredients 1lb Steelhead trout fillet 1/4 cup soy sauce 1 tsp rice wine or apple cider vinegar 1 tsp sesame oil 1 tsp siracha, chili paste or wasabi Pickled cucumber and carrots 2 x 6-inch Persian...